It was an evening to remember for Manchester City's Izzy Christiansen and Sunderland's Beth Mead at the PFA awards gala.
The former lifted the Player of the Year gong, while Mead claimed Young Player of the Year.
Mead clear favourite
Although in a category with Dan Carter, Hannah Blundell, Keira Walsh and Nikita Parris, there was little doubt that Beth Mead would scoop the Young Player of the Year Award at the 43rd PFA Awards. Each woman worthy of her nomination, but it was hard to see anyone other than Mead winning the award as voted for by her fellow players.
Since moving to Sunderland in 2011 she's been an ever present goal-threat for the Lady Black Cats, helping her side achieve promotion through the WPL and WSL2, but 2015 was the year she cemented herself as one of the brightest English strikers around.
Whenever a player comes up through the leagues there's always a question of whether or not they can cut it at the top. Mead's 12 goals in 14 games last season (including a hat-trick against eventual winners, Chelsea) is proof that yes, yes this young striker certainly belongs in the highest level of the game.
A remarkable rise
A tireless worker for her team, always looking for a chance to break through the back line and terrorise seasoned goalkeepers. With 77 goals in 78 games for Sunderland, Mead has shown time and against that she's determined, unflappable and deadly in front of goal. An asset to any team.
The trophy will be added to her rapidly growing collection, most recently scooping a hat-trick of accolades the FA Women's Football Awards last December: WSL1 Players Player of the Year, Vauxhall England Young Player of the Year and the award for finishing top goalscorer in WSL1.
At just 20, the diminutive Whitby native has many bright years ahead of her and it's just a matter of time until she's called into the senior England squad. Yet another footballing gem to have come out of the North East.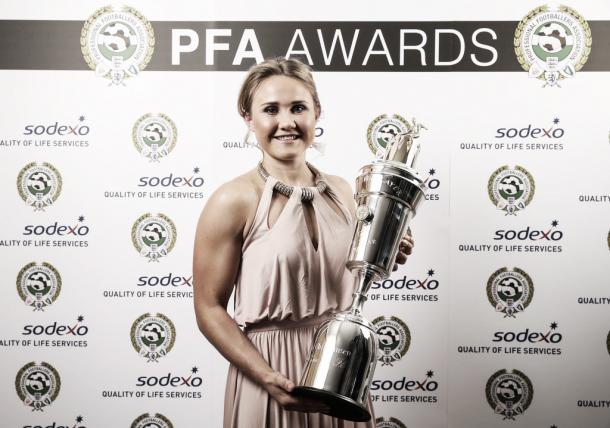 Christiansen is cream of the crop
Unlike Mead in the youth category, Izzy Christiansen's win wasn't as clear-cut; in a tough group of five with Mead, Gemma Davison, Hedvig Lindahl and last year's winner, Ji So-Yun. There was an argument to be made for all, many wondering if Beth Mead would manage the elusive double but when the results were announced it was the Manchester City midfielder who was left holding the trophy.
Isobel "Izzy" Christiansen has been around the top end of women's football in and for England for what seems like an eternity, having spent time at both Everton and Birmingham City before moving to newly formed Manchester City in 2014. Christiansen is no stranger to domestic silverware having helped Birmingham to win the FA Cup in 2012 and Man City to be the only team (to date) to defeat Arsenal in a Continental Tyres Cup Final, her goal the difference in the 2014 final.
On the national stage, Christiansen has proven herself at all levels, earning gold and silver in successive years in the U19 European Championship and claiming a gold medal with Team GB at the 2013 Summer Universiade. Her consistent performances last year saw her earn a first senior cap, Christiansen marking her debut with a goal in a comprehensive win over Estonia in a Euro 2017 Qualifier.
When fully-fit she's been called into every England camp since, adding a second international goal in a game against Australia in the 2015 Dewellbon Cup.
A superb season
It was her exemplary form in the 2015 season that made people stand up and take notice of her, the dynamic midfielder admitted that watching the Lionesses in Canada at the 2015 Women's World Cup had inspired and spurred her on. They had set the bar and she wanted to raise her game to earn her first senior call-up.
It was during the second half of the season that Christiansen helped Man City out with vital goals, fears of a drought after Toni Duggan was ruled out for the rest of the season allayed as the midfield dynamo always seemed to produce a moment of magic for her side.
A wily and unpredictable midfielder that will give anyone trying to mark her a headache, she has an innate ability to ghost away from players, and arrive in the box at just the right time with a deft flick of the neck muscles or a perfectly executed volley. Wherever Christiansen goes, goals follow.
However, her greatest skill is not necessarily the goals she scores, but the goals she creates. She darts around the pitch, never far from where the ball is travelling, a touch here, a flick there, she sows the seams to tie the play together. Manchester City's style of play perfectly suited to the England international and she shares a mutually beneficial relationship with her club; she's better for playing at City and City is better for having her in the side.