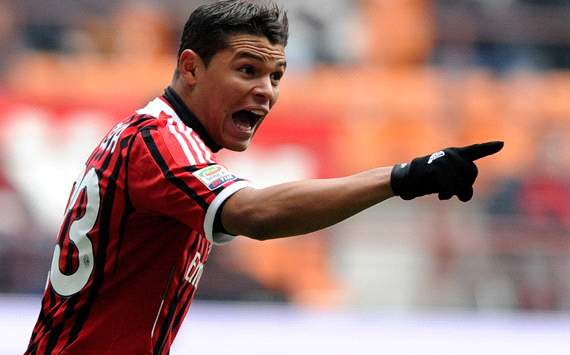 When Paolo Maldini and Franco Baresi before him, hung up their boots, little did they expect that the heir to the central defensive position after the Alessandro Nesta, would be a non-Italian and a Brazilian one at that. Thiago Silva not only has one name to live up to but three names in hope of carrying out the legacy bestowed on him by the departing Nesta.
'The new Nesta is already here, it is Thiago Silva', noted the former Lazio skipper following his announcement that his decade at the helm of Milan's backline had come to an end.
Hailing from Rio de Janeiro and making his official Serie A debut for Milan in August 2009, little did the once right-winger of Rio Grande Sol know that he would have big boots to fill in one of Europe's leading clubs.
Brought into the Rossonero set-up three-years prior, and at the inexperienced age of 24, Nesta was expected to take over the 'teachers' role to nurture and mature Thiago Silva into a world class talent. However, the Brazilian thrived in his first season at the club where he looked up to the statuesque physique of Nesta.
A year later their defensive pairing proved in more vital where they conceded a lowly 24 goals, nearly half the amount less than second placed Inter, and Thiago Silva was at the forefront of the defence tallying 39 appearances and only having his name inked into the referee's book once.
Maldini once stated: "Thiago Silva is the best defender in the world, both because of his technical and physical abilities."
And he is certainly living up to pressurized statement as the 27-year-old occupies a strong head mentally and as well as for aerial challenges. He can play equally well with both feet, knows how to approach a sliding tackle with precision and can attack with equivalent venom be it in open play or off a set-piece.
"Being here carries a great responsibility," the Brazil international gave his thoughts on being Nesta's heir. "Previously, I had the responsibility of being heir to Paolo Maldini because I took his place in the team and now there is another great player stopping in Nesta ... It is sincerely difficult to describe a great champion like him.

"He's a great man, he helped me a lot in these last two years we have played together and I'm so sorry [he's leaving] because he is so good for the squad and for keeping dressing room together too."
Like his predecessors before him, Thiago possesses the calmness, mentality and humility needed in a central defender which helps him to intrinsically absorb the pressure his team may be feeling.
So often is the case the when 'silence speaks a thousand words', the quiet and humble former Fluminese star manages to conduct and escort his backline with few words and preferably with his composed nature.
Despite injuries having inhibited regular playing time this season there is little doubt that Thiago Emiliano da Silva will come back fighting even harder. Having been adopted by the fans as one of their own in just a matter of three short years, he as much to live up to in the daunting legacy set-upon him but there is every inch of faith that he will succeed.
As Nesta before him did, he proved that injuries only makes one stronger and the fans are certainly looking forward to seeing the samba star dance his way through forwards for many years to come.