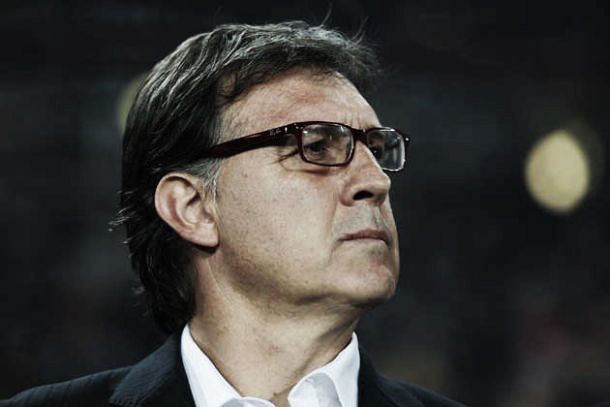 "Gerardo who?" Was the question being commonly heard amongst football fans, particularly Barcelona ones, on July 23rd, the date in which the Argentinian was appointed in a somewhat controversial decision. When the accomplished South-American man was announced, the case immediately began as an extremely popular one, both due to his largely unknown background in European football and also his arrival, in which most top flight European sides were after a coach for footballing reasons whereas 'Tata' was being appointed due to the former coach quitting due to health reasons.
'Tata' Martino blossomed at the Catalan giants under his first game with a convincing win over relegation candidates Levante, dismantling the Mediterranean coast Spaniards with astounding ease 7-0, and forcing a few critics to bite their tongue in silence with increased caution. However, Barcelona's intelligent and world-wide fan base were not quick to ease into the new Argentinian's arrival.
"The man isn't experienced at top level" Was the common statement muttered by fans globally, but after mere months in charge, Tata is beginning to look like the real deal.
The Philosophy
There was a lot of talk after the 7-0 aggregate thrashing from the Bavarians that Barca fans will never hear the end of, and one of the most common was the philosophy that the Catalans were using and if it was in need of urgent change, or at the least, minor tweaks. Bayern exploited and exposed most aspects of Barcelona that they fought so hard to conceal over the years, weak abilities in defensive transitions, height at set pieces, and lack of physicality. But could Vilanova's health concerns be the main reason for the poor, lethargic Barcelona that we saw in both legs? The debate is a thoroughly interesting one, which usually results in the inevitable conclusion. Gerard Pique admitted it himself during pre-season where the former United man was questioned about the astonishing Bayern defeat; " Last season we were slaves of our philosophy." This utterly true statement, whether provoked by Tata's words or self-realisation, spoke volumes and the 'philosophy change' debate was sculpted. The new manager has seen a number of changes being regarded widely as good ones, long diagonals switching play when CB's are pressed and also a new aspect of aerial play being involved that has led many to believe that the Catalans are in search of a target man to claim the position Messi has stamped his appearance on for the last 5 years. These new aspects have been consumed greedily by Barca fans as they've welcomed the fresh, even pragmatic changes to their new style of play. Gerardo's new experienced, somewhat 'aged' winning team have even appeared to be slightly below the tempo that previous managers seem to have implemented into their side, but clearly the Paraguayan prefers this approach, having only been defeated twice so far this season, as of 09/12/2013. The experience that lurks throughout this Barcelona side is fascinating, but whether it can have a deleterious effect over them is yet to be seen. Xavi, Iniesta, Messi, Xavi, Busquets, Mascherano, Puyol, Alves, Valdes and Pique have won literally everything in for their club, and many wonder if Gerardo will vivaciously ignite the winning mind-set that his side appears to have lost even slightly. Below is the dissection of Martino's new Barcelona.
§ Analysis of the Él Clasicó
1. Real Madrid's defensive organisation
2. Barcelona offensive organisation
3. Use of Messi out wide
4. Dealing with Real Madrid's counter attacks, defensive transitions
§ Fabregas in the Axial Role
§ Role of the wingers
Offensive duties
Defensive duties
§ The recovery system – Overloading central areas and numerical equality on the flanks
§ Barcelona's recurring weakness of being prone to high tempo horizontal circulation
When Martino strolled into the Camp Nou for the 7th time this season, the Argentinian was welcomed to 98,000 fans planted into their seats eagerly awaiting one of the most anticipated games of the year in which many neutrals would happily see the two giants contesting each other in the Champions League Final.
The Él Clasicó had dominated headlines for weeks.
An even more intriguing game rose when the line ups were revealed, with Sergio Ramos situated in Midfield, Messi on the right and even Mascherano swapped to RCB, to contest Ronaldo in transitions, which we will get more into detail later.
Real Madrid's defensive organisation
Despite having fielded Bale furthest forward on the team sheet, the Welshman was largely tied to defensive duties on both flanks, contributing to Real's low block being the usual body on the right or left in 2nd and 3rd defensive phases. The 442 set up from Madrid in these phases largely depended on Bale or Di Maria's positioning, as in whoever was furthest pressed CB's, resulting in furthest back winger on weak side contributing to the midfield block. When Bale pressed forward, this midfield block consisted of Modric furthest left, Ramos LCM, Khedira RCM and Di Maria furthest right. When the Argentine Di Maria shuttled ahead to press, Bale was situated furthest left, Modric and Ramos maintained midfield positions and Khedira was widest right. This low block was a surprise to see, as Real's deep positioning of wingers resulted in lack of prolific threat in transitions. Balance was the clear key for Carlo's side, as the block retreated deeper, throwing bodies into the box particularly in 3rd phase, whenever Barca circulated horizontally. This halted the majority of Barca's attacks apart from Neymar's pass that penetrated through two defenders legs, and was a solid game-plan that was echoed and repeated by Espanyol days later.
The game was predicated on the speed of organisation of these two blocks as Real occasionally left their shell, and the transition from offensive to defensive phase was something Madrid has undoubtedly practiced in the lead up to the game. The process of defensive organisation however was utterly failed when Barca where playing amongst CB's, particularly Mascherano who was allowed time and space on the ball before Bale glanced towards Carlo in response to his shouting, ordering the Welshman to press the Argentine. The press was awkward and Mascherano switched play with a diagonal long ball, something which was unheard of from Barca in previous years. The total switch of play that Barca have used countlessly this season saw immediate transition from 1st offensive phase of organisation to 3rd, preventing the assembly of Madrid's defensive organisation. Bale pressing resulted in him being the furthest forward winger, so Di Maria must immediately take up a defensive position in which he is out of. Real Madrid banks have no time to organise as Iniesta receives horizontally in dangerous zone, penetrating the box in which Madrid must now flood with bodies. But Barca's direct approach in this new philosophy seen their transition from 1st to 3rd phase far too fast for Madrid to comprehend, leading to the first goal.
Dealing with Real Madrid's counter attacks, defensive transitions
Immediately after the Camp Nou shook with Barcelona celebration, Madrid responded in dangerous fashion. One of Barcelona's main problems this year is the inept defensive abilities and awareness of Lionel Messi and their recent acquisition Neymar, in which the two would on rare occasion press the ball prematurely in which they would leave the space they were leaving dangerously vacated. This occurred in the 19th minute during Madrid's 1st offensive phase, where Modric dropped to receive from his two CB's. Messi pressed prematurely from the right channel blocking the passing lane to Marcelo, however his positioning was poor and Modric was allowed an easy turn into midfield, resulting in a 1 on 1 with Xavi, with Marcelo bombing down the wing supporting the Croatian.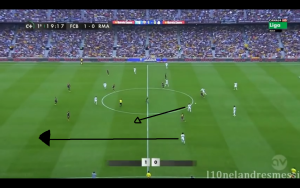 These transitions are particularly the ones Barcelona tend to avoid as their CM's aside from Busquets are poor in defensive isolation.
As you can see here, Messi presses Modric prematurely which allows Modric to turn into midfield with ease who then beats Xavi one - one which leads to a dangerous 4v4 in transition.
MAJOR CHANCE OCCURS FOR REAL MADRID AS A RESULT OF PREMATURE PRESS FROM MESSI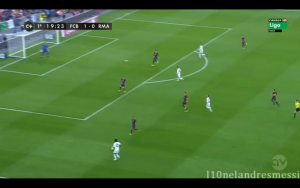 Marcelo provides an option for Modric, in which the Brazilian will quickly follow with a cross.
Bale tucks in vertically with Ronaldo, adding to aerial threat in the box.
The Catalans did well to nullify Madrid's counter attacking possibilities whenever the need arrived, with a quick press from Mascherano or Pique out of their high line into midfield. This option worked well thanks to the fast acceleration from Mascherano which saw him at RCB to contest Ronaldo's pace, and since the majority of Madrid's counter attacks are orchestrated through their left channel.
Barca's 2-1-5-2 in 1st and 2nd offensive phases seen a large overload in midfield which was contested with Madrid, forming the all important midfield triangle of the 4-3-3 that the formation is predicated on at times. The two midfield blocks that Madrid formed in defensive phases were situated quite deep in 3rd phase, but slowly pushed forward whenever Barcelona's tempo was lethargic and slow. These pushes seen Barca circulate it awkwardly backwards, resulting in the occasional loss of possession that could prove detrimental to Barcelona's style of play. When these misplaced passes occurred in central midfield, a break would immediately unfold by Madrid's highest player, usually Ronaldo or Bale. Due to these players being situated on the left side the majority of the evening, Mascherano's RCB positioning allowed an advantage in dealing with these left channel or inside left transitions, with an immediate aggressive press towards the ball carrier. These aggressive presses have been noted 14 times in 4 games from both Pique and Mascherano, and is an effective method in dealing with central counter attacks completely or slowing them down and allowing full-backs to retreat and get behind the ball. If the attack is orchestrated from the wing, the CB's close down space in front of the winger while the full back retreats back into position.
When the ball is won, the CB that did not press, usually Pique, jogs forward leaving the other man in an offside position. These aggressive presses from the CB's into central half space areas are very effective in dealing with 2v2′s as long as the Full Backs retreat in time to protect the width surrounding the isolated CB's. Real Madrid's low block allowed for this dangerous risky method to be used, seeing as their low block retained numbers at the back preventing the wingers from transitioning forward fast enough.
Barcelona in offensive organisation
The 4-3-3 that Martino has based his entire managerial career on has been home to a number of philosophy's going forward, all based on fluidity and rotation going forward combined with possession. Suited to Barca perfectly, of course.
The formation that Barca adopted against Madrid and many other teams throughout the season is a flexible one, consumed by rotation and fluidity going forward. The 2-1-5-2 in 1st and 2nd offensive phases is nothing new over the past few years, with one of the key differences being the much deeper position of the CF, which is usually Fabregas as of late. The Spaniard takes up more of an advanced midfielder role being the furthest man forward in a 4 man midfield, who is also largely restricted to defensive work, which can have an effect shackling him going forward as he lacks the legs to carry out counter attacks that Barca has implemented into their system thus far. Messi is a different story whenever positioned there however, as the 4 time Ballon D'Or winner stays in the final third entire games, rotating with the two wide-men on a number of occasions, even appearing to have a a 'licence' to move where he pleases, knowing the dirty defensive work is covered for him. However in the Clasicó the Argentine was fluid and moving the entire night despite not having that much of an actual impact on the game.
During 1st and 2nd phases, the two CB's split with a 25 yard approximate distance between them, covering both CB and full back positions allowing full backs to push forward, in which one usually pushes the entire width of the pitch evolving his role to more of a winger, hugging the touchline stretching play. The style of play was quite low tempo, saving energy for defensive transitions in which players would have to sprint from one side of the pitch to another, but we will get more into detail on that later. During times of low tempo and when possession showed no signs of progress, the CB's would usually look for attacking run of the wingers, in which they would meet with a long diagonal ball. If no run is made and the play is still low tempo, a long ball to chest would be attempted, switching play and if effective Barcelona would progress further up the pitch. Sergio Busquets carried out his refined and world-renowned role of dropping between the two CB's giving the immense stability to defence he constantly provides. Adriano and Alves were given winger-like roles the entire night and pushed further up the pitch as the game ventured on, stretching Madrid's low block. The width that the full backs provided allowed wingers to drift inside into half spaces causing small overloads in these spaces with the CF or midfielders that drifted forward in between lines. Fabregas' role offensively was clear as he played between Madrid's midfield block between CB's, also drifting to each side whenever the option was called for, doubling up with the winger in between CB's and full backs. The Spaniard dropped in 1st and 2nd phase constantly filling in for Xavi and Busquets' temporary absent positions whenever they withdrew into the CB's to receive, and pushing back forward when possession evolved into further phases. These drops that Fabregas carried out allowed the two wingers to take up much more vertical positions, knowing width was not a problem due to the FB's. His rotation with Messi was also a key factor, filling in for Lionel's absent position when he ventured centrally or into his coveted position, CF. Fabregas' wide right positioning whenever off the ball allowed for increased defensive contribution to that channel, however in offensive phases Cesc was unable to carry out the wide man job.
As possession continued to flourish further forward and Madrid's block sank deeper, Barca slowly began to adapt more advanced positions in midfield, with Iniesta combining with Neymar between lines doubling up on full backs, and Messi drifting inwards as he pleased. Iniesta and Xavi blossomed under the roles they were allocated, always attributing to evolving phases in possession whether being on the ball or off it, diverting movements such as shifting to wide positions temporarily, decoying Madrid's players from important zones forcefully, creating space for Fabregas, Adriano, Alves, Messi and Neymar to move into. These widely experienced Barca CM's swapped positions regularly, both to confuse the opposition and to prevent exploitation of their defensive weaknesses, as their rotational movements with each other prevented them being targeted in defensive phases.
One of Tata's philosophy's in both offensive and defensive organisation is maintaining numerical equality or advantage both off the ball and on it. Rotation provided this, such as whenever Xavi dropped to receive, Messi often drifted inwards to cover for his position creating overloads or equality in midfield. Messi's absent positioning was covered by the RB who pushed forward, and continued advancing with the entire Barca team when the play excelled into 3rd phase. This rotational formation resembled a 2-1-4-3 the further play progressed up the pitch.
Fabregas in the Axial Role
The change in modern football as of late has seen Central Attacking Midfielders or "Number ten's" as they are frequently called has seen the majority of these CAM's undergo a change in which see's them provide a much needed defensive shift to carry out play. Oscar, Mkhitryan, Kroos, Modric, Marchisio, and now Fabregas are some of the Modern AM's that contribute hugely to defence, keeping out the likes of Mata, Goetze, Isco and many more out of the Number ten spot, forcing the latter majority out into wide positions.
Cesc has been rotated heavily under the Barcelona side since joining, being compared most often to Xavi every time he is rotated week in week out with him, but recently under Martino the Spaniard has played as a furthest midfielder, proving to be imperative to Barcelona's defensive systems, contributing to both channels of the pitch as well as central deep areas off the ball, and on top of that he maintains a CF position between lines in 3rd offensive phases. This work see's Cesc often fatigued during the latter stages of the game, as he is dropped into central midfield positions or substituted completely during the last 20 minutes of a game or so. Could these excessive work loads that are constantly planted on Cesc's back be taking its toll? Well, in one of the recent of Barca's games, Atletic Bilbao, he looked deprived of stamina as he was costlessd of the role of pressing the GK forcing play long. Instead, Sanchez on right winger, was given the role. Fabregas played very deep all game dropping to the half line in 1st phase, trying to exploit the huge gap betwen midfield and defence that Bilbao were risking the majority of the game. Fabregas allowed Sanchez and Neymar to take up much more vertical positions because of this, but Bilbao's ultra low block prevented penetration excellently the entire night. A 6-3-1 like formation was implemented, with the Bilbao ST hassling CM's, wingers dropping to form a midfield block around the DM who stayed central, and CM's dropped to wing backs. This hugely defensive method proved its excellence, offering huge defensive stability and abilities in transitions thanks to the speed provided by the wingers. Fabregas was utilised in a number of roles to break down this block, being rotated heavily with the midfield trio Xavi and Iniesta, allowing the latter to take up higher roles while Fabregas fed full backs from deep to set up low crosses. Despite the efforts of Tata's men, Atletic's defence was largely solid the entire night and unable to falter.
Similar to the Bilbao game in terms of result, was Barca's recent game against the Dutch Ajax.
The game astonished thousands of fans as de Boer seemed to have taken a leaf out of Bielsa's approach to games, that being an immense pressing game that would result in little or no time and space on the ball for the opposition, something that would prove to be a master stroke and the biggest test so far for Barcelona this season.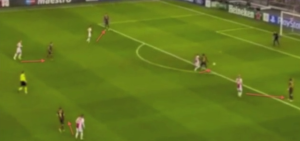 Ajax have been clearly instructed to carry out a huge pressing system, not for the first time this season. Ajax's 1st defensive phase extremely aggressive, fielding up to 7 players in opposition half.
When Barca would progress to 2nd phase build up Ajax seemed to use Guardiola's 'Six second rule,' entire press from midfielders and forwards towards ball zone with back four staying goal side off of opposition, allowing for awareness of situation and ability to track back easily.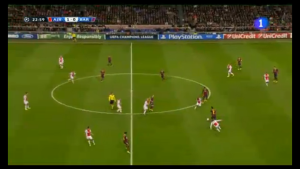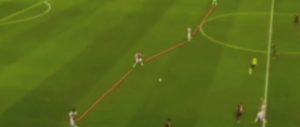 The high defensive line would also be utilised whenever Barca aimed for a quick succession into 3rd phases from 1st build up. This nullified the runs from Barca's front three and allowed for a huge press, as the back four closed space between midfield and defence.
These are just some of the points on how Barca were totally shackled by Ajax's wondrous efforts, but Fabregas' role must not be forgotten. Cesc approached the game after being picked at CF for not the first time and his tasks were clear, to press spare CB's and GK's forcing the opposition into a long ball which usually concedes possession. This regular pressing tactic indoctrinated by Tata is always going to require work ethic in which Cesc has been horribly victim to over his games at CF, endlessly working channel to channel. But his defensive work in this game was clearly not up to par. The Spaniard looked hopelessly tired the entire game, even more so and fantastically noticed pre-game by Ajax manager Frank de Boer, who appeared to instruct his CB's to wait for the press, then slowly play back to GK forcing Cesc into further pressing. This effective tactic took its toll after a mere 30 minutes as Cesc looked incredibly fatigued, unsurprisingly due to the amount of movement he was carrying out due to Ajax's pressing. Tata noted his troubles, and the workhorse Pedro, stationed on RW, was instructed to carry out this pressing role, a costly but necessary call from Tata. The supposed 'minor pressing role switch' had a huge effect on the game, as Pedro situated wide had to work those few seconds longer to close down the space between him and the GK and CB's. On top of this, Pedro's role seen Cesc pushed deeper in defensive organisation picking up the defensive midfielder Blind.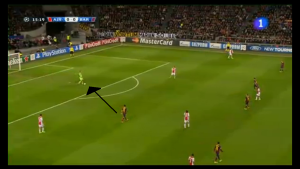 This lack of pressing in 1st defensive phase early on from Cesc allowed a key man in midfield to progress forward as the GK could play on the ground and have time to pick out a key pass into midfield. Ajax added to Barcelona's problems by fielding a single pivot with two midfielders advancing with wingers, creating a 2v1 deep in Barcelona's midfield against Song.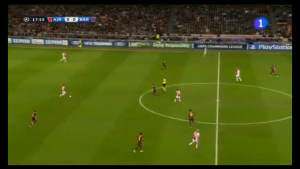 No pressing, key man in midfield allowed forward as a result
Roles of the Wingers
"What are your comments on the change of philosophy you have constructed at Barcelona?"
Tata blinks for a few seconds at the interviewer, before recollecting the words he will state for what must seem like the thousandth time. The former Paruguayian coach seems agitated as he splutters out the answer to a question he has heard too often since arriving at the huge club.
I believe the changes I am making are for the best.
It is certainly a debate whether or not the changes Tata has made is beneficial for Barcelona, one in which many sentimental fans may opt for the old, strict possession based game. But Martino's changes has certainly made an emphatic, fresh impact.
Many Barcelona fans noticed the permanent change after the loss of possession to Rayo Vallecano in which Barcelona lost battle of possession for the first time in 317 games, and the words from Madrid manager Ancelloti was quite unsettling, highlighting the transformation that Barcelona are undergoing.
"It was strange to see Barcelona counter attack.". Stated the Italian manager who was clearly intrigued by the situation, stating the obvious as Barcelona certainly utilised the counter attacking system to full effect, a jubilant Pedro netting a hat trick in the 0-4 win. Long balls were often and sometimes unnecessary however, with the CB's looking to meet wingers runs, and often conceding possession. The early games of course from Tata resulted in a very raw system, lots of players filled with new instructions to be tested in the new season. The defensive organisation was particularly inconsistent in 2nd and 3rd phases, often letting a man slip unmarked in a costless zone allowing possession to be progressed through Barcelona's midfield at times.
The integration of counter attacking has definitely been an interesting sight to see in this Barcelona team, but an extremely interesting one. Against Almeria, Barcelona when winning possession down the channels would immediately seek to play vertical, or if the long ball wasn't on, initiating a counter attack in which the transitioning player would sprint to meet the pass, while the rest of the team would sit deep. This remarkable system would see the majority of the side sit deep and walk forward while the countering player would sprint to the final third, with the aim of scoring with speed and as quickly as possible. If the goal was not possible, then the Barcelona team would catch up with the transitioning player, shifting ever so slowly conserving energy for defensive phases.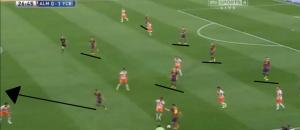 As you can see here, Messi receives from defence who has recovered possession and aims to feed Neymar who's objective is to break forward and score. While he breaks, the entire Barcelona midfield sits deep as well as the entire back four, literally walking slowly up the pitch, as the entire Almeria team would sprint to halt the counter. When the rest of the squad would be correctly positioned for offensive phases, they will have supported the player that has transitioned forward if scoring wasn't possible and he was forced to play backwards. This would conserve energy very effectively.
However the roles of wingers weren't of course strictly offensive, as the two wide players had an important pressing role to carry out, initiating the 1st defensive phase which is almost often imperative to recovering the ball, with the wingers regularly swapping pressing roles with the CF, as they marked full backs when the CB was in possession, or pressed the back four entirely. However, a simple press or picking up a player neutralising passing options would not do. When the CF was extremely fatigued during the latter stages of the game, or in some exceptions against Ajax, in which Fabregas was knackered in the first 30 minutes, the wingers would have an important role and be worked all game. The pressing would have to be carefully implemented by the wingers as the passing lanes were absolutely vitally important in relation to cutting out the pass. Too often Neymar's raw talent and weakness when it comes to defensive duties saw him press prematurely, causing weaknesses and often causing an entire passing exchange for the opposition to carry out nearly resulting in a goal, in rare occasions. Messi and Neymar were often a risk defensively by playing them out wide, but their influence offensively would always see them walk into the starting eleven.
As you can see, Neymar presses Sidnei far too early, failing to cut out the passing lane to the Espanyol RB who then has a series of options, which almost costs Barcelona a goal. This premature pressing was carried out by almost all of Barcelona's wingers, and the chances that almost always occurred highlight how important the wingers are to Tata's defensive system.
The black lines are movements, and the blue lines are passes.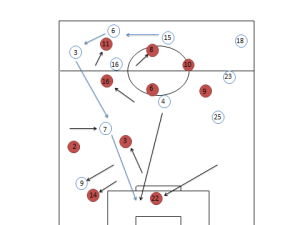 Neymar presses number 6 Sidnei, failing to block the pass to the RB. Number 3 picks out Thievy who manages drifts into a half space untracked by the Barcelona LB. Due to Mascherano tracking Espanyol number 9's movements, Pique rushes out to press Thievy quickly, however a run from deep occurs from number 4 Sanchez who is fed by a ball from Thievy, almost resulting in a goal.
The Recovery System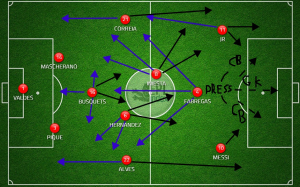 BLUE LINES - Defensive Movements
BLACK LINES - Offensive Movements
It is fair to say that one of Tata Martino's main aims on the footballing pitch is to maintain numerical equality in all positions and all areas of the pitch, and if possible, gain numerical advantage by overloading these areas. This required a lot of off the ball work and tracking back due to Barcelona's high line they utilised quite often, often inducing fatigue in the later stages of the game. It had advantages and disadvantages as all systems do, one of the latter being less dominant of possession as Tata wouldn't carry out an aggressive pressing game until 2nd phase in which two CM's would press 1 on 1 while the CF dropped suffocating the ball carrier out wide or a risky vertical pass in which Barca would have an excess of bodies in.
Barcelona would often funnel possession out wide forcing the opposition to the touchline. While not aggressively contesting for the ball, Barca would close off all routes out of wide areas due to numerical overloads by dropping bodies deep surrounding the ball zone, which would usually force a costly mistake in which the Catalans could carry out a quick counter attack usually carried out by their wingers, as they are the highest man forward due to Barca pulling deep.
When Barca would lose the ball in 2nd or 1st phase build up, usually due to a risky long ball to wingers, they would have already a deep positioning so they could maintain a stable defence and have numbers behind the ball. This would set up the 1st defensive phase which would be pressing the RCB with CF or LCB with RW, forcing backwards or a long ball forward. Iniesta or Sergio Roberto would man mark the deepest dropping midfielder trying to offer a solution out of the back four as a passing option. This ticked most options and worked often recovering possession, however fatigue set in during the latter stages of the game resulting in lack of pressing intensity, allowing progression forward in possession by the opposition. In these cases, Barca would carry out 2nd defensive phase, a 1 on 1 press while the CF would track back intercepting passing lanes forcing a risky possession choice, usually out wide, and if this wasn't successful, and it usually wasn't, Barca would initiate their 3rd phase in which the CF Fabregas would retreat into central midfield causing a 4 man overload, proving to be very effective against 4-3-3′s. This overload caused by Fabregas or Neymar when he played CF in some cases forced the opposition to keep the ball wide in less dangerous outposts. Barcelona then surrounded the player with the CM nearest to ball zone, the LW dropping deep, and the LB pushing forward. This created a triangle around the ball zone, a very effective 3v1. The CM closed off the passing lane into midfield supported closely by the DM and closed down the space around the ball with the DM Busquets or Song providing nearby support. Whenever the CM did this he was drifted from his position, in which the CF would temporarily occupy providing numerical equality in midfield, one of Tata's most important aspects of the Argentinian's game. Fabregas was most effective at providing this. The LW or RW prevented the pass backwards to the defence and the full back directly contested the ball carrier. This was a solid reliable method of regaining possession in deep areas as long as the ball carrier did not find a route out of the defensive triangle. But the actual time to recover the ball sometimes dragged due to opposition often holding onto the ball for an extensive amount of time and a foul was occasionally conceded due to frustration and impatience from Barca.
Here is Barcelona initiating the 3rd phase recovery system on the left channel. Players can be identified by their numbers. The weak side winger, usually Sanchez, Neymar or Messi, stayed forward to provide an option for counter attacking by making an instinctive run behind the back four once the ball was recovered.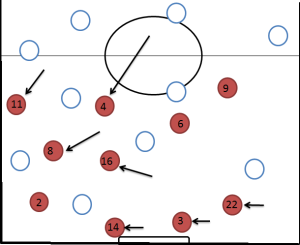 Another key factor to this system is compensating for Messi's non-existent defensive contribution. Tata undoubtedly instructed Lionel to take up very high positioning to utilise his incredibly prolific abilities in the final third, meaning Barcelona would have to cope without the 4 time Ballon d'Or winner's defensive efforts. This would automatically induce an increased work effort from one player, and that was Fabregas. He was utilised totally in this Axial CF role that is vital to their system, carrying out Messi's job of blocking and intercepting passing lanes in the triangle, preventing passes backwards towards to the defence as an escape route out of the suffocating triangle, while Messi stayed furthest up the pitch. It will certainly be interesting when Messi recovers from injury as to where he will play, either as CF or RW.
Weaknesses of the Recovery System
Barcelona would often drop very deep to carry out the 3rd defensive phase in particular, due to the demands of this triangle on the flanks, requiring huge work ethic from the front three as well as the CM's as they instinctively took up non-advanced positions during possession phases, knowing they would be forced to track back. This choice of retaining numerical equality from Tata resulted in the non-immediate regaining of the ball, as work to track back was slow especially during the latter stages of the game, and an overload of the ball zone by creating a defensive triangle on the channel wasn't always effective. If the full back was beaten then Barca would be extremely vulnerable, or a pass was found out of the block, and contributing to the weakness is the fact that the immense amount of bodies that would be required to carry out this 3rd defensive phase would result in a huge shift of players over to the ball side, creating a huge weakness on the weak side, so if the ball was switched in these circumstances the Catalans would have to re-organise extremely quickly to the other side to maintain solid defensive organisation, further contributing to fatigue.
The extensive shift from the Barca side apart from one winger meant that they depended on the triangles during 3rd phase to maintain solidity at the back. If the pressing wasn't compact or solid enough, the player surrounded by red and blue shirts would find a route out usually by a pass, in which the opposition would be wary of Barca's vulnerability on the weak side and initiate a high tempo horizontal switch of play, with one or two touches being used, circulating the ball with speed to one side of the pitch to the other. The shift to re-assemble sides of the pitch would occur from Barca and they would press extremely aggressively and a cross would be thrown in by the opposition, Barca's nemesis over the years even more so now that the 5"8 CB is regularly contesting against six foot target men. Barcelona tried to prevent these situations from occurring as it gifted the opponent time and space on the ball, something which is rarely allowed against a fanatical possession based team. Real Madrid's best 10 minutes of the second half were during these high tempo horizontal possession phases in which they outplayed Barca and exploited the weaknesses of their 3rd defensive phase excellently.
Conclusion
Gerardo Martino's transformation with Barcelona is becoming more obvious by the game as results are grinded out, and the Catalans sit top of La Liga. The Argentinian has been bombarded with both criticism and praise alike, the former being thrown at him for the immense changes he has made in Barca's image and their philosophy, and the latter for being phenomenal results over Madrid and consecutive wins in the league, yet where will they be come the end of the season? Is it a bright future for Barcelona or will the European giants succumb to fatigue and crumble under Martino's intense philosophy come May? Only time will tell, but it will undoubtedly be an intriguing ending.