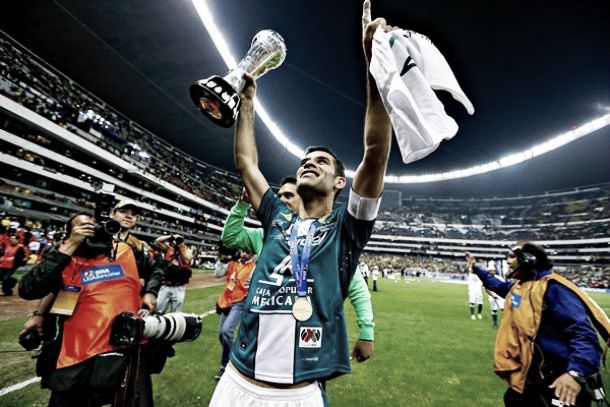 MEXICO CITY, Federal District, Mexico. Club Leon came into the return leg with a 2-0 lead from the first leg wary of Club America's fortunes at the Estadio Azteca. In the end, goals from Juan Ignacio 'Nacho' Gonzalez, Mauro Boselli, and Edwin Hernandez propelled Club Leon to a 3-1 win, sealing their 6th Liga MX championship, their first such trophy in sixteen years.
Knowing their campaign to a record 12th Liga MX championship needed a quick goal, Club America came out with the early pressure. Their best chance early came in the 6th minute when Luis 'Quik' Mendoza's shot hit the far post behind William Yarbrough's goal.
Despite the early chances for Las Aguilas, it would be the away side that would open up the scoring on Mauro Boselli's finishing of a Carlos 'Gullit' Pena cross.
The early goal forced America manager Miguel 'Piojo' Herrera to change formations early, subbing out center back Juan Carlos Valenzuela for wingback/winger Adrian Aldrete (moving from Piojo's signature 5-3-2 to a 4-3-3).
Eventually Club America would get their equalizer, as Nacho Gonzalez deflects a Rubens Sambueza shot into his own net.
America would need two more goals to force added extra time, if they wanted any shot at claiming the Bicampeonato (back-to-back Liga MX championships). Their early second half pressure put Leon keeper William Yarbrough into action early and often. But it would be Leon who would score next in the 51st minute, with Nacho Gonzalez heading in a Leon corner kick.
Things got bad to worse for Las Aguilas shortly after, as Francisco 'Maza' Rodriguez was sent off two mintues later for a hard challenge on Matias Britos.
Despite being down a man for the rest of the match, America continued to pressure the Leon defense. But, their opportunities were either saved by Yarbrough or poorly finished. One such failed finish by the little used Narciso Mina summed up the flurry of missed chances for Las Aguilas.
To add to America's frustration in their lost Bicampeonato opportunity, Edwin Hernandez would finish off a Leon counter-attack in the 72nd minute.
The frustration, with both his team's play, and with what he perceived with the refereeing, would eventually get to America's manager. Piojo Herrera would be sent off in the 81st minute, effectively finishing his tenure as America manager on the touchline. (Herrera will take over the full-time duties as Mexico national team manager in the coming days.)
Piojo's frustrations would be with himself, who gambled on an out-of-form Mina over his regular starter at forward in Luis Gabriel Rey, and in his team's touch and finishing. His team outshot Liga MX champions Leon 11-4 (on target), and forced more shot deflections (25 for America to 10 for Leon).
This final puts Club Leon into Pot A for the 2014-15 CONCACAF Champions League (CCL), while it preliminarily put Club America into Pot B. And by virtue of not appearing in the 2013-14 CONCACAF Champions League, as well as finishing in the top three among those teams, Leon knew it would qualify to the Second Stage of the 2014 Copa Libertadores.
STARTING XIs:
Club America (5-2-3): Munoz; Aguilar-Valenzuela (SUB: Aldrete, 27')-A. Mosquera (YELLOW, 24')-F. Rodriguez (RED, 53')-Layun; Medina (SUB: Andrade, 53')-Rubens Sambueza (YELLOW, 23'); L. Mendoza-Mina (SUB: Rey 67')-R. Jimenez; Manager: Miguel 'Piojo' Herrera
Club Leon (4-4-2): Yarbrough (YELLOW, 50'); J. Magallon-R. Marquez-J.I. Gonzalez (OWN GOAL, 41'; GOAL, 51')-Ed. Hernandez (GOAL, 72'); J. Vasquez-C. Pena-L. Montes-E. Loboa (SUB: H. Burbano, 74'); M. Boselli (GOAL, 12'; SUB: El. Hernandez, 82')-M. Britos (SUB: Arizala (YELLOW, 67'), 61'); Manager: Gustavo Matosas
SUBSTITUTIONS:
Club America:
27': A. Aldrete ON, J. C. Valenzuela OFF
53': A. Andrade ON, J. C. Medina OFF
67': L. G. Rey ON, N. Mina OFF
Club Leon:
61': F. Arizala ON, M. Britos OFF
74': H. Burbano ON, E. Loboa OFF
82': El. Hernandez ON, M. Boselli OFF
STATISTICS: (America, Leon)
Goals (return leg): (1, 3)
Goals (aggregate): (1, 5)
Shots on goal: (11, 4)
Shots deflected: (25, 10)
Corner kicks: (5, 2)
Offsides: (0, 3)
Fouls: (14, 23)
Yellow Cards: (2, 1)
Red Cards: (1, 0)