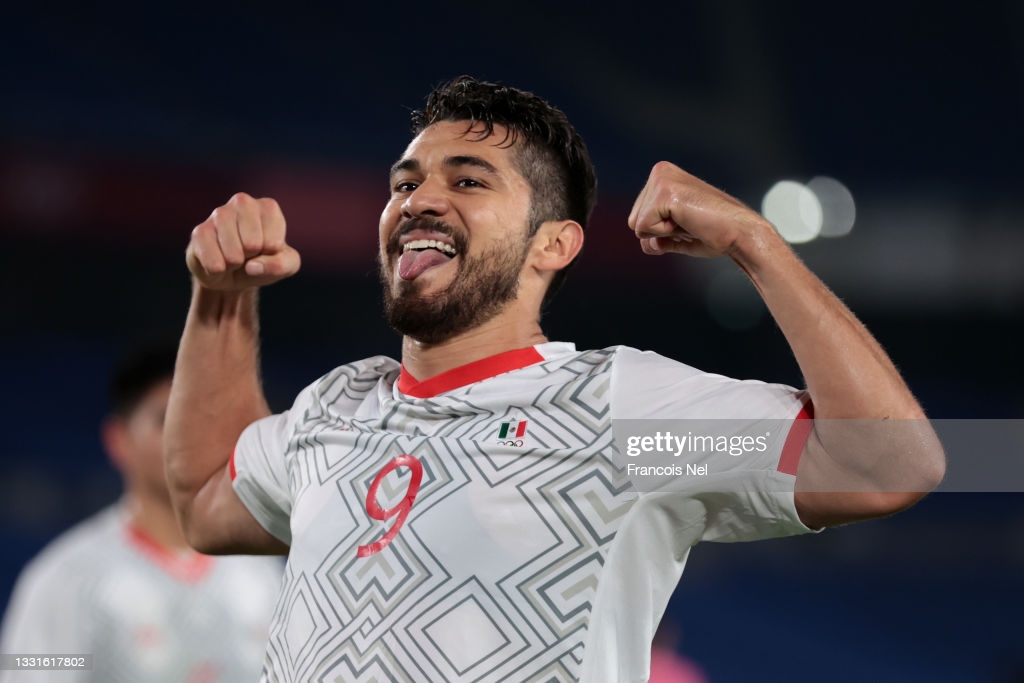 The Mexican Men's Football team is only two wins away from securing their second Gold Medal in the Olympic Games in the past nine years.
It has been an incredible team effort so far, but without a doubt, the player who has showed he's capable of playing in any league in the world is the striker, Henry Martín.
#Olympic | A double from our number 9️⃣. ⭐️

We all love your energy, @HenryMartinM. 💚#Tokyo2020 | #FMFporNuestroFútbol pic.twitter.com/mYP1Hp1L1V

— Mexican National Team (@miseleccionmxEN) July 31, 2021
Usefulness
The Club America striker is making a joke out of the Tokyo 2020 Olympics, and by scoring three goals in four fixtures, he's leading Mexico to the semifinals of the international competition.
Not only is he capable of scoring, but he's a really useful striker, as he is able to play with his back to the goal and create scoring chances for other players.
Throughout the Olympic Games, Martín has been the definition of a target forward, with his main role being to win high balls in the air, and hold up the ball.
''Not everything is scoring goals,'' Martín said after the group stage. ''Aside from that, the main reason why they brought me here is to help the team holding the ball and competing hard, that's what is really important.''
Martín is one of the three players over 23-years-old who have been allowed per squad.
He has also started every game for Jaime Lozano's squad in Tokyo so far, scoring a brace in Mexico's 6-3 quarter-final win against South Korea.
'El Tri' will now face Brazil in the semifinals.
💥 What a game!

💚 And what a magnificent Mexico performance.

🔢 The #OlympicFootball semi-finals await El Tri.#Olympics | #Tokyo2020 | #Football pic.twitter.com/U2RotXFVRD

— FIFA.com (@FIFAcom) July 31, 2021
Could he go to Europe?
The 28 year-old has proved that he can play against top level players, and due to his playing style along with a strong body, he would be perfect to play in the Premier League.
His age is the only issue why top teams in Europe wouldn't want to bet on him, especially because Mexican teams tend to sell national players for a high price.
48 out of his 80 career goals with Club and country have been since August 2018, which talks about how much a late bloomer he is. 'Thierry Henry Martín' also made his Liga MX debut until he was 22 year-old, before that, he was with Venados de Mérida in the second division.