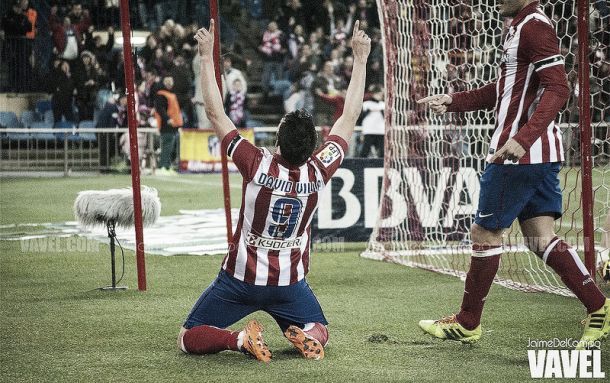 Atlético Madrid have been one of the best sides in Europe this season. Diego Simeone has employed a ruthless high-pressure game which has made spectators sit up around Europe, and this week they set up a Copa del Rey semi-final clash with none other than Real Madrid. Today they leapfrogged Barcelona to top the table for the first time in 18 years, and with a last 16 clash against Milan also awaiting them in the Champions League, there is a genuine sense among Colchoneros that this could be Atleti's year.
It wasn't meant to be this way. After all, this was the summer that Real Madrid and Barcelona dealt out huge amounts of money to secure the services of Gareth Bale and Neymar, two of the brightest attacking talents in world football. Atlético, meanwhile, sold one of their best players in Radamel Falcao. Even with the impressive capture of David Villa from Barcelona, would they really be a match for Spain's top two?
Six months on, the question now is not whether Atlético can keep up with Barcelona and Real Madrid, but just how far they can go this season.
It is clear that Simeone is intent on success in all competitions, however, this could ultimately undermine his side. Questions have been raised over Atlético Madrid's squad depth, and Simeone refuses to rest key players in the Copa del Rey. For Real Madrid and Barcelona, Atlético's progress in the Copa del Rey and the Champions League could be a blessing in disguise. The further Atlético Madrid advance, the more tired players will become due to the pressing game that Simeone chooses to adopt. Injuries are also starting to become a problem, with Filipe Luis recently being ruled out for up to 6 weeks.
A situation could arise similar to that of Marcelo Bielsa's Athletic Bilbao side a few years ago, who reached two finals in 2012, only to crumble and lose them both. The reason was simple: El Loco's tactics had run his side into the ground, and in the final weeks of the season Athletic had just run out of steam.
But Atlético have a better squad than most people realise. The likes of Aranzubia, Insua, Cristian Rodriguez, Alderweireld and Jose Sosa have plenty of experience, while promising players such as Manquillo and Oliver Torres can step up when called upon. The signing of Diego, on loan again at the Vicente Calderon, is already proving to be inspired, as demonstrated with his excellent performance in the 4-0 mauling of Real Sociedad tonight, capped with a goal. The Brazilian can be much more than a replacement for the injured Arda Turan, and may well go on to be a fixture in Simeone's first-choice eleven.
Yet even if Atleti do make it to the later stages of the Champions League, it will be impossible to hold on to all of their star players in the summer due to their precarious financial situation. The sale of strikers, in particular, has set a horrible precedent for fans, who have seen the likes of Fernando Torres, Diego Forlán, Sergio Agüero, and of course Radamel Falcao leave the club in recent years. There is already talk of Diego Costa moving to Chelsea, and the recently nationalised Spaniard won't be the only one to attract attention from other clubs. Arda Turan's transformation into one of Europe's best attacking midfielders won't have gone unnoticed, and the extremely promising Koke is also a player on many European clubs' wishlists. Mourinho will want Thibaut Courtois to stay at Stamford Bridge next season rather than go out on loan again, and the departure of the big Belgian could be a huge blow for the Rojiblancos.
Whatever the financial situation at the club, we should enjoy this Atlético Madrid side while we still can. There is every chance that Simeone's side could make it to the semi-finals of the Champions League, and, who knows, maybe even beyond. Likewise, don't rule out Atleti securing top spot in La Liga just yet.