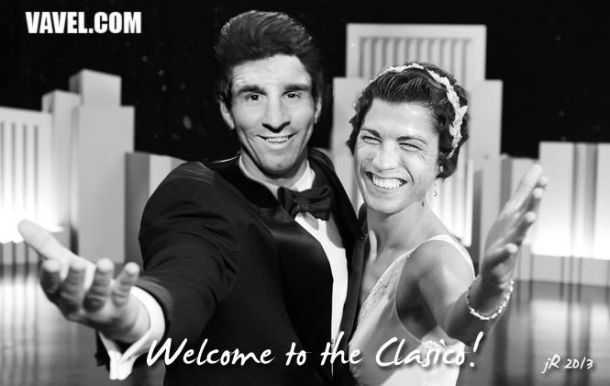 Finally it's here, the biggest club game on earth, bar none. It doesn't get any better than this, it typifies everything that the sport is about; passion, talent, rivalry and most of all, beautiful football. And with the league being as close at it is this season, the bar just got raised that little bit higher. The last Clásico five months previous saw Barcelona triumph with a 2-1 victory over their fierce rivals. Neymar, Alexis and Jesé Rodriquez were all on the score sheet, with the Brazilian and Spaniard both finding the net on their respective Clásico debuts.
The game comes at a crucial time in La Liga, especially considering the power shift we have seen in recent weeks with Barça being knocked off the top by both Atlético and Real Madrid. With just four points separating 1st and 3rd these three points will be crucial to the title hopes. However according to Marca, Xabi Alonso has stated that "El Clásico is going to be very important, but not decisive" This can be interpreted in many different ways but the most likely is that he is trying to relieve some of the pressure off of his team, after all they aren't the ones playing catch up. Barcelona's Messi however see's it very differently saying that "We have got a unique opportunity to get ourselves closer to Madrid and Atlético". He looks to have his eyes set on winning another La Liga and to reignite that dream, they need a win on Sunday.
A recent injury fear to Benzema however is making him a doubt for El Clásico after he was involved in a clash with team mate Cristiano Ronaldo last Saturday. In Tuesday's game with Schalke, Benzema's rumoured replacement Jesé also got injured ruling him too out of the Clásico. However further reports have shown that Karim's injury isn't too serious and is rather just deep bruising. We should see him back in time for the game though which will reunite the 'BBC' trio of Bale, Benzema and Cristiano.
Barcelona have only managed four wins in their past six La Liga games where consistency has been an issue however they are now coming into this game off the back of two very impressive performances, their 2-1 win over Manchester City in the Champions League and their 7-0 romping of Osasuna in La Liga. The score line of the former doesn't do Barcelona justice as the game was a complete domination, however the score line of the second definitely does give credit where it's due. They seem to have hit their peak at the right time, quieting doubters and coming into the biggest game of their season in full flow.
Contrary to the Catalans, Real Madrid are undefeated in their past 31 games in all competitions, a record which they don't seem keen on letting up any time soon. Madrid's most recent La Liga performance wasn't particularly impressive, having to be bailed out by the mercurial Cristiano Ronaldo in a 1-0 win over Málaga. A convincing showing against Schalke 04 in the Champions Leauge though has quelled any fears about their performances coming into El Clásico, winning easily 9-2 over the two legs.
How they will line-up:
Madrid -
Assuming Benzema is back you can expect Madrid to line up in their favourite formation this season the 4-3-3, it has brought them lots of success, allowing them to score more goals than earlier in the season and concede a lot less too. Their whole game has tightened up making them stronger as a unit whilst allowing still individuals to shine, therefore it will be very unlikely that the formation will change. The starting XI I am going to choose is as follows -
Casillas – Carvajal – Ramos – Pepe – Marcelo – Modric – Alonso – Di Maria - Bale – Benzema – Ronaldo
The one place that has an outside chance of being changed is the inclusion of Varane, he has dealt incredibly well with Messi in the past, but I haven't included him in the starting XI because he has not long returned from injury.
Barcelona –
Barcelona are expected to set up in the 4-3-3 false 9 as they usually do, although Tata Martino has played another formation in big games this season the 4-3-1-2. This sacrifices a natural winger in Pedro or Alexis but allows for Fabregas to go in behind Messi and Neymar. However against Madrid it will be important to stick to their strengths and match them with a 4-3-3. There is no doubt in Fabregas' ability the statistics show he has been heavily influential in the side this year, assisting 13 times and scoring 9 times, but is he worth including in the squad if it disrupts their natural shape? Against Osasuna recently Tata went with a front three of Pedro, Messi and Alexis it worked brilliantly and clearly suited Messi more. To get the best out of Messi you need to create the team around him and make sure it suits his needs, so it would be foolish for Martino not to do that.
Another question is that if they do play 4-3-3 who will the front three be? Messi is a certain but who partners him is a lot trickier. Alexis scored a sensational goal against them last time round, has netted 17 times and assisted eight this season, whereas Pedro has scored 14 times and assisted eight too. Neymar however has scored seven goals (Once against Madrid) and assisted 11 times. A hard choice between the three but I think Neymar and Alexis will get the nod, don't rule Pedro out coming on as impact substitute though.
Busquets will be playing centrally in the midfield three but deeper than Xavi and Iniesta allowing them to get involved in the attacking phase more. Alba and Alves will be heavily involved with these two, advancing up the pitch to give the easy option if no other passes are on.
Valdes – Alves – Pique – Mascherano – Alba – Xavi – Busquets – Iniesta – Neymar – Messi – Alexis
An alternative could be for Iniesta to join up in the front three, putting Fabregas into the midfield and playing Neymar, Alexis or Pedro wide right.  
Key men:
Messi –
The Argentinean is coming into this game full of confidence after a scintillating performance against Osasuna in which he scored a hat trick, making him the clubs all time leading goal scorer. Leo has contributed to 29 goals in Clásico's scoring 18 and assisting 11. Surprisingly though he has contributed more in the Bernabeu than in the Camp Nou. Could this be a good omen for Barcelona come Sunday? With Messi recently finding his incredible form it's hard to imagine Madrid stopping him, if either he or Ronaldo is on the top of their game then the other team will struggle to win, that's how much they impact on the game. If both of them are on form at the same time though then simply sit back and enjoy the spectacle, you will be looking two of the greatest players in history at the peak of their powers. The time for analysis and comparisons stop and you just have to look in awe. The first time round this season though Madrid managed to stop him, albeit he wasn't a hundred percent after recently coming back from injury, so it is imperative they do the same.
The heat maps above are of Messi and Pepe, in the first Clásico meeting this season. As you can see Messi was not in and around the box as much as you would expect and this is a big part of the reason as to why he didn't score. Pepe's heat map is very similar and this is because he was tracking Lionel and making sure he was nullified from the game, easier said than done. But in this case it worked, also with the addition of Sergio Ramos in midfield last time it closed the gap between midfield and defence which is where Messi likes to play, in-between the lines. However now that Leo is fit and on form I find it unlikely that Madrid will stop him from influencing the game in some way be it an assist or a goal. But for all the focus being on stopping Messi it opens up the game for another magician on the ball, Andrés Iniesta.
Iniesta –
First off I would like to express my condolences to Iniesta and his family for the tragedy that recently occurred in their lives. I find it incredible that he has found the strength to keep playing but not only that, he has taken his game to whole new level, a truly inspiring man. Since taking his short break Iniesta has been magnificent, assisting Dani Alves in the return leg of the City game, to make it 2-1 to Barça and against Osasuna last weekend where he scored a magnificent goal and assisted twice. Iniesta is the ultimate big game player, popping up when it really matters, for example his World Cup final strike in 2010 to make Spain the champions or his wonder goal against Chelsea to take the Blaugrana's to the Champions League final.
The big danger with Iniesta is letting him dictate the play from advanced positions, if you allow him time on the ball you will pay. He only has to find one of the front three with a through ball once for it to matter. Madrid need to stay tight to Iniesta and force him to play balls either sideways or backwards, but as we know 'El Illusionista' is one of the most elusive players in football and he can quite easily drag three or four players out of position. Therefore it is imperative that if 'Los Blancos' want to win they need to stay disciplined in their pursuit of Iniesta. In the first Clásico of the season Iniesta managed to assist the first goal with a wonderful bit of skill to play Neymar through on goal. Many say that if you stop Iniesta you stop Barcelona, so that is exactly what Madrid will be looking to do.
Ronaldo –
The Portuguese international is having the season of his life with 25 goals and 7 assists in 24 games. Barcelona have failed to keep him quiet 12 times in the 19 matches they have played against him, so could he be the catalyst to a Madrid win on Sunday? The last Clásico saw Ronaldo not on the score sheet but on the assist sheet instead, providing the pass to Jesé for Madrid's consolation goal. When looking at Cristiano's action areas from the last game you can see that he came inside a lot more than usual, taking up a central location as opposed to his more common wing position. This was because he wasn't seeing the ball as much as he would have liked out on the wing so he had to come looking for the ball inside. Whether he is less ineffective in there is up for debate, but he certainly wasn't as effective as past Clásico's.
If Madrid wants a result against Barcelona it is important that they utilise the space in behind Barça's full backs as this is where they can stretch the defence. Because Barça have such attacking full backs in Dani Alves and Jordi Alba it means that they leave a lot of space in behind themselves on the flanks and this is the space Madrid need to attack with Cristiano on one side and Bale on the other. Barcelona will realise this though and will advise Alves and Alba to be more diligent in their defensive work, only making forward runs when they feel they can really impact the game.
Modric –
The unsung hero of Real Madrid this season features in my key men because that is exactly what he is, key. The Croatian maestro has shown this season why he was brought to Spain in August 2012 and is fulfilling everything Ancelotti could want out of him. A pivotal player in Madrid's new found 4-3-3 formation Modric operates on the left of the midfield three, attacking and defending in equal measure. Los Blancos fans have been surprised at just how effective he has been in the defensive phase of their game, winning more tackles (47) than his midfield compatriots, Xabi Alonso (41) and Di Maria (32). In the first Clásico of the season Modric completed 3/4 tackles, made four interceptions and achieved 37 of his 44 passes (84%). He predominately stayed in the middle of the pitch to help keep compact but sometimes drifted out to the left hand side to link Marcelo and Ronaldo together. He will look to do the same this time round too however Xavi will be his opposite number and so Modric will need to play the game of his life to outwit the Spanish general.
Other Figures  (Busquets/Bale) –
Of course everyone will play a big part in the game and so effectively everyone is a key man but some (Those above) will be more important than others. The players in this category 'other figures' will be very important too but they just don't quite make it into the 'key men' category so are here instead.
Sergio Busquets is much like Modric in the way that he is the unsung hero of his team, the octopus of Badia as he is known is the central hub of everything Barça. Along with Xavi these two control games, they dictate the pace and direction the game will go in, usually starting off the brilliant 'tika-taka' we have loved to see over the years. But not only does he get things moving for Barça he also stops things moving for the other team. Breaking up counter attacks and staying calm in high pressure situations is what Busquets has made his name from and we will see more of this on Sunday. Expect Busquets to dispossess or intercept many of Di Marias attempted passes to the front three and then simply distribute it to either Xavi or Iniesta, keeping things ticking. In the last Clásico he achieved a 98% pass completion ratio with 49/50 passes finding their man, a staggering figure, especially for such a high tempo game.
Gareth Bale has had a very strong first season despite injuries contributing to 28 goals in all competitions with 14 assists and 14 goals. However he didn't show up in the last Clásico, going missing for large parts of the game and this has earned him his fair share of critics, therefore he will need to vastly improve this time round to help his team. He completed just 13 passes out of 24 attempted in the last game which is a very poor return, especially against Barça, the last team you want to concede possession too. Because they dominate possession the few times you do get the ball you need to make count, however I'm confident Gareth will have a much better game this time round, as he has now found is feet in the team, knowing exactly what is required of him. The 4-3-3 Ancelotti has implemented suits him down to the ground and allows him to hug the touchline, cutting in when he sees fit. An epic battle between two of the quickest players in world Bale and Alba will be worth tuning in for by itself, let alone to look the football.
Prediction:
With both teams having a common enemy in Atlético Madrid this season you can be sure that they will not settle for anything less than three points. Good news for the neutral as this will make for an enthralling, nail biting game. Nonetheless though I will sit on the fence and say it will be a 2-2 draw. With Messi scoring both of Barça's goals and Ronaldo and Benzema scoring for Madrid. Make sure you don't miss out on this classic; it will be one to remember.