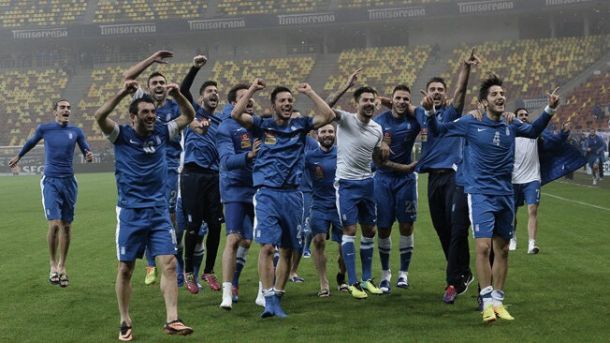 Since that glorious night in Lisbon, The "Galonolefki" have qualified for all but one major tournament, that one being the 2006 World Cup in Germany. In 2008's European Championship the Greek's failed to pick up a single point and left the tournament with their heads in their hands. To further add to the agony of not winning they only scored once! This earned them the unwanted feat of "The only reigning champions not to pick up a point the following tournament."
The Greeks faired slightly better in South Africa in 2010 by finishing third bottom of the pile. A shock opening defeat to Korea wasn't the best of starts, but they bounced straight back with a 2-1 win over Nigeria, before getting dumped out the tournament by Lionel Messi's Argentina 2-0. Following the dismal campaign, Otto Rehhagel stepped down just twenty-four hours after the exit. In came Portuguese tactician Fernando Santos. An impressive start to his career in charge saw the sky-blue and whites go unbeaten for the first seventeen matches of his tenure. Greece moved up to 8th from 12th in the FIFA World rankings and the future looked bright.
Euro 2012 came and the Greeks went through to the quarter finals before being beaten valiantly 4-2 by a strong German side. The Greeks went unbeaten in the group stages and scored seven and conceded three; four of their seven goals coming in a 4-1 demolishing of Czech Republic.
The Squad:
Goalkeepers: Orestis Karnezis (Granada), Panagiotis Glykos (PAOK), Stefanos Kapino (Panathinaikos).
Santos has named three different goalkeepers from the last major tournament.
Karnezis will be the likely number one being the oldest of the three, however he only appeared six times for Granada this past season. In those six appearance he only kept one clean sheet however he does have a 97% claim success which will make corners harder for opponents. A stat he may not want me to share is he conceded on average two goals a game. He played back up to Spaniard Roberto and could prove a dodgy choice for number one with his lack of games.
Glykos and Kapino have also played more of a back up role at PAOK and Panathinaikos respectively and between them have just fifteen appearances. Kapino being only twenty will more than likely spend the whole tenure of the tournament on the bench with Glykos, but an error from Karnezis could easily see one of these able goalkeepers having to step up.
Defenders: Vassilis Torosidis (Roma), Loukas Vyntra (Levante), Sokratis Papastathopoulos (Borussia Dortmund), Kostas Manolas (Olympiakos), Vangelis Moras (Hellas Verona), José Holebas (Olympiakos), Georgios Tzavellas (PAOK), Giannis Maniatis (Olympiakos).
A back four is likely for the Greeks and judging on recent fixtures the defensive line has been as follows: Torosidis, Manolas, Sokratis and Holebas.
The centre back pairing of Sokratis and Kostas Manolas should prove challenging for their Group C opponents, but it is by no means unbeatable.
Sokratis played twenty-eight times for Dortmund and over the course of the season averaged above two tackles and one interception a game. His predicted partner Manolas has similar stats with above two tackles and just under two interceptions a game. Manolas stands slightly shorter than Sokratis(1.85m) at 1.79m but both have a 62% aerial duel winning percentage.
Vassillis Torosidis is a wise defender and the right back plies his trade in Serie A with giants Roma and started twelve games last term. A strong contributor on the defensive part but he does also like to push forward occasionally and deliver a cross. Jose Holebas is an opposite player in the sense that he loves to attack. The German-born left back can also play on the wing and his pace is frightening. There is a marginal height difference between himself and Sokratis but Holebas tends not to go to the air. He does still have a 52% aerial duel win percentage and is the oldest of the predicted back four.
Midfielders: Alexandros Tziolis (Kayserispor), Kostas Katsouranis (PAOK), Giorgos Karagounis (Fulham), Andreas Samaris (Olympiakos), Panagiotis Tachtsidis (Torino), Panagiotis Kone (Bologna), Giannis Fetfatzidis (Genoa), Lazaros Christodoulopoulos (Bologna).
Record cap holder Giorgos Karagounis will likely be a key cog in the middle despite being one of the elders of the squad at thirty-seven years old. The veteran has strengths in passing and dribbling and no real significant weaknesses other than his pace. Giannis Fetfatzidis will more than likely play as a right winger in a front three in Rio. He is both speedy and skilful and a threat to opposition defences.
Panagiotis Tachtsidis is a tough tackling midfielder. Sometimes he can get carried away and that shows on his disciplinary record from this past season, with one red card and many close shaves. However like Karagounis, Tachtsidis is an excellent passer of the ball. Kostas Katsouranis is another obvious choice in midfield for Santos. Another veteran of the squad at thirty-four, he will bring some experience to the table as a part of the 2004 Euro winning team. Another fine passer of the ball and a natural ability in ghosting into the box while on attack.
Forwards: Georgios Samaras (Celtic), Kostas Mitroglou (Fulham), Fanis Gekas (Konyaspor), Dimitris Salpingidis (PAOK).
Fanis Gekas, could become the top scorer for the "Galanolefki" if he can score five at the finals, however Kostas Mitroglou will be the likely starter in the front three alongside the aforementioned Fetfatzidis and either Georgios Samaras or Dmitris Salpingidis occupying the other wing.
Mitroglou moved to Fulham in Janaury but struggled and couldn't find the net as often as he did at last club Olympiakos. Fulham were relegated and Mitroglou's future is up in the air, so he'll be hoping to impress at the finals and maybe jump ship if he catches the right interest. Salpingidis or simply "Salpi" can play as a striker or on the wing and is yet another player in the squad, with lightening pace and an eye for goal. The front three is easily interchangeable with plenty of able players for set positions.
Predicted lineup:
The Group:
The Greeks have been pitted up against Colombia, Ivory Coast and Japan in Group C. It's a rather unpredictable group in terms of who'll finish second; Colombia look strong favourites to "stroll" the group and Ivory Coast have many strong players. Their game against the Greeks could prove vital in the race of going through to the next round. With no disrespect to Japan it is unlikely they will challenge for top spot or even second spot - but anything can happen in the beautiful game.
Prediction:
Escape Group C - albeit just - then knocked out the next round.