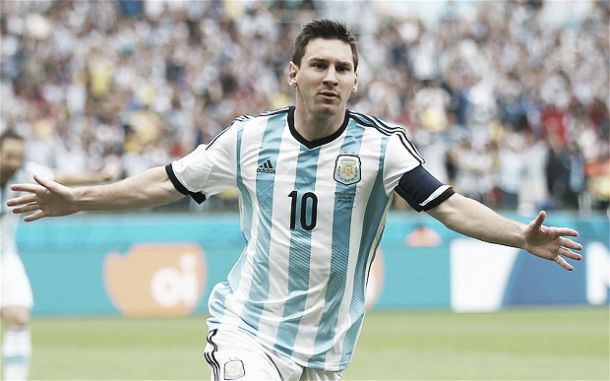 It's been a World Cup to remember, arguably one of the best ever. And now we finally know who will contest the final in Brazil's famous Maracana stadium. Germany - Argentina will be an epic contest, between two giants of international football. We'll see some of the best players in the world on display, and some of those key players will be from La Liga. Let's take a look at the impact those players from Spain can have on this match:
Lionel Messi (Argentina & Barcelona): Number one in this article. Number one in the world, and if he ends up lifting the trophy on Sunday night, he may be number one on the greatest of all time list. It's been suggested that Messi needs to win a World Cup, in order to go down in the list of all-time greats. The four-time Ballon d'Or winner appears to have taken this personally and is doing just about everything in his power to propel Argentina to the title. We know exactly what to expect from Messi. Goals, assists and magical moments. He's found himself heavily marked by every team during this tournament, but it's the moments in matches where he finds himelf space that he's at his best. With his quick feet and dribbling he manages to evade the clutches of the two or three players around him and produce a moment of pure magic. He's been the difference for Argentina over the course of the tournament. With four decisive goals to his name, he's been able to decide games - almost by himself. He was rather quiet during last nights Semi-Final, but expect a big performance from him against the Germans in Rio - Argentina are going to need it.
Javier Mascherano (Argentina and Barcelona): Arguably one of the players of the tournament so far. And next to Messi, Argentina's most crucial player. Mascherano has been deployed by Sabella to play just infront of the back four, a more natural position for the man who plays centre back for Barcelona. Mascherano tops the passing charts every single match, and he usually tops the amount of tackle and interceptions charts too. He's Argentina's first point of attack, and last line of defence. We've seen him start flowing moves with short incisive passes, or long-range crossfield balls. But we've also seen the brilliant defensive side of his game. Breaking up play in the middle of the park and neutralising the oppositions most dangerous players. Mascherano is key to Sabella's tactics because when Zabaleta and Rojo push on, Mascherano drops in between the two centre backs to give them some added protection. He was many viewers man of the match against Holland, and if Argentina are going to win on Sunday, Sabella will need more of the same from Mascherano.
Angel Di Maria (Argentina and Real Madrid): This man missed the Semi-Finals due to injury, but we can expect Di Maria to be fighting his way back to fitness to play a part in this Final. It seems unlikely Di Maria will start however many said the same of De Jong last night and the Dutchman fought back to fitness, the Argentine could do the same. Di Maria has been a key player for Argentina so far, he's been the link between defence and attack in their side, offering energy and creativity from a number of different positions. The beauty of having Di Maria in your side, is you know he'll never stop running. He'll always be trying to find space, and making sure the defence is stretched out wide, leaving space for Messi and co to exploit. Di Maria is also the type of player that can be called decisive. He'll impact the game. We saw that against Switzerland in the Last 16, he may not have had a great game, but he scored the winning goal. And that's what Argentina need. They may not be able to out-play the Germans for 90 minutes, but when they get their chances they need to take them.
Sami Khedira (Germany and Real Madrid): After missing most of the season with a serious knee injury, many people questioned whether Khedira would be able to nail down a spot in the German side. Well, he has. After being in-and-out of the team throughout the group stage, Khedira has managed to hold down a spot in the German midfield - and they look the better for it. Khedira was one of the best players on the pitch during their Semi-Final thrashing of Brazil. He looked fit, agile and strong with his powering runs from midfield causing Brazil's defence all sorts of problems. Khedira's end product was good too, often finding Muller or Ozil with his final pass and creating some good chances for his team-mates. He'll be key for Germany in the Final. Khedira will have to show both the offensive and defensive side of his game as he'll be forced to keep tabs on Messi (and possibly Di Maria) too. He's a La Liga star at the moment, but with a bid from Arsenal looming - it's a question of how much longer he will be.
Toni Kroos (Germany and soon-to-be Real Madrid): Kroos was named man of the match during Germany's demolition of Brazil, and with two goals and an assists you can hardly complain about that. Kroos poses a different type of threat than Khedira though, Kroos is less direct, often choosing to pass rather than run himself. Like Mascherano also, Kroos tops most of Germany's passing charts, often dropping deep, receiving the ball, and moving it on. He keeps Germany's midfield ticking over and persists that they play on the front foot which is why we saw the very best of Kroos against Brazil. He made a few clever runs into the area, resulting in him scoring two fine goals. Like Khedira, Kroos will have to choose his moments to go forward wisely against Argentina. But when he does choose to play the ball forward and make a run - it could be decisive. Regarding his future, he's not a La Liga star yet. But it certainly doesn't look far away, it seems a deal has been agreed with Real Madrid and he'll be heading there after the World Cup. But will he be heading to Spain with a World Cup winners medal?
All five La Liga players (or soon-to-be La Liga players) are key players for their countries so make sure to keep a special eye on them as the action unfolds on Sunday. There will also be a few ex-La Liga players out there on show with Zabaleta (Espanyol), Demichelis (Malaga), Gago (Real Madrid), Maxi Rodriguez (Atletico), Ozil (Real Madrid), Higuain (Real Madrid), Aguero (Atletico) all turning out for their respective countries.
It's going to be a final to remember!