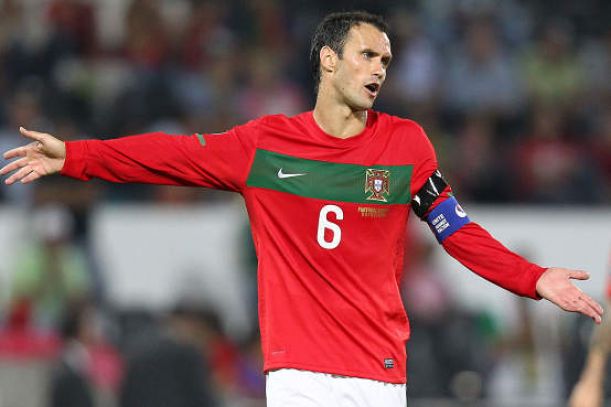 The Portuguese Football Federation announced this week the appointment of Fernando Santos as the Selecao's head coach. Santos has filled the position left vacated by the departure of Paulo Bento, the team's previous coach. Bento was known for his stubbornness, which resulted in stagnant team selections, as well as some players being exiled from the team. With Santos now in charge, there is a natural hope for a renewed team; one that is open to any player deemed worthy to represent it. Let's take a look at what we can expect from Fernando Santos, in terms of player selection and tactics.
During his time as manager of Greece, the team had the reputation of being a defensive-minded team, a status that they have kept ever since their underdog 1-0 win against Portugal in the final of Euro 2004. Santos wasn't coach back then, but nevertheless, the Greek team was still one built on defensive solidarity when he took charge. Santos appeared to make little effort to change that, as the Greek team had and still has a defensive reputation. Despite this, Santos's record for Greece and Bento's record for Portugal are almost entirely identical. Bento coached 46 games for Portugal, while Santos coached 49 for Greece during similar length spells in charge. Both managers had win percentages in the mid-50% range, but the most telling fact is the goals scored to goals conceded ratio. Santos's Greece scored 56 goals and conceded 36 goals during his four year stint. Bento's Portugal scored 91 and conceded 49 during his time in charge. On the surface, it appears that these statistics show us that Fernando Santos is a defensive-minded coach. He scored just over a goal per game, and conceded just under a goal per game. But it's not as cut and dry as it appears.
Good coaches have a set of tactics that they favor, but are always ready to mold them around the strengths and weaknesses of their team. In 2010, Santos inherited a Greek team that had been coached for nine years by Otto Rehhagel, who had instilled a defensive approach in the team. But it wasn't just simply a defensive approach. Many small, European national teams employ some variant of a defensive approach as a way to halt larger national teams from rolling over them. Greece's defensive approach hadn't just been used as a way to survive against big teams. It won them a tournament. After their victory at Euro 2004, Greece really made a name for themselves as a defensive-minded team; and one that had revolutionized the method of "parking the bus." As the 2000s continued on, Greece continued to play to their strength, and with Rehhagel in charge, his tactics were continuously used until his resignation in 2010. Up until taking the job with Greece, Fernando Santos had been known for playing a very regimented attacking style, which was in sharp contrast to the Greek system. Despite this difference in philosophy, Santos continued the defensive tactics put in place by Rehhagel, and to great effect. Santos reached the second round of this past summer's World Cup, only to be narrowly beaten by a surprise Costa Rica team. How did he do this? He played to his team's strengths.
Tactics
---
Based on what I've gathered of Fernando Santos, he appears to be a very flexible coach. At this past summer's World Cup, Fernando Santos employed a 4-4-2 in the team's opening match against Colombia. After suffering a 3-0 defeat in that match, Santos then switched to a 4-3-3. This switch shows Santos's flexibility as a manager. One of Bento's chief criticisms were his inability to change formations both during and between games. The team stagnated under Bento, and many fans of the team hope that Fernando Santos can revive the team's formations and tactics, so as to get the most out of the team.
So what tactic/formation will Santos employ? It will be interesting to see, but I believe that the 4-3-3 will stay in place, as it makes the most sense based on the team's strengths. We are currently lacking a true striker, so playing a 4-4-2 wouldn't make sense. Unless Ronaldo was moved to striker, alongside someone like Eder. It will be interesting to see what Santos decides in the end, but as I said, Santos plays to the team's strength. He is also flexible, so there could very well be a cycle of formations that Santos uses before he finds the right fit.
Player Selection
---
Paulo Bento is responsible for nurturing and affording chances to the Portugal team that we see now. While there is criticism for the lack of opportunities given to young players, the fact remains that much of Portugal's current starting eleven was given their opportunity by Bento. When he took charge, players such as Joao Pereira, Rui Patricio, Joao Moutinho, Fabio Coentrao, and Helder Postiga were all either new to the team or rejoining the team after an extended absence. But while he built the team that was the most effective in 2010-2012, a lack of changes in the team resulted in a stagnant team more recently. With his tactics and team selections seemingly set-in-stone, Portugal became a predictable team to play against, which is part of their mediocre form of late.
Bento also butted heads with a number of players. Some of these disagreements were warranted, while some were less acceptable. Players such as Manuel Fernandes, Danny, Ricardo Carvalho, and Bosingwa were all exiled from the team for one reason or another. All four of these players were in very good form for their clubs during Bento's reign, which made their exclusion all the harder to swallow. There were also players such as Jose Fonte and Adrien, who Bento often overlooked, despite positive performances in the Premier League and the Primeira Liga, respectively.
Don't expect Fernando Santos to be as rigid as Bento was with his team selections. Santos has gained a reputation for being a flexible coach, which will hopefully translate to his selection of players. Having already coached at international level, Santos will surely understand the importance of player management. And he's already showing signs that Portugal is entering a new era. In the customary pre-selection before the actual squad selection, Santos has called on Danny, Jose Fonte, and Ricardo Carvalho. Being named to a pre-selection doesn't necessarily guarantee a spot in the final team, but it at the very least shows who is on the coach's radar. Santos also named Orlando Sa and Tiago Mendes to the squad, which shows that he is willing to call on any worthy Portuguese player for the team, regardless of age or where they're playing. Orlando Sa is currently playing in Poland for league champions Legia Warsaw, who are also in the Europa League. Sa has already scored five this season for the club. Tiago Mendes officially retired from the national team following the 2010 World Cup at the age of 29. It was a strange time to retire, as midfielders of the caliber of Tiago can play at a top level at least until 32. Since his retirement from Portugal, Tiago has won a host of silverware, ranging from the La Liga to runners-up in the Champions League; from the UEFA Super Cup (twice) to the Europa League. Despite his advanced age, Tiago has continued to perform, and his performances last year in the Champions League were nothing short of spectacular. Tiago has hinted that he may be interested in returning to the Seleccao, but nothing has materialized as of yet. Maybe Santos will bring him back.
---
Fernando Santos is an very experienced coach. Already having a background in coaching international football may be an asset for Portugal, who are looking to reinvent the team after a recent downward spiral. Every team needs some sort of renewal every now and again, and it looks like Fernando Santos might be the man to give Portugal some much-needed hope ahead of a tough Euro 2016 qualification campaign.