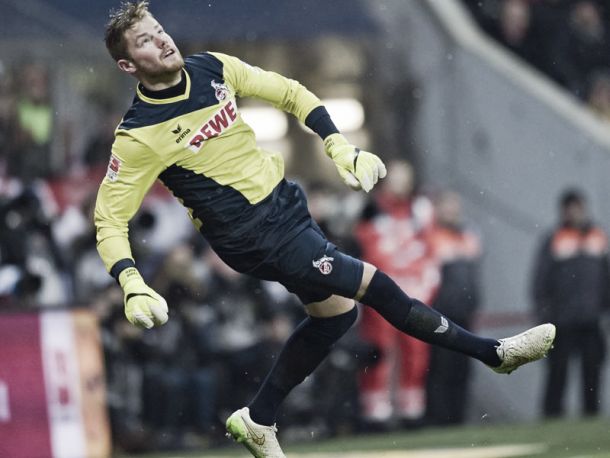 In two days' time, the U-21 European championship will start in the Czech Republic. Timo Horn, 1. FC Köln's first-choice goal keeper is one of three German goalkeepers selected in Germany's squad, with Marc-André ter Stegen from Barcelona and Bernd Leno from Cologne's rivals Bayer Leverkusen.
In an interview with DFB.de, Horn talks about his career at Köln, his wishes and hopes for the future and his expectations of the tournament.
Expectations exceeded
About this year's season with the Geißböcke, Horn says that he is "very happy" and that the team "exceeded our own expectations". He is noticeably proud of the 13 clean sheets he achieved in the 34 games and adds that he is happy to have caused upsets, like the home win against Borussia Dortmund (2:1) and both wins against Schalke 04 (2:1 in the Veltins Arena, 2:0 in Cologne).
When talking about the Cologne goalkeeper stars Toni Schumacher and Bodo Illgner, he said that he admires both but also wants to do his own thing and leave his own mark. He furthermore describes Edwin van der Sar, the former Manchester United and Netherlands goalkeeper, as his childhood idol because he "played almost as a sweeper keeper and from there was able to start each attack".
Being better than the others
He said that he began to realise in the U15 youth at 1. FC Köln that he was better than the others. After the relegation from the Bundesliga in 2012, the coach at that time, Holger Stanislawski, told him that he was to be the number one for the upcoming seasons. Horn has gone on to become one of the best goalkeepers in Germany.
On ter Stegen and Leno, Horn says that he has a huge respect for them but doesn't envy them because they have already played in the Champions League. However he admits that "eventually, I want to walk out to that famous anthem".
A "very good chance"
Horn admits that the goal is to win the UEFA European under-21 Championship in the Czech Republic. He is confident of advancing from the group stage and then says that it then depends on the semi-final draw. He believes they have a "very, very good chance of going far in this tournament".