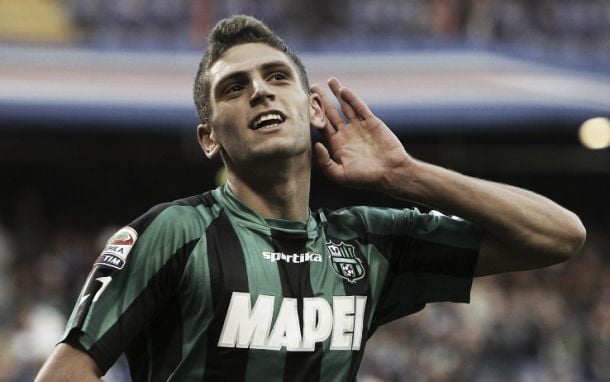 UEFA Champions League finalists Juventus have officially sold their share in Domenico Berardi to Sassuolo for €10m, despite the rumours there has been no mention of a buyback clause.
Berardi has been one of the Serie A's most influencial players
Only two players were directly involved in more goals in Serie A last season than Berardi (25 - 15 goals and 10 assists). The biggest jewel in the Juventus crown of the future has been sold and nobody is quite sure why, after the two brilliant seasons he's had with Sassuolo.
Born in Cariati, Calabria, Berardi joined the youth academy of Cosenza at the age of 13, before moving to Sassuolo at the age of 16. He made his senior debut for Sassuolo on 27 August 2012, and scoring his first professional goal five days later.
On 2 September 2013, Juventus confirmed via their official website that Berardi had joined the club on a co-ownership basis that saw Luca Marrone move in the opposite direction, both for a fee of €4.5 million. Berardi remained with Sassuolo on a season-long loan deal for the 2013–14 season.
Berardi started turning heads for the first time on 12 January 2014, Berardi scored all four goals in a 4-3 home win against AC Milan. In doing so, he became the second youngest player to score four goals in a single Serie A match and the first ever player to score four in a league match against Milan.
In July 2014, it was confirmed that Berardi was to stay at Sassuolo for another season, the co-ownership deal was also renewed on 20 June 2014. On 17 May 2015, he returned to haunt Milan as he scored a hat-trick at the Mapei Stadium in a 3-2 win.
Could Juve be making a huge mistake?
Berardi is now a full Italian under-21 international, although a call up to the senior squad seems to be immenent. If there isn't a buyback clause then this could be a decision that Juventus regret in the near future, especially if he joins one of their major rivals.
Even this early on it's hard to see Sassuolo holding onto Berardi for very long. However, for now, it's one of the smartest deals likely to take place this summer.