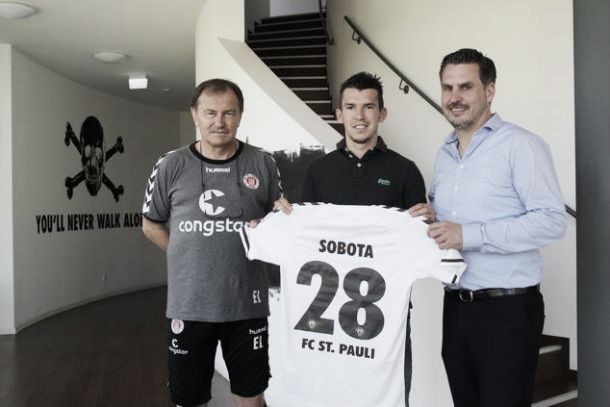 FC St. Pauli have confirmed that they have extended the loan of Polish midfielder, Waldemar Sobota.
The 28-year-old joined the club in January last year, on a loan deal until the end of last season from Belgian Pro League runners-up Club Brugge.
This time, Sobota will spend the entire campaign in Hamburg. In the short spell last term, he managed 10 appearances and two goals.
Now, the loan also includes an option to buy Sobota at the end of the deal - though it is not clear how much St. Pauli would have to spend.
Sobota, speaking to the club's official website, side that he is "happy" and that he has felt "very comfortable in the past six months" in Hamburg.
"Waldi has indicated very early on that he really wants to play for our club," added sporting director Thomas Meggle.
He said that it was "very quick to agree with him" and that the club are "glad that all arrangements have been clarified".
Ewald Lienen, head coach, stated: "Last season Waldemar - despite all his injury problems - put his skills to the test.
"He will help us with his speed, his strength in dribbling and his experience and make our game more variable."
Sobota has became St. Pauli's third signing this summer. Ryo Miyaichi and Lasse Sobiech have already joined the club, though those are both permament deals.
Sobiech is a big signing for the club. He was loaned out from bitter rivals Hamburger SV last season and was an important player in kevaveping them in the 2. Bundesliga.
Miyaichi, a naturally pacy winger, is a free transfer from Arsenal. He failed to make a real breakthrough in the first-team during his five-year spell with the London club. The two-time Japanese international was sent out to Feyenoord, Bolton Wanderers, Wigan Athletic and FC Twente but wasn't offered a new contract.