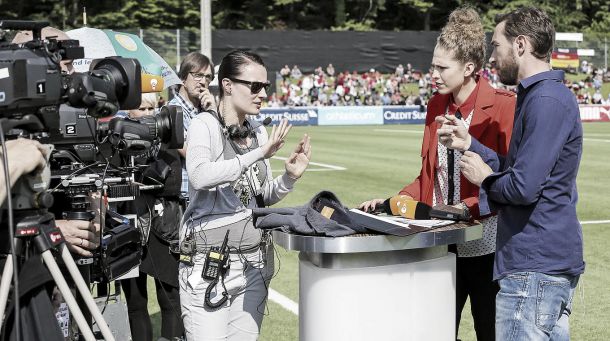 Kim Kulig has been forced to retire at the age of just 25 due to injuries.
The 1. FFC Frankfurt midfielder unfortunately ruptured the anterior cruciate ligament in her knee in the 2011 FIFA Women's World Cup, and has struggled to get her career back on track since.
Thus, Kulig has decided to retire and start what she is calling her "second career" - taking up a role with the DFB, as well as with the ZDF, a German television broadcaster.
Injuries cut short a promising career
Kulig's retirement is certainly a big blow for the German women's game, as she showed more than enough potential at a young age to suggest that she could go on to become one of the world's best.
When she suffered that big blow in the World Cup four years ago, the midfielder, then 21-years-old, was making her 26th appearance for her country, having already established herself in the side and scored six goals at international level.
That summer, she had also earned herself a switch to one of Europe's biggest clubs in Frankfurt too, following her 12 goals in 18 games for Hamburger SV in the 2010-11 Frauen-Bundesliga season.
However, the under-20 World Cup and Euro 2009 winner struggled to recover from a complicated injury, with her ligament deemed unstable despite an intense rehabilitation programme, with her final match coming as a substitute against FC Zurich back in January, in a friendly for Frankfurt.
Kulig focused on new chapter
Still, as disappointing and saddening it may be for Kulig and fans to see her call an end to her playing time, the German is already excited about the next chapter in her life.
Whilst sidelined over the last few seasons, the 25-year-old studied and graduated in Sports Management and has since landed herself an internship with the DFB. She will start her full time position with the German football association at the beginning of October, taking up a role in the teams and talent department.
As well as this, Kulig was a pundit for the ZDF over the summer whilst they broadcasted the 2015 Women's World Cup, and, after her appearances received plenty of positive feedback from viewers, they have decided to have her on board again for Germany's Euro 2017 qualifier against Hungary on Friday afternoon.
Speaking about her retirement, Kulig said that, whilst "it is not easy for [her] to draw a definitive line under [her] playing career," she is thoroughly "look[ing] forward to interesting and challenging projects" that await her.
The midfielder said that she did "everything" to get back to full fitness, but her knee simply could not withstand "the pressures of competitive sport," forcing her to retire.
Still, she remained positive, saying that, because her future job ventures remain in a footballing capacity, "the transition to the new career is not difficult."