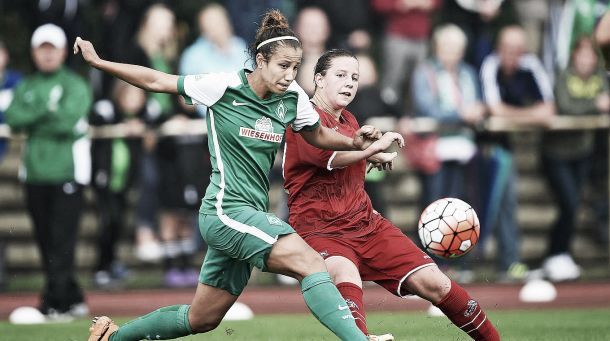 The 2015/16 Frauen-Bundesliga campaign got underway on Friday evening and the first gameweek was completed by Sunday night, with VfL Wolfsburg sitting top of the table after the weekend's six fixtures.
Werder and Sand join Wolves at the top after plenty of goals
There was plenty of action for fans to sink their teeth into on matchday one, with Wolfsburg providing plenty in their 8-0 victory over USV Jena, whilst Werder Bremen and SC Sand join the 2012-13 and 2013-14 champions in the top three after bringing their shooting boots out from the off too.
Wolfsburg were, as expected, their dominant selves at the Universitatssportzentrum on Sunday, putting eight past Jena. The scoring started as early as the ninth minute, with new signing Tessa Wullaert netting the first of her two goals in the game, her second being her team's third, following Alexandra Popp's 21st minute strike.
Julia Simic rounded off the first scoring half scoring and, whilst Jena held their own for the most part of the second half, Verena Faisst added a fifth with less than 20 minutes to go. Debutants Synne Jensen and Elise Bussaglia followed, before Vanessa Bernauer completed the scoring four minutes from time.
Bremen were involved in an eight goal thriller of their own on Sunday morning, coming out as 6-2 victors against fellow newly-promoted side 1. FC Köln. They had to come from two goals down to do so though, with Lise Overgaard-Munk and Anna Gerhardt giving the visitors a 2-0 lead, a deficit which Maren Wallenhorst managed to halve in first half stoppage time with a goal that laid the foundation on which Werder built an astounding second half comeback.
Within three minutes of the restart, the hosts were level through Stefanie Sanders, whilst, less than 10 minutes later, they established a two goal cushion of their own thanks to Katharina Schiechtl and Marie Bagehorn. Sanders added a fifth in the final 15 minutes, whilst Stephanie Goddard put the cherry on top of the emphatic win with a stoppage time penalty, which resulted in Köln goalkeeper Lena Nuding seeing red.
Sand, however, managed a clean sheet like Wolfsburg, picking Bayer Leverkusen apart to record a 4-0 victory at home. New signing Nina Burger opened the scoring after only seven minutes, and her strike was followed by one from another summer arrival, Dominika Škorvánková, in the 25th minute. Burger bagged her brace just past the half hour mark, whilst Isabelle Meyer's stoppage time effort rounded things off to make it four against a Leverkusen side that many expect more from this season.
League and European champions complete winning quintet
Other victorious sides at the weekend were reigning champions FC Bayern Munich and FFC Frankurt. The former were in action in the league's curtain-raiser on Friday night against 1. FFC Turbine Potsdam, the pick of the weekend's game as last season's first and fourth placed side's faced off, with Bayern coming out as 3-1 winners.
They did things the hard way though, allowing Potsdam to take the lead six minutes after half time through new signing and Australian international, Elise Kellond-Knight. However, it took them just 15 minutes to respond, through another new face in Lisa Evans, whilst Sara Däbritz ensured that the scoring was conducted by summer arrivals only with a game-winning brace in the final stages of the match.
More new faces stole the show as Frankfurt beat SGS Essen 2-0 on Sunday, with two on the scoresheet in a slightly unconvincing result for the Champions League holders. The scoreline may look comfortable, but Frankfurt left it late, with former-Wolfsburg strike Yuki Ogimi finally breaking the deadlock with 14 minutes remaining, before Isabelle Linden eased late nerves with a last minute strike that doubled the lead.
Just one draw in an entertaining opening weekend
The one remaining fixture, between SC Freiburg and TSG 1899 Hoffenheim, was the only underwhelming encounter in a thrilling weekend which brought us 26 goals.
These two played out a goalless draw at Möslestadion in front of 612 fans, with the hosts handing debuts to Wolfsburg-linked duo Selina Wagner, signed permanently, and Lina Magull, signed on a season-long loan, but neither could inspire their new side to anything more than a point in their opening fixture of the season.
Frauen-Bundesliga results
Bayern Munich 3-1 Turbine Potsdam
USV Jena 0-8 Wolfsburg
FFC Frankfurt 2-0 SGS Essen
Werder Bremen 6-2 Köln
Freiburg 0-0 Hoffenheim
SC Sand 4-0 Bayer Leverkusen