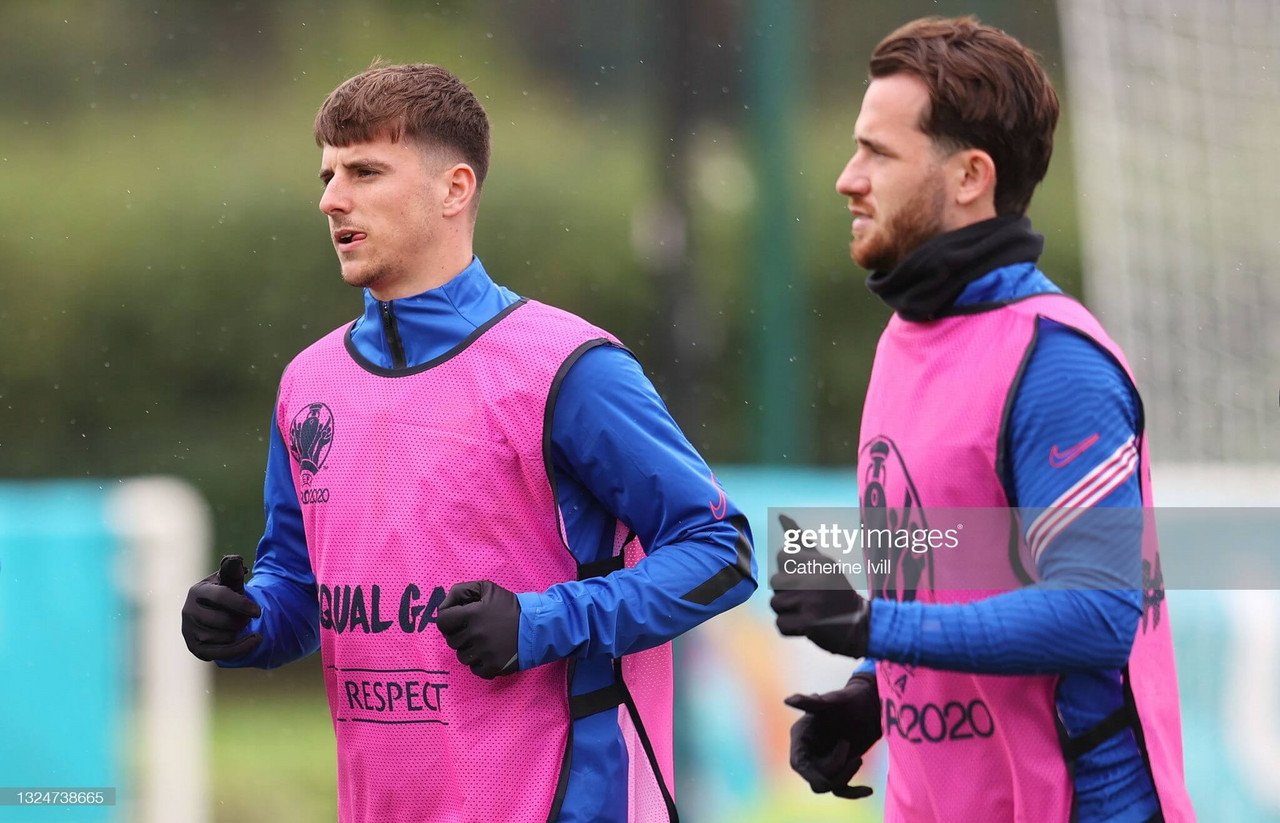 Gareth Southgate admitted last night that there are "a lot of unknowns" surrounding Mason Mount and Ben Chilwell after the pair were forced into self-isolation. The two Chelsea players came into close contact with Scotland's Billy Gilmour, who has tested positive for Covid-19, after last Friday's goalless draw.
Mount and Chilwell were pictured embracing their Chelsea clubmate on the pitch after the final whistle at Wembley. Southgate hasn't ruled the duo out of this evening's final group game with Czech Republic but the uncertainty is an unwelcome headache for England who will top group D if they beat the Czechs.
"We don't know at the moment," Southgate replied when asked if the pair will be available this evening. "There's obviously got to be quite a doubt, but there's still a lot of discussions and investigations going on behind the scenes, so at the moment they're isolating and we just have to find out over the next 12 hours or so.
"In terms of the testing, we had the mandatory PCR tests for the pre-game, and we've just followed that up today because of the situation that's emerged with Scotland. It's just belt-and-braces to make sure we're OK for people to travel together and eat together."
There will be investigations as to how Gilmour contracted Covid-19 having been in Scotland's secure bubble and questions have resurfaced as to whether the players should have been vaccinated prior to the tournament, something which Southgate raised as early as March but got shouted down for his suggestion.
"In terms of the vaccinations, you need to go back to my suggestions in March when I was fairly firmly shouted down for daring to suggest anything of the sort," he said.
"I did propose it but I of course at that time also said I totally understood where we stood in the pecking order for vaccinations and it was more important that the clinically vulnerable and everybody else received those first.
"I felt we were getting to a point where that would have been helpful but in actual fact vaccinations wouldn't stop you catching the virus so it wouldn't necessarily avert those situations in fairness.
"I wasn't involved in any formal conversations. I just made an observation that I thought given the tournament, given that we were asking professional sportspeople to go into these sorts of events and travel and go back home to their families that there would be a point where they were at greater risk of catching the virus than others. But that ship has sailed."
Changes may be required
The developments could lead Southgate to hastily change his plans for England's final group game after Mount and Chilwell had both been in contention to start. Mount was scheduled to attend the pre-match press conference with Southgate while left-back Chilwell had been pushing to make his first appearance of the competition.
Mount's absence would be particularly felt by Southgate as the midfielder is a trusted member of the England attack. It could open the door for Jordan Henderson to make his return from injury having not played a minute in either of England's two games so far. Otherwise, Jack Grealish could be offered a chance to start.
"I can't say it isn't disruptive," Southgate added. "We don't really know at this point whether they might be OK for tomorrow, or they could be out for 10 days. So there are a lot of unknowns at this moment in time. We hadn't confirmed the team yet and we'll wait until the morning when we're really clear on the final situation on the two boys as to where we stand."
England are hoping for an improved performance against Czech Republic having been left disappointed with the rather insipid showing in the draw with Scotland. There were accusations that Southgate's players passed backwards and sideways too often and lacked the necessary tempo to find a way in behind the Scotland defence.
"We had a tactical problem to break Scotland down, that we couldn't get the overloads in wide areas as easily as we had done in previous matches and that's a great credit to Scotland," the England managed admitted.
"We're playing a totally different team and a very good team tomorrow night in the Czech Republic that I've got huge respect for. The coach has done a fantastic job there, they're a very dangerous team."
Southgate backs influential Kane
Harry Kane came in for criticism from some corners after being substituted for the second time in as many games. The Tottenham Hotspur striker is yet to score or even have a shot on target in the Euros. Southgate, however, has already confirmed his captain will continue to lead England's attack this evening and remains an influential player in the team.
"The only thing that's relevant is what I've said already this week – his importance to the team," Southgate said. "He's been our best player, our most influential player, our most important player for a long period of time.
"It is the world of a big player [to receive criticism after a few average displays]. Throughout the time I've been England manager I must have answered these sorts of questions about Harry on three or four different periods of time and inevitably he's come through those periods and scored important goals for us and played exceptionally well. It's a bit of a repetitive cycle."