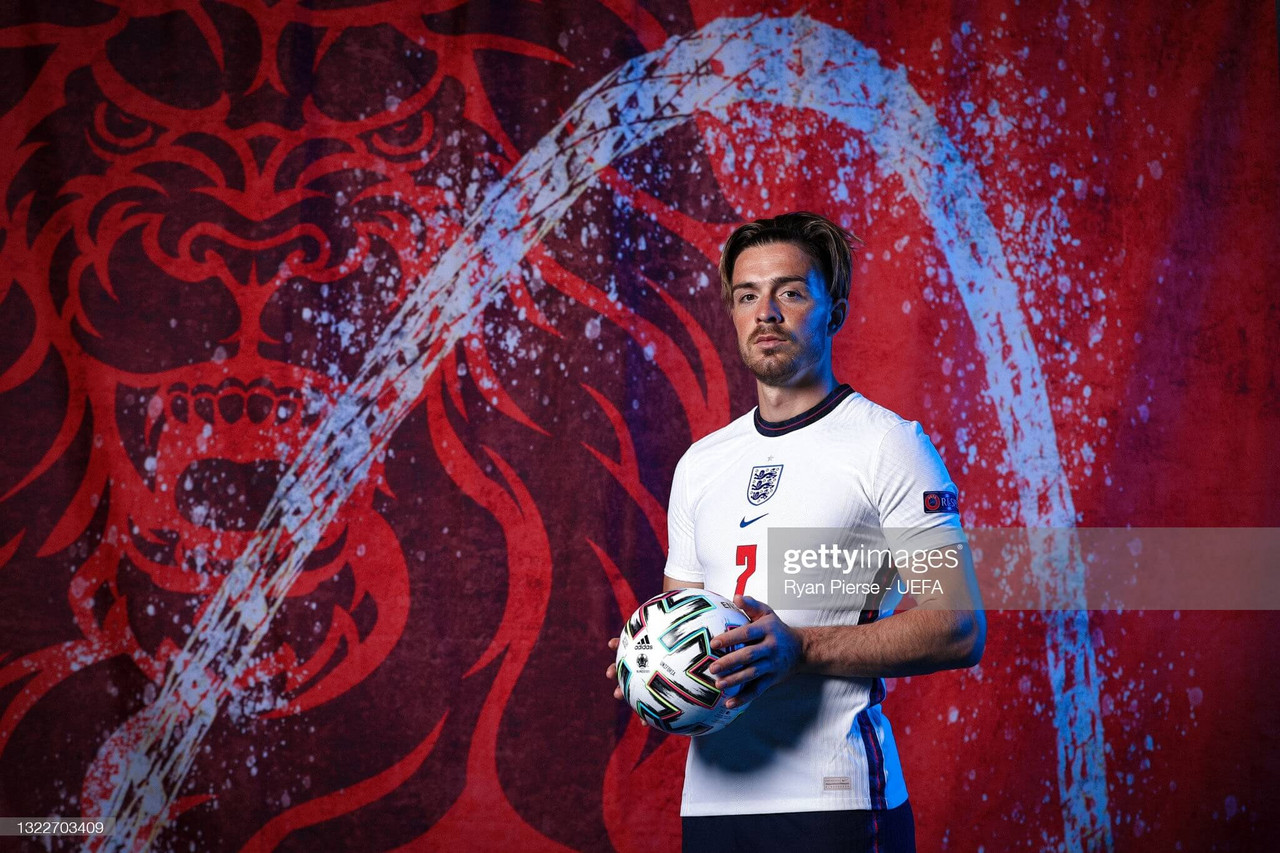 Jack Grealish has credited Harry Kane as helping him mature "as a player and person" during his time with the England squad. Grealish made his national team debut last September and has amassed seven caps since, with his form putting him in contention for a starting berth in Sunday's Euro 2020 opener with Croatia.
After also praising the standards that Jordan Henderson helps maintain within the England camp, Grealish explained how being made captain of his boyhood club, Aston Villa, at such an early age had an impact on the 25-year-old's approach and attitude to the game.
"I think it's changed me on and off the pitch," he said. "I think that was always going to come - I was always going to grow up a bit more at some stage. "But I think the main thing is being here for this season, you come here and you see the likes of Jordan Henderson and Harry Kane, and what they do off the field.
"Obviously what they do on it we can all see that, but what they do on the training pitch and around the place and how they look after themselves, and you sit there and you think it's no wonder why they've had the careers that they have had. And that's I think one of the main things that has made me mature as a player, as a person and as a captain."
On the eve of his first major tournament with England it is worth remembering that Grealish has been capped six times at under-21 level for the Republic of Ireland, having qualified through his grandparents, before opting to represent England in 2015. The Birmingham-born playmaker's decision caused a backlash but has been vindicated in the past nine months.
"There was a time when I thought: 'Obviously I'm English, my parents were born in England, I was obviously born in England, so I feel English'. So yes, I obviously changed to England and since then I never looked back," he said. "I've enjoyed every moment that I've had here. And I wouldn't be here today if I didn't."
'Squad could have perfect mix'
Grealish, who started both of England's warm-up friendlies last week, is one of 11 players in Southgate's 26-man squad with less than 10 caps. But he believes the mixture of youthful talent and those who experienced the headache of being knock out of the 2018 World Cup in the semi-finals could be a perfect mix.
"I think it could definitely help, because I think we still have the experience there," he said of the make-up of the squad. "There's so much experience in the side at the moment that was in Russia in 2018. [John] Stones, Harry Maguire, Hendo [Jordan Henderson], Harry [Kane] up top, Raheem [Sterling]. So you still have all that experience.
"Then you have a blend of youngsters coming through with Jude Bellingham, Bukayo [Saka]. I think we have a young squad actually, I think I read someone say that we're one of the youngest in the tournament if not the youngest and I think that can help us. We have a bit of both so fingers crossed it does."
Croatia, who reached the World Cup final at England's expense, are the opponents on Sunday too and Southgate has a decision to make as to whether Grealish starts.
Given the abundance of attacking talent available, Grealish's displays in the wins over Austria and Romania, in which he drew many a foul and proved the key to unlocking both rigid defences, will not guarantee his inclusion at Wembley against a more expansive team.
"I don't really think it is a question of doing enough," he said of his performances in the past week. "You only really have to look at the players in my position, most of them have just come back from playing in the Champions League and Europa League final, whereas I've been injured for a while.
"The competition is there, but I think it is nice competition to have. I don't think it is a matter of have I done enough to start, I'll be ready when called upon."