Despite letting a handful of clearer cut chances pass him by, Arkadiusz Milik was the match-winner on Sunday as Poland beat Northern Ireland by a score of 1-0.
Milik struck home decisively on 51 minutes, latching onto a Jakub Błaszczykowski cut-back, setting himself with his first touch and then firing home with his second to break the deadlock.
However, it was a goal that brought relief if anything to both the player and the team.
The Ajax man had missed three chances in the first half - one particularly golden one seeing him do everything right, maintaining his composure to find all the space in the world to finish, but then somehow drive the ball over the bar from eight yards out.
Poland, meanwhile, were simply relieved to finally get their goal after applying incredible pressure to the Northern Ireland defence all game to no avail.
Nonetheless, it all worked out in the end, and Milik was pleased with both his goal and, more importantly, the three points.
Scoring goals is my 'job', says Milik
Speaking to UEFA, Milik was modest about his match-winner status, playing down his contribution and stressing the importance of the team simply getting three points.
"I'm extremely happy that I scored," he admitted, but he said he is "even happier" with the final result.
"In the end, it's the victory that counts."
Talking about his personal performance, Milik recognised that "there were good moments" for him, but there were also "slightly worse ones" - which he characterised as "some stupid mistakes and missed chances."
He continued, not afraid to talk about his big miss as "there's nothing to be done about it" now. "Maybe I was overdoing it," he suggested, "trying to make it harder for my opponents."
However, it didn't matter in the end, as he "had a second chance" and he "took it.
"A striker is judged on goals and I finally did my job."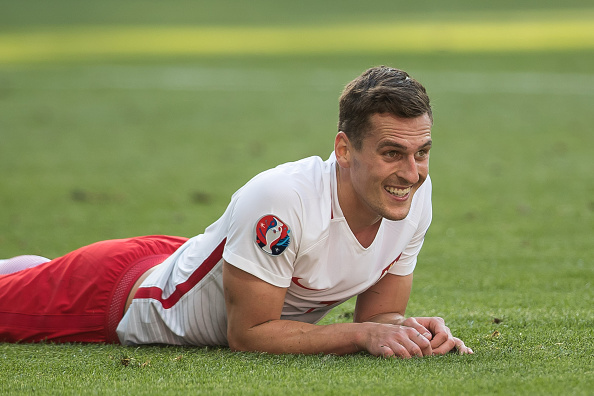 Dream start
The three points Poland picked up have them sat joint-top of Group C, with Germany ahead of them only on goal difference after they beat the Ukraine 2-0 last night.
With the potential of three teams qualifying from the group, three points in the opening game give a team an incredible chance of making the knockout rounds, but this win was even more important for Poland as it was their first ever at a European Championships.
Prior to the win, their record read six played, three drawn and three lost, but now the monkey is off their back they will be able to play without fear in France.
Milik said that "it certainly feels very nice" to have bagged the nation's first win at the tournament, adding that the team "realise" that they have "achieved something."
However, "there's still a long way to go in this tournament," he said, with Poland now to turn their attention to Thursday's game with Germany and the potential of, after winning their first Euro game, getting out of the group for the first time.