 Monday afternoon saw the start of the Dafabet Champion of Champions tournament at the Rioch Arena in Coventry, as Ronnie O'Sullivan looked to get his campaign underway for a third consecutive win in this event.
Remaining unbeaten
The Rocket - ever the fan-favourite - received his usual rapturous reception from the Coventry crowd, as he and Robin Hull got things started in a tournament where O'Sullivan has had unrivalled success. The competition, which was hosted twice in 1978 and 1980, was revived in 2013, and has since been won twice by O'Sullivan and once by Neil Robertson - champion in 2015 when the Rocket decided not to defend his title.
The format sees four different groups of four players, with each group containing two semi-final contests - played in the afternoon - before the winners play-off for a spot in the last four. On Monday it was the turn of Group 3, with O'Sullivan battling it out against Hull, and Martin Gould facing off against Mark Davis.
A stern test
Despite being only a middle-ranking player - and, in all fairness, not expected to give O'Sullivan too many problems - in the end, Hull, winner of the 2016 Coral Snooker Shoot-Out back in Reading in February, gave the Rocket a stern opening battle on the baize.
Hull showed some early nerves in the early frames, missing some easy chances once in and struggling to compile a break higher than the mid-20s. As he so often does, O'Sullivan capitalised, polishing off breaks of 88 and 101 to leave Hull contemplating his missed opportunities.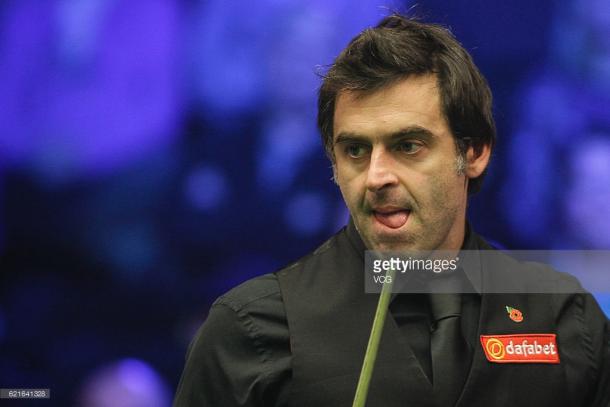 Just as the tie seemed to be getting away from him, Hull soon settled down, reeling off breaks of 83 and 99 to draw level. The key frame was the fifth, and inevitably it was the first of the game to not feature a high-scoring break from either player. Some good safety play was on display from both, but in the end the Rocket took it for a 3-2 lead, before finishing off the contest with a break of 73 in the final frame, and thus booking his slot in Monday night's group final.
The perfect 10
A lengthy affair between Gould and Davis - this year's World Seniors Championship winner back in January - saw the former come through a 4-3 winner to book his place against O'Sullivan.
It was hardly glittering, vintage form from the four-times World Champion, it has to be said, with commentator Stephen Hendry watching on unnerved, suggesting that O'Sullivan was far from focused and even that he looked disinterested in the contest.
Despite this, the Rocket get his nose in front early on - and although Gould managed to peg him back to just 3-2 in front, O'Sullivan eventually ran away with the frame with 89, 62 and 121 - the latter a sublime century proving that even when he's not at his best, O'Sullivan is ultimately the force to be reckoned with in any tournament.
The hard miles
"Can I be bothered?"

- Ronnie O'Sullivan
Speaking to ITV4, O'Sullivan admitted that despite extending his unbeaten run in Coventry to 10 games, he's recently been feeling the strain, pointing out the fact that he's "getting older", and it makes him ask "can I be bothered?". In quite a frank assessment of where he's at with his game, O'Sullvian admitted that he's "had it easy the past four or five years" - with his best form intact - but now confessed he feels like he's having to graft, comparing it to "climbing Everest".
Despite this, and to the fans' delight, O'Sullivan says he's still "as keen as ever". It seems the game's biggest player has found a new mental fortitude in recent years, as he looks to grind out games even when he's not at his best. This bodes well for the future of the game - and indeed for the rest of this Champion of Champions event.