Alexandra Palace will place host to the 23rd edition of the Mosconi Cup on December 6th, with Team Europe looking to draw level at eleven wins apiece. They are unbeaten in six competitions and lost just one of the last ten events and those players that were finalised in the team at the beginning of their month will be setting their sights on extending that great run of form.
Niels Feijen
Experienced Dutchman Feijen was the first player to earn his place in the team. Victory in the EuroTour Dutch Open sealed his place and the 39-year old's knowledge of the Mosconi Cup will be vital to the rest of the team. This will be his twelfth appearance in the event, after winning seven, with a 66% win rate from his 50 matches against Team USA.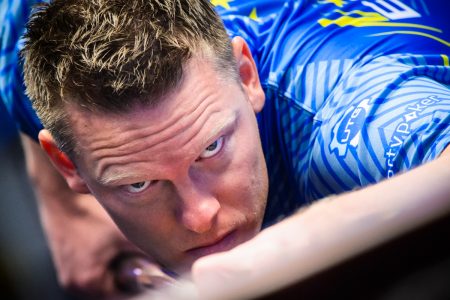 Jayson Shaw
Eagle Eye has encountered a season to remember. The Scotsman earned his place in the Team Europe squad after fininshing top of the European 'Combined' list. Yet he did not rest on his laurels after being selected for the team, continuing his great run of form in Kuwait to end the campaign at the helm of the 'World' list. He may not have experienced the Mosconi Cup before but Shaw will be one to watch in North London.
Mark Gray
Granite will be thanking Shaw when the Team Europe squad meet up, as the Scotsman finishing top of the 'World' list opened up the opportunity for Gray to join the team. He has played in two Mosconi Cups already, where he was victorious in both, despite only winning two of his seven matches. Gray will be looking to put that right this year.
Albin Ouschan
The Austrian was the hero in 2015 as he potted the winning ball. Ouschan has carried that momentum into his 2016 season, winning his first ever major event in Doha. Captain Marcus Chamat's wildcard will be further buoyed by his 80% win rate from five matches in last year's competition.
Darren Appleton
Dynamite is known for his ability to perform under pressure and that quality combined with his experience could well be why Chamat chose him as his second wildcard. Appleton has won six of his seven Mosconi Cup tournaments, holding a 69% win percentage in his single matches.