Laura Dahlmeier stormed to victory in the women's 10km Pursuit at the Biathlon World Championships in Hochfilzen, Austria.
The German started second, and hit 19 of 20 targets to win gold ahead of Belarus' Darya Domracheva, with Gabriela Koukalová of Czech Republic claiming bronze.
Domracheva was the story of the day, moving up from 27th to 2nd thanks to hitting 20/20 at the range, having only recently returned to the tour having become a mother.
Koukalová fluffs first prone shoot to drop down the standings before regrouping to join chase group
Having won Friday's Sprint, Gabriela Koukalová set off four seconds ahead of Dahlmeier at the start, yet by the time they had left the first shoot she was 45 seconds down on her rival.
Two misses as well as plenty of time spent sorting out her rifle saw the Czech athlete move down to 13th, with Anais Chevalier and Kaisa Makarainen moving into the provisional medal positions at the end of the first lap.
However, by the time the second of the prone shoots had taken place, Chevalier and Makarainen had been joined in an elite group by Federica Sanfilippo, Anastasiya Kuzmina, Marie Dorin-Habert and Koukalová who had their sights set on tracking down Dahlmeier.
Dahlmeier holds nerve to claim gold with Domracheva going clear to cap memorable return
Out in front, Dahlmeier seemed to be holding something back on the course, allowing for the chasers to gain time on her, yet never truly letting them within striking range.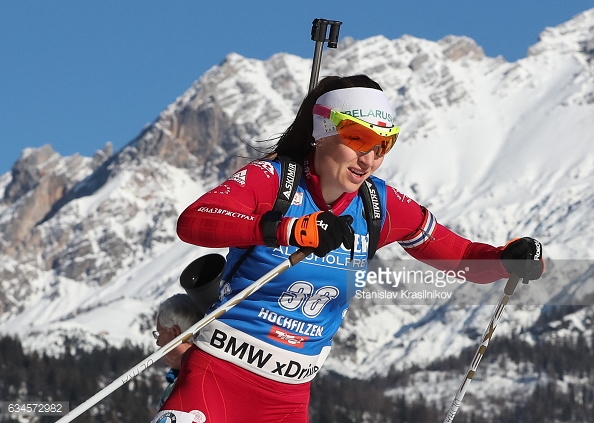 The race favourite knew that if she could hit ten out of ten in the two standing shoots she would win the race, and after going clear in the first half of that goal she still had a 13 second lead over Makarainen and Domracheva who had dropped the other competitors.
Once more, the skiers behind Dahlmeier were cutting into her lead, at one point taking it down below ten seconds, yet she was always in control, and after holding her nerve in the final shoot she surged away for her second gold medal at this championships.
Behind her, Makarainen missed a target to drop behind both Domracheva and Koukalová who went clear before battling for silver and bronze.
It was the 30-year-old Domracheva, who climbed 25 spots to claim a stunning silver medal ahead of Koukalová who recovered excellently from her early slip-up to take bronze, with Russia's Irina Starykh finishing well down in fourth.
The men's Pursuit takes place on Saturday afternoon, with Benedikt Doll setting off first following his Sprint victory, and France's Martin Fourcade set to chase him down from the third starting spot.