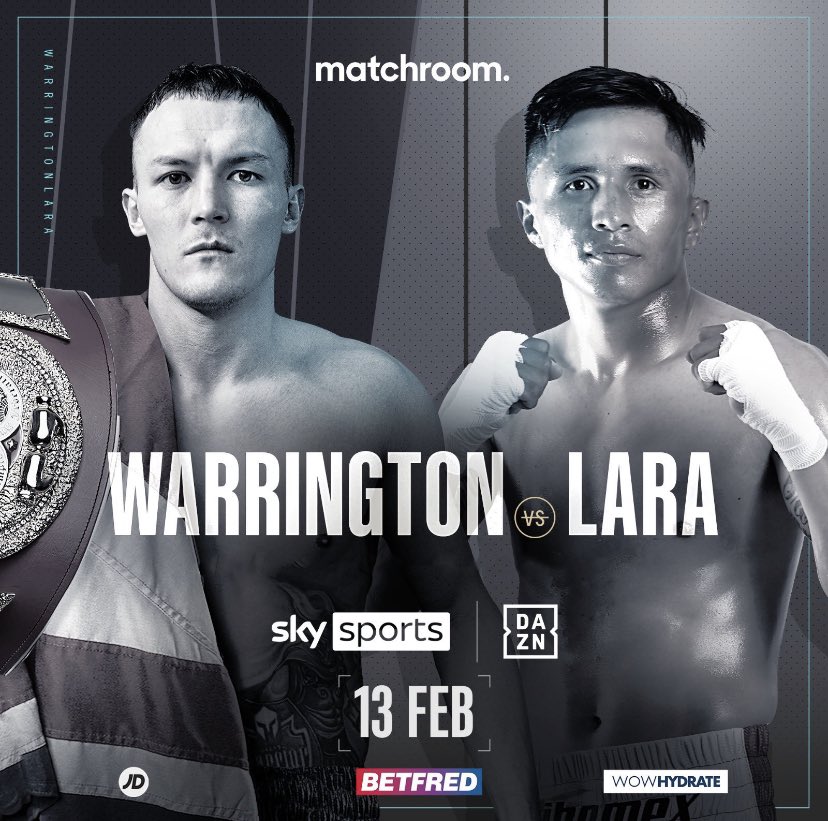 With boxing taking a hiatus in January, we see the sweet science return next Saturday night, live on Sky Sports as Josh Warrington headlines a lively card, featuring British talent aplenty.
Live at Wembley Arena, we'll see Matchroom's first boxing card of the year that will kick off what we hope will be a year full of exciting and entertaining boxing matchups.
Promoter Eddie Hearn has claimed that 2021 will be a huge year for boxing, with cards promised every week, around the world for the whole of 2021.
Warrington Returns
When Josh Warrington blew the roof off the First Direct Arena by stopping Takoucht in the second round!

Absolutely relentless performance🔥#Bestof2019pic.twitter.com/PgLZQnP6mH

— Boxing on BT Sport 🥊 (@BTSportBoxing) December 31, 2019
He's back!
Starting with the headline act, Warrington (30-0, 7 KO's) returns to the ring for the first time since October 2019. He faces unknown Mauricio Lara (21-2, 14 KO's) who fights outside Mexico for only the second time.
Warrington had been chasing the super fights with Gary Russell Jr and Can Xu as he vacated his IBF World title, rather than face his mandatory challenger in order to force a big fight.
However, neither materialised for early 2021, therefore he faces Lara in a fight crucial to getting back into form as he chases a huge 2021.
Lara hasn't faced anyone of note, but he is only 22 and has fought 23 times already. As mentioned, he has fought predominately in Mexico, only fighting in Argentina before this bout with Warrington.
Should be an action affair as Warrington will look to make a statement in his return to the ring, in order to push for the big fights he so desires.
Barrett Steps Up
𝗢𝗨𝗧 𝗡𝗢𝗪! 🆕🎥

Hear from @zelfaflash who is predicting a career best performance vs Kiko Martinez 🔥 #BarrettMartinez

Watch 👇https://t.co/m1JK6NlEaI

— Matchroom Boxing (@MatchroomBoxing) February 1, 2021
Zelfa Barrett (24-1, 15 KO's) takes on the seasoned Kiko Martinez (41-9-2, 29 KO's) as he defends his IBF Inter-Continental Super Featherweight title.
The five time world title challenger has been unsuccessful against the big names, losing to Russell Jr, Warrington, Carl Frampton, Leo Santa Cruz and Scott Quigg.
It's definitely a fight for Barrett to step up and show he can beat a fighter who definitely fits the 'gatekeeper' tagline as a fighter you have to be beat if you're serious about winning a world title someday.
Expect another good fight as Martinez will come to fight and he's been stopped four times and Barrett will look to impress in a must win fight.
Vacant British Title Clash
Leigh-Thal 💥@itsLeighWood sharpens the tools with trainer @BenDavison_ ahead of his British Title fight with Reece Mould 👊#WoodMould | Feb 13 pic.twitter.com/v6sm6hL8Si

— Matchroom Boxing (@MatchroomBoxing) February 5, 2021
A great matchup takes places on the card for the vacant British featherweight title between Leigh Wood (23-2, 13 KO's) and Reece Mould (13-0, 6 KO's)
Wood has been European champion, but lost the title in his last fight, as he succumbed to the eventual MTK Golden Contract champion James Dickens, as he lost by majority decision in his last outing in February 2020.
Mould has slowly been working his way up the rankings, but has only beaten two opponents with a winning record out of his 13 bouts thus far. He is trained by Ben Davidson, who was formerly the trainer of Tyson Fury.
However, he did produce a career best performance against Sean Davis, as he stopped him in four rounds to win the vacant BBBofC English Feather Title.
It's a good British matchup between a talented, up and coming fighter against an older, more experienced fighter, both looking for wins to progress in their respective career's.
Other Fights
𝗢𝗨𝗧 𝗡𝗢𝗪! 👊

Head in camp with @Hopeyprice1 in our latest feature 🔥

🔗 https://t.co/xCe9LKdu7s pic.twitter.com/RI2NWKgyDX

— Matchroom Boxing (@MatchroomBoxing) February 4, 2021
Hopey Price is only three fights into his professional career, but the highly touted featherweight fighter is looking to step up already, as he faces Zahid Hussain in a great domestic matchup.
20-year-old Price is three wins from three fights with one KO against low level fighters, but two out of the three had winning records.
Hussain is the more experienced fighter at 29 years old and has a record of 16 wins, 2 KO's and one loss to Razaq Najib in March 2019. However, he has only faced three opponents with winning records to their name and lost to one of them, which means Price stands a good chance of winning here.
In the other fights, we see the talented Dalton Smith return to the ring as he looks to build on his fight camp appearance in August, where he stopped Nathan Bennett with a cracking right hand. He's 6-0 (5 KO's) and faces Ishmael Ellis (11-3) who's lost his last two fights in this super-lightweight clash.
In the last fight, we see the 21-year-old Ibrahim Nadim (2-0) take on Jonny Phillips (5-5, 2 KO's) in a featherweight clash as the Nadim looks to build his experience against a fighter who lost against Price at Fight Camp and has lost his last four.
Stay tuned for this card which will be live on Sky Sports on Saturday 13th February.