But, from me for the final time this season, I've been James Eagles, thank you so much for joining me live, and we'll do it all again next year, shall we?

Bye for now.
Well, what an end to a brilliant season. We may have only had two different constructors that won a race, but there was plenty of action!

At the end of it, Rosberg is a deserving champion, regardless of what you say. Some may be inclined to say "If Hamilton's engine didn't blow in Malaysia, he wouldn't be world champion."

But...it did.

Credit to Hamilton, he tried as hard as he could, he played games, well within the laws and has been incredibly unfortunate to have taken 10 wins, but not won a fourth title.

Let's see what happens next year, with the new regulations in place, Red Bull look like they could be very strong. Add Ferarri, maybe Williams, Force India and even Renault to the conversation, 2017 could be quite the year.
Hamilton tried his best, but it wasn't enough. Rosberg in second, with Vettel in third. We have a new Formula 1 World Champion.
L55: CHEQUERED FLAG! Hamilton wins the battle, but Rosberg wins the war!
L55: THE FINAL LAP
L54: Vettel has a dart at Rosberg, it doesn't work.
L54: 2 more laps.
L52: The tension, the sarcasm, everything!
L51: "Lewis, this is Paddy. We need you to pick up the pace to win."

"I'm actually in the lead right now, I'm quite comfortable."
L51: VETTEL PASSES VERSTAPPEN FOR THIRD! It's going to get tasty.
L50: Six laps to go.
L47: "Okay Lewis, this is an instruction. We need a 45.1 to win."

He barks back: "I suggest you let us race."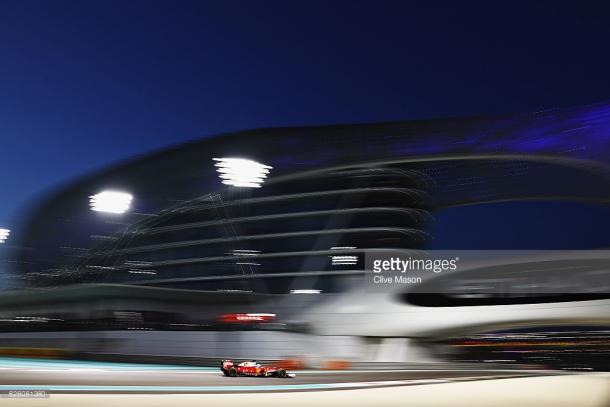 L46: Vettel eases past Ricciardo. He's on the charge.
L46: Get ready for an incredibly tense final 10 laps.
L45: Palmer recieves a 5 second time penalty.
L44: "Okay, Lewis. We really need to pick up the pace."
L44: Sainz waves the white flag.
L44: Vettel sets a new fastest lap - 1:43.729.
L43: Sainz seems to have major problems.

"Yeah, Gearbox is not working."
L43: That incident is under investigation.
L42: Contact between Sainz and Palmer at Turn 17! They both rejoin though.
L42: "You need to give me the times of the other cars, please." Hamilton demands info.

Sainz passes Palmer, whilst being lapped by Verstappen.
L41: Vettel is waved through by Raikkonen.
L40: Vettel sets a fine lap, 1:44.094.
L39: Both Palmer and Sainz pass Ericsson.
Let's take a quick look at the order:

Hamilton, Rosberg, Verstappen, Ricciardo, Raikkonen, Vettel, Hulkenberg, Perez, Alonso, Massa.
L38: Vettel pits from the lead. He rejoins on super-softs and in 6th, comfortably.
L37: Marcus Ericsson hasn't stopped yet.
L36: Leader Vettel pleads for a stop: "These tyres are starting to go now."
L35: Now Perez gets past Alonso.
L35: "What position am I in?" asks Hamilton.

"You're in P2."
L35: Hulkenberg passes Alonso for 7th.
L33: "How's this pace?" inquires the reigning World Champion.

"We'd be happy with a 45.3."
L32: "Question: Why are you so slow? You're unsafe to Vettel."

Lewis is given a little wake up call.
Jenson says he's off for a nice, cold beer. I don't blame him.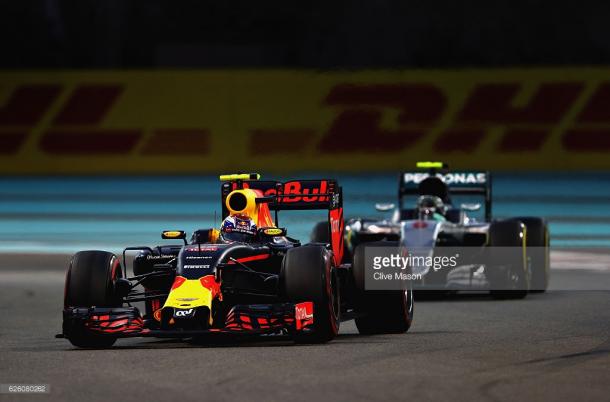 L30: Rosberg pits, he's behind Hamilton but ahead of Verstappen.
L29: This'll be close between Rosberg and Verstappen. The Dutchman is flying.
L29: Rosberg is to come in this lap.
L29: Hamilton pits, it's a good stop for softs.
L28: A new fastest lap holder! Verstappen with a 1:45.361, as he tries to get inside the 25 second window to Rosberg.
L28: Perez pits.
L27: Deja vu for Perez, as Ricciardo passes Perez.

He tries to come back at Turn 11, but fails.
L27: Grosjean bangs wheels with Carlos Sainz, and complains about the Spaniard's defence.

Hulkenberg pits. from fourth.
L27: Rosberg's new benchmark is 1:45.822.
L26: Verstappen makes another move at the chicane, he passes Perez for 5th.
L26: Raikkonen has pit, he rejoins behind Verstappen and Raikkonen.
L25: 1:45.911 now for Rosberg.
L25: Ricciardo comes in, Red Bull going for the undercut.

It's a set of soft tyres.
L24: The gap between Rosberg and Verstappen stands at 24.8 seconds.
L24: Rosberg beats that by three thousandths.
L22: Rosberg lowers the fastest lap to a 1:45.975.
L22: "Okay Nico, next three laps are critical. We think Verstappen is going to the end."
L22: Rosberg sets the fastest lap, a 1:46.022.
L22: Verstappen is in, for another set of soft tyres. He may be one stopping.
L20: Rosberg tries to pass Verstappen at the chicane, but he can't get it done. He waits until the second DRS zone and eases past him, with superior traction.

He's back into second.
L20: "Okay, it's critical we pass Verstappen."
L19: Ricciardo tries an audacious move on Raikkonen for fourth, but he can't make it stick into Turns 12 and 13.
L18: "Okay Lewis, tyre temps are cool, front and rear."
L17: Fernando Alonso passes Grosjean for 10th.
L17: Kvyat rides back to the pits on a humble bicycle.
L16: Kvyat grinds to a halt and becomes the fourth retirement.
L15: "I think I'm starting to lose the rear tyres a little bit."

Verstappen is struggling.
L15: Hamilton sets another fastest lap, a 1:46.107.
L13: He stands on top of his car and waves to the crowd. Unfortunately, there will be no sight of the chequered flag, or points.

Hopefully they can get him back out at some stage after the race.
L12: OH NO! Jenson's right tyre is wonky and he's out!

"Something's wrong with the steering guys. I think we have a failure."
L12: Perez breezes past a helpless Button on the long back straight.
L11: "So don't take any risks against Verstappen, Nico."
L10: Rosberg tries his luck at Turn 11, but Verstappen covers him off.
L10: Ricciardo just rejoins behind the Verstappen, Rosberg and Raikkonen scrap.

Rosberg is given the hurry up.
L10: Perez is in as well.
L9: Daniel Ricciardo sets the fastest lap and now pits.
L8: He's in. It's a slow stop, because Vettel coming in holds him up!

He just rejoins ahead of Raikkonen, but behind Verstappen.
L8: Rosberg is pushing, setting the fastest first sector of all. This will be close.
L8: Now Rosberg is coming into the pits.
L8: Raikkonen follows Hamilton in.
L7: In he comes, Rosberg takes the lead.

He fits the soft tyres and rejoins just ahead of Verstappen.
L7: Hamilton is called into the pits.
L7: Verstappen now passes Jolyon Palmer and is back into the points.
L7: "We'll drive it back into the garage and have a look. We won't retire."

Bottas will be in for repairs. Potential shock absorber problem.
L6: Valtteri Bottas complains about the rear of his Williams bouncing around.
L5: "Okay Kev, we're gonna have to retire the car".

Oh dear, Magnussen's final race for Renault will be ending imminently.
L5: Verstappen nabs 13th from Daniil Kvyat, at the same spot he passes Grosjean.
L5: The order at the moment:

Hamilton, Rosberg, Raikkonen, Ricciardo, Vettel, Hulkenberg, Perez, Alonso, Bottas and Massa.
L3: Verstappen's fightback starts, as he takes 14th from Romain Grosjean at the chicane. Grosjean's run is hampered and Haas team mate Esteban Gutierrez passes him.
L2: Hamilton sets the fastest lap of the race, with a 1:46.846.
L2: Not for long, Hulkenberg passes Perez at T1.

Kevin Magnussen pits for front wing repairs.
L1: Great battle between the Force Indias - with Sergio Perez leading Nico Hulkenberg.
START: Lights out and the season finale of the 2016 Formula 1 World Championship is underway! Hamilton leads from Rosberg and Kimi Raikkonen. Max Verstappen has spun and is now last!
FORMATION LAP: We're underway!
And, a final thank you to Felipe Massa and Jenson Button. One we know that it's their final race, the other it could be. After 14 and 17 seasons respectively, we say a fond farewell to two stalwarts of the grid.

Obrigado Felipe and cheers JB.
With around 10 minutes until the grid leaves for the formation lap, let's take a look at the Drivers' Championship.

| | | | |
| --- | --- | --- | --- |
| Position | Driver | Constructor | Points |
| 1 | Nico ROSBERG | Mercedes | 367 |
| 2 | Lewis HAMILTON | Mercedes | 355 |
| 3 | Daniel RICCIARDO | Red Bull | 246 |
| 4 | Sebastian VETTEL | Ferrari | 197 |
| 5 | Max VERSTAPPEN | Red Bull | 192 |
Welcome back to VAVEL's LIVE coverage of the 2016 Abu Dhabi Grand Prix. I'm James Eagles, here to guide you through the events over the course of the next 55 laps.
So, it all comes down to today. Who will be the Formula 1 World Champion for 2016? We'll find out after a duel in the desert, a showdown and sundown, a cracking race I hope.

Join me from 12:45pm on VAVEL to reach the season's conclusion. You'd be silly to miss it.
In essence, both Mercedes drivers have to finish on the podium. With the Silver Arrows having looked strong around here in the new V6 turbo era, and both locking out the front row, the odds are firmly in Rosberg's favour.

But, as Murray Walker once said: "Anything can happen in Formula 1, and it usually does!"

Wise man.
Let's take a look at the title picture. What does each driver have to do to win?

| | |
| --- | --- |
| If Rosberg were to finish | Hamilton must be |
| 1st | Rosberg is champion |
| 2nd | Rosberg is champion |
| 3rd | Rosberg is champion |
| 4th | 1st |
| 5th | 1st |
| 6th | 1st |
| 7th | 2nd |
| 8th | 2nd |
| 9th | 3rd |
| 10th | 3rd |
| 11th or lower/Not Classfied | 3rd |
Who could forget the Brazilian Grand Prix of a fortnight ago?

In case you have...

Lewis Hamilton danced to victory in appalling conditions at Interlagos - keeping his cool despite two red flag periods, that caused vitriol in the stands, with the Brazilian public firmly against the second instance.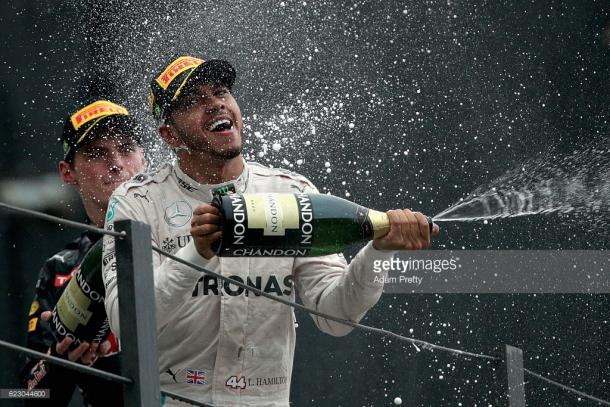 Nico Rosberg did all he had to do, finishing in second, surviving a scary moment on lap 47, half spinning at Arquibancadas. But, that was nothing compared to the full on drift performed by the storming Max Verstappen at the same spot, who could have won for all we know, had Red Bull not chosen to gamble on a set of intermediates. Despite dropping outside the points due to a pitstop with 17 laps to go, the Dutchman used his wet weather prowess to perform one of the finest drives the sport has seen in the modern era, he even managed to grab a podium.
Here's Jake Nichol's Qualifying report. The gap stands at 12 points, in Nico Rosberg's favour. Additionally, he took victory in last year's race, but Lewis Hamilton has won twice under the lights here - and starts from pole this year. We'll see a World Champion crowned today, but will it be a new one, or will there be a new member to the exclusive "four-times" club?

But, don't discount the Ferraris and the two Red Bull cars, who showed promising pace in Practice 3.
And a list of previous winners here.

| | | |
| --- | --- | --- |
| Year | Driver | Constructor |
| 2015 | Nico Rosberg | Mercedes |
| 2014 | Lewis Hamilton | Mercedes |
| 2013 | Sebastian Vettel | Red Bull |
| 2012 | Kimi Raikkonen | Lotus |
| 2011 | Lewis Hamilton | McLaren |
| 2010 | Sebastian Vettel | Red Bull |
| 2009 | Sebastian Vettel | Red Bull |
Let's take a look at the Yas Marina circuit, one of the newer tracks on the Formula 1 calendar, its inaugural race being in 2009, won by Sebastian Vettel. Situated in the Persian Gulf, in the second most populous city in the United Arab Emirates - behind Dubai - this dusk-to-night race is the perfect spectacle to end the Formula 1 World Championship. With 21 trying turns around the anti-clockwise track, that weave past two marinas and the jaw-dropping Yas Viceroy Hotel, it poses quite the challenge to all of the 22 drivers.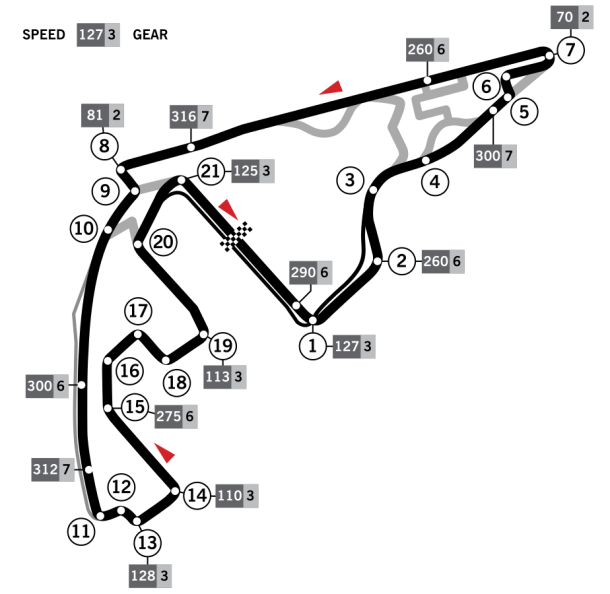 Welcome to VAVEL's live coverage of the 2016 Formula 1 Etihad Airways Abu Dhabi Grand Prix, I'm your correspondent James Eagles and will be guiding you through all the events of this afternoon's Grand Prix from the dazzling Yas Marina circuit, for the final race in a gripping 2016 season.