 Sorry that there wasn't a lot of action to talk about, except the end. But, thanks for joining me - stay on VAVEL for Jake Nichol's race report.

Thanks for joining me, we'll do this again in Spain.
PROVISIONAL CLASSIFICATION

1. Bottas
2. Vettel
3. Raikkonen
4. Hamilton
5. Verstappen
6. Perez
7. Ocon
8. Hulkenberg
9. Massa
10. Sainz
11. Stroll
12. Kvyat
13. Magnussen
14. Vandoorne
15. Ericsson
16. Wehrlein

Retired: Ricciardo, Grosjean, Palmer

Did not Start: Alonso
In his 82nd race start, Bottas wins a Formula 1 Grand Prix, and what a deserved one it is. Vettel comes home in second, with Raikkonen rounding out a very Finnish podium. Hamilton a long way adrift in 4th.
CHEQUERED FLAG: VALTTERI BOTTAS IS A GRAND PRIX WINNER!
L52: Bottas passes Massa and Vettel eventually gets through, but it's all over, surely! Vettel complains down the radio.
FINAL LAP: And there's traffic!
L51: Vettel back in the one second window, as Bottas locks up in the final sector.
L50: No he isn't! He was, but he's lost it - Bottas ekes out the gap to 1.2 seconds.
L50: Vettel is in DRS range.
L49: Verstappen spots debris at Turn 5.
L49: He finishes it with the fastest lap - a 1:37.329
L48: Vettel has set the fastest first and middle sector,
L48: Racking my brains, I'm not sure there's been a pass after the start battle. Will Vettel change that?
L47: Vettel is in touching distance of the DRS window...
L44: I'm learning that Massa had a slow puncture. Shame for the Brazilian, who looked good for 6th.
L44: Bottas says he wants quiet for the remaining laps.
L43: Ten laps to go - Massa has stopped again due to a flat spot presumably.

Can Bottas get the first win he craves?
L42: Bottas and Vettel round Stroll, who gets out of the way nicely.
L41: Hulkenberg pits - and is the last man to do so. He rejoins in 9th.
L40: Sainz is told to avoid the kerbs.
L39: Bottas locks up both front tyres at Turn 13, Toto Wolff raises his eyebrows.
L38: Hamilton has lost 6 seconds to Raikkonen in seven laps.
L38: Hulkenberg the only man yet to stop, in 6th.
L35: It's 2nd - he stays ahead of Raikkonen.
L34: Vettel is in this time. Where will he rejoin?
L33: Vettel is told to box, and then gets the call to stay out. He's really under threat of losing 2nd.
L33: Raikkonen is told "You are 8.5 seconds behind Bottas, six-tenths faster per lap."

"WHAT DO YOU MEAN? How did we get behind Bottas?"

"Bottas was leading the race, Kimi."

"Ah okay, I thought it was Hamilton."

Kimi Raikkonen in a nutshell.
L32: Raikkonen now with the best time of the day - a 1:37.372.
L31: "Okay Lewis, box, box."

He returns to 4th, as Bottas sets a new fastest lap.
L30: Verstappen makes his stop and gets out just ahead of Hulkenberg, in 5th.
L30: I'm a touch surprised that Ferrari didn't call Vettel in soon after Bottas' stop. Could this strategy cost them the race?

The Ferrari mechanics are ready for Raikkonen and he comes in, rejoining in 4th - behind Bottas.
L29: "The rear is going" says Raikkonen.
L28: Perez pits and rejoins ahead of his teammate, who has also pit - in 8th.
L28: Vettel is told "Push now."

We cut to a sad, pondering Alonso in the McLaren garage.
L27: Bottas is the first of the frontrunners to pit. He goes onto the super-soft tyres and rejoins in 4th.
L27: "We have to pit as soon as possible." says Ocon.
L26: The order at halfway: Bottas, Vettel, Raikkonen, Hamilton, Verstappen, Perez, Ocon, Hulkenberg, Massa, Stroll.
L24: Hamilton is told temps are falling, finally. Vettel sets the fastest lap, a 1:38.197 as he makes inroads on the gap to Bottas.
L23: Magnussen and Kvyat pit now. Magnussen serves his 5 second penalty.
L22: Wehrlein comes in and falls behind his teammate.
L20: Sorry folks, not much to talk about.
L19: Despite his temperatures creeping back up, Hamilton sets the fastest lap - a 1:38.398.
L18: Bottas with another fastest lap.
L15: "Why's my car overheating, guys? I'm out the race now."

Hamilton's getting hot in his overly hot car...
L13: Very little racing going on, I must say.
L12: He's getting closer to Raikkonen and trying to move out of the Finn's turbulence.
L12: "Okay Lewis, we are borderline on temps."

"I'm tryna race." he barks back.
L11: "We cannot argue about the penalty, we have the race pace for points." the Dane is told.
L11: "Did you talk to Charlie? It cannot be right, it cannot be right." Magnussen yelps down the airwaves about his penalty.
L10: Bottas is pulling away, having set another fastest lap.
L9: "I'm getting a weird sensation." says Hamilton. He's asked to cool the car on the straights - but he's falling behind.
L8: Vandoorne and Magnussen get 5 second time penalties for track limits at Turn 2, not rejoining in the designated area.
L8: Given Ricciardo's problems, Verstappen has been told to push his brake balance as forwards as possible.
L7: Bottas looks good at the front, as he holds a 2.3 second gap and holds the fastest lap, a 1:38.847.
L7: No further action in regards to the incident between Hulkenberg and Stroll.
L7: "I'm getting cut outs of power." moans Hamilton.
L6: "We'll have a look at it."

"They're gone." replies Ricciardo.
L5: "Come in slowly." orders the Australian's race engineer, Simon Rennie.
L5: Incident between Stroll and Hulkenberg under investigation. Ricciardo reports his right rear brake is on fire and is out.
L4: Perez is warned about front right temperatures.
L3: The Safety Car pulls in and we're back underway, Bottas with a tidy restart and a 1.2 second lead.
L3: "Anything I can do on the restart?"

"Plenty of opportunities, Lewis."
L2: The order: Bottas, Vettel, Raikkonen, Hamilton, Verstappen, Massa, Ricciardo, Perez, Ocon and Hulkenberg.
L2: Vandoorne and Ericsson have come in for their sole stops, taking advantage of the Safety Car period.
L1: We have a Safety Car and two more retirees. Palmer and Grosjean have made contact at Turn 4. Stroll spins from ninth but rejoins.
START: Off we go, Bottas gets Vettel and Raikkonen into Turn 2, it's a Mercedes 1 and 4!
Alonso trudges down the pit lane, whilst the other 19 take the start.
We will have just 52 laps now, instead of the original 53.
And he's out, having stopped by the pit lane. This'll most likely mean a second formation lap.
"Default 0 5 again, please."

"Nothing"

Ongoing problems for the Spaniard.
FORMATION LAP: We're off.
Sounds like there's a problem with Fernando Alonso's car. Will that impact on his World Championship chan..I can't even finish that.
Just three minutes until the formation lap around Sochi, the third longest track on the F1 calendar. It's over a kilometre down to Turn 2 from pole, who will get there first - and will it be without incident?
Can Mercedes retake the lead, or will Ferrari assert their early season challenge?
| | | |
| --- | --- | --- |
| Pos | Constructor | Points |
| 1 | Ferrari | 102 |
| 2 | Mecedes | 99 |
| 3 | Red Bull | 47 |
| 4 | Force India | 17 |
| 5 | Williams | 16 |
And the Constructors'.
| | | | |
| --- | --- | --- | --- |
| Pos | Driver | Team | Points |
| 1 | Sebastian VETTEL | Ferrari | 68 |
| 2 | Lewis HAMILTON | Mercedes | 61 |
| 3 | Valtteri BOTTAS | Mercedes | 38 |
| 4 | Kimi RAIKKONEN | Ferrari | 34 |
| 5 | Max VERSTAPPEN | Red Bull | 25 |
Let's have a look at the Drivers' and Constructors' Championships before the start of play today. First the Drivers' standings.
Welcome back to live coverage of the Russian Grand Prix on VAVEL; I'm James Eagles, thanks for joining me.
That's everything from me for now, join me for the start of the LIVE race coverage on VAVEL from 12:30pm BST. Make sure you don't miss it.
What they said

Sebastian Vettel: "It's not the easiest track to pass. Hopefully, we don't have to! I think it's impossible to predict, there's a lot of things we need to prepare tonight and watch out for tomorrow. For now, it's just great to know we've been the quickest today, and for everyone at home and in the factory, that's a great feeling to go to sleep to."

Kimi Raikkonen: "Obviously, the aim is to be at the front. The feeling has been better this weekend and I just got some traffic on the hotlap in the last set, and I couldn't really make the tyres last the first run and it was a bit tricky on the second one. I tried to get it back in the last corner, but it didn't pay off."

Valtteri Bottas: "I was really trying. I was up actually in the second run. But, while pushing a bit more in Sector 1 and 2, I lost more grip in Sector 3 - so it's so sensitive. I think Ferrari was quicker today and I think that was that."
But there are some drivers you can never rule out - and one of them is Hamilton. He needs something special from fourth, and will face a task in his teammate, Valtteri Bottas - who has grown into his role after a steady start.
Yesterday, and indeed the whole weekend, has been a bit of a shock for Mercedes; it's the first time in the V6 turbo hybrid that they've been totally lost for performance. Furthermore, given Ferrari's supreme pace in race runs, it's hard to see it getting any better. Will this give Vettel the chance to extend his seven point championship lead?
Yesterday saw Sebastian Vettel and Ferrari's first pole position since Singapore 2015, a race which Vettel also went on to win. And thanks to good pace and Mercedes' struggles, the Scuderia clinched their first front row lock out since France 2008 - 127 races ago.

You can view Jake Nichol's Qualifying report here.
Only three previous winners to look at the Sochi Autodrom and they're all Mercedes drivers.
| | | |
| --- | --- | --- |
| Year | Driver | Constructor |
| 2016 | Nico ROSBERG | Mercedes |
| 2015 | Lewis HAMILTON | Mercedes |
| 2014 | Lewis HAMILTON | Mercedes |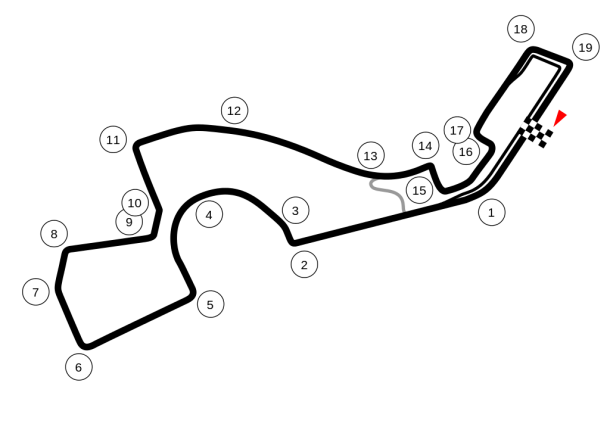 Winding around the 2014 Winter Olympic village, the first Russian Grand Prix in 100 years took place the same year - but was an uneventful one, due to a poor, conservative tyre choice by Pirelli.

A modern surface that is kind to the tyres, the track is comprised on many 90 degree corners, with three long, sweeping turns for variety - most notably the almost perpetual left of Turn 4 that circumambulates the Sochi Medal Plaza.

Read more about one of F1's newer facilities here.
Two weeks ago in Bahrain, Sebastian Vettel claimed his second win of the 2017 after a superb drive, fending off a late charge from Lewis Hamilton.

If you need to refresh your memories about the event, you can do so here.
Hello and welcome to VAVEL's live coverage of the 2017 Formula One VTB Russian Grand Prix. Once again, I'm your correspondent, James Eagles and will be guiding you through all the events of today's Grand Prix from the Sochi Autodrom, situated in the Black Sea resort of Sochi, for the fourth round of the World Championship.