 Valtteri Bottas proved to be in a class of his own at the Red Bull Ring, taking his second pole position of the season and his career, ahead of Sebastian Vettel and Lewis Hamilton.
The latter will drop to eighth after taking his impending five-place grid penalty for changing his gearbox before it had completed six races; putting Vettel in the driving seat to extend his 14 point championship lead.
Away from the title fight, Bottas looked supreme on Saturday, leaving the field for dead in Qualifying 2 before setting a time of 1:04.251 in the final session, Vettel less than a tenth away.
Qualifying 1 - Hamilton and Sainz steal the show
The rumoured threat of rain never materialised, the Red Bull Ring greeted with a cloudy - but blue - sky and temperatures in the high twenties. The action on track didn't take long to heat up either, a flurry of cars out on track in the opening minutes of the day's first Qualifying segment.
In the first set of runs, Hamilton set the pace on the ultra-soft compound, five-tenths ahead of super-soft equipped Vettel. Lap times fell and the order changed as the track rubbered in, Kimi Raikkonen launching himself into second, eight-hundredths off Hamilton's benchmark time.
Kevin Magnussen hit problems early on, damaging his rear suspension after running over one of the many contentious kerbs around the track. Thankfully for the Dane, his time was good enough to see him through to Q2. However, it also saw the end of his session.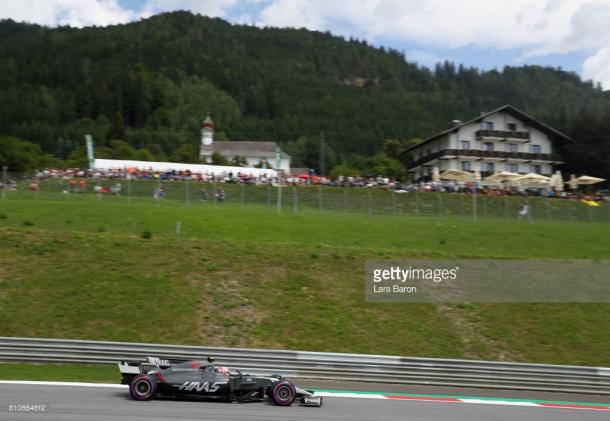 Carlos Sainz proved to be the star of the session, putting his Toro Rosso in fourth at the close of play, ahead of Bottas and both Red Bulls.
But, where there are winners, losers have to follow. Williams' dismal weekend continued, both Felipe Massa and Lance Stroll wiggled round to no avail, only able to managed 17th and 18th. A sharp contrast to their Azeri performances.
Qualifying 2 - Bottas on the charge
There was little change at the top in the second segment; Mercedes on top from Ferrari once more, however this time it was Bottas topping the field, closing in on the 1:03 bracket.
Hamilton, four-tenths back in third, opted to set his one and only time on super-softs, bringing an interesting strategic element into tomorrow's race; the Brit potentially looking for a long first stint after being lumbered with his penalty. Meanwhile, Vettel claimed second on ultra-softs, still four-tenths away from the class of the field, Bottas.
Max Verstappen got the march on Raikkonen, setting the fourth fastest time - second to fifth covered by less than three-tenths.
McLaren showed more signs of progression, Fernando Alonso a credible 12th, with Stoffel Vandoorne a tenth back in 13th. However, the car looked very handy around this demanding circuit.
Qualifying 3 - Late yellow disrupts ending
Following on from his stellar Q2 performance, Bottas quickly placed his car on provisional pole, just clear of Vettel with Hamilton a 'disastrous' third.
The two Red Bulls were finely matched, Daniel Ricciardo leading Verstappen by less than a tenth. The same could be said for the heated battle at Force India, Esteban Ocon following Sergio Perez.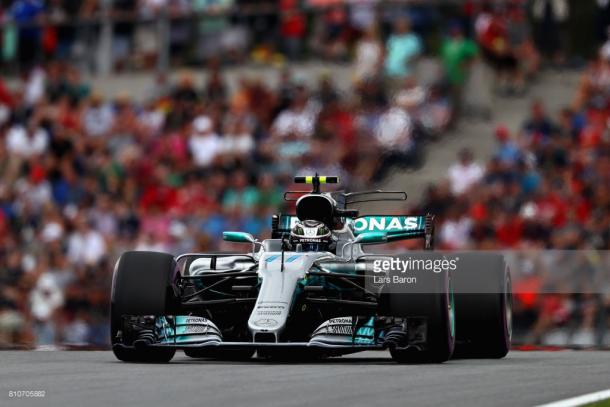 The final battle was spoiled somewhat by mistakes and then a session ending yellow flag. Both Hamilton and Vettel saw their laps compromised by loose rear ends on the exit of Turn 1, before Romain Grosjean found himself stranded after Turn 8 with no drive - putting an end to any potential improvements.
The drama didn't end there though, Verstappen lost control through Turn 7, spinning and bouncing across the gravel trap, just managing to keep his wild Bull out of the barriers. The early anti-climax saw Bottas keep his top spot, ahead of Vettel and Hamilton.
However, with Hamilton start towards the midfield - he'll be hoping for a drop of rain tomorrow. With storms currently forecasted, his prayers may well be answered.
Provisional Classification - Qualifying

| | | | | |
| --- | --- | --- | --- | --- |
| Pos | Driver | Team | Time | Gap |
| 1 | Valtteri BOTTAS | Mercedes | 1:04.251 | - |
| 2 | Sebastian VETTEL | Ferrari | 1:04.293 | +0.042 |
| 3 | Lewis HAMILTON* | Mercedes | 1:04.424 | +0.173 |
| 4 | Kimi RAIKKONEN | Ferrari | 1:04.779 | +0.528 |
| 5 | Daniel RICCIARDO | Red Bull | 1:04.896 | +0.645 |
| 6 | Max VERSTAPPEN | Red Bull | 1:04.983 | +0.732 |
| 7 | Romain GROSJEAN | Haas | 1:05.480 | +1.229 |
| 8 | Sergio PEREZ | Force India | 1:05.605 | +1.354 |
| 9 | Esteban OCON | Force India | 1:05.674 | +1.423 |
| 10 | Carlos SAINZ | Toro Rosso | 1:05.726 | +1.475 |
| Q2 | | | | |
| 11 | Nico HULKENBERG | Renault | 1:05.597 | |
| 12 | Fernando ALONSO | McLaren | 1:05.602 | |
| 13 | Stoffel VANDOORNE | McLaren | 1:05.741 | |
| 14 | Daniil KVYAT | Toro Rosso | 1:05.884 | |
| 15 | Kevin MAGNUSSEN | Haas | No Time | |
| Q1 | | | | |
| 16 | Jolyon PALMER | Renault | 1:06.345 | |
| 17 | Felipe MASSA | Williams | 1:06.534 | |
| 18 | Lance STROLL | Williams | 1:06.608 | |
| 19 | Marcus ERICSSON | Sauber | 1:06.857 | |
| 20 | Pascal WEHRLEIN | Sauber | 1:07.011 | |
* - Denotes five-place grid penalty