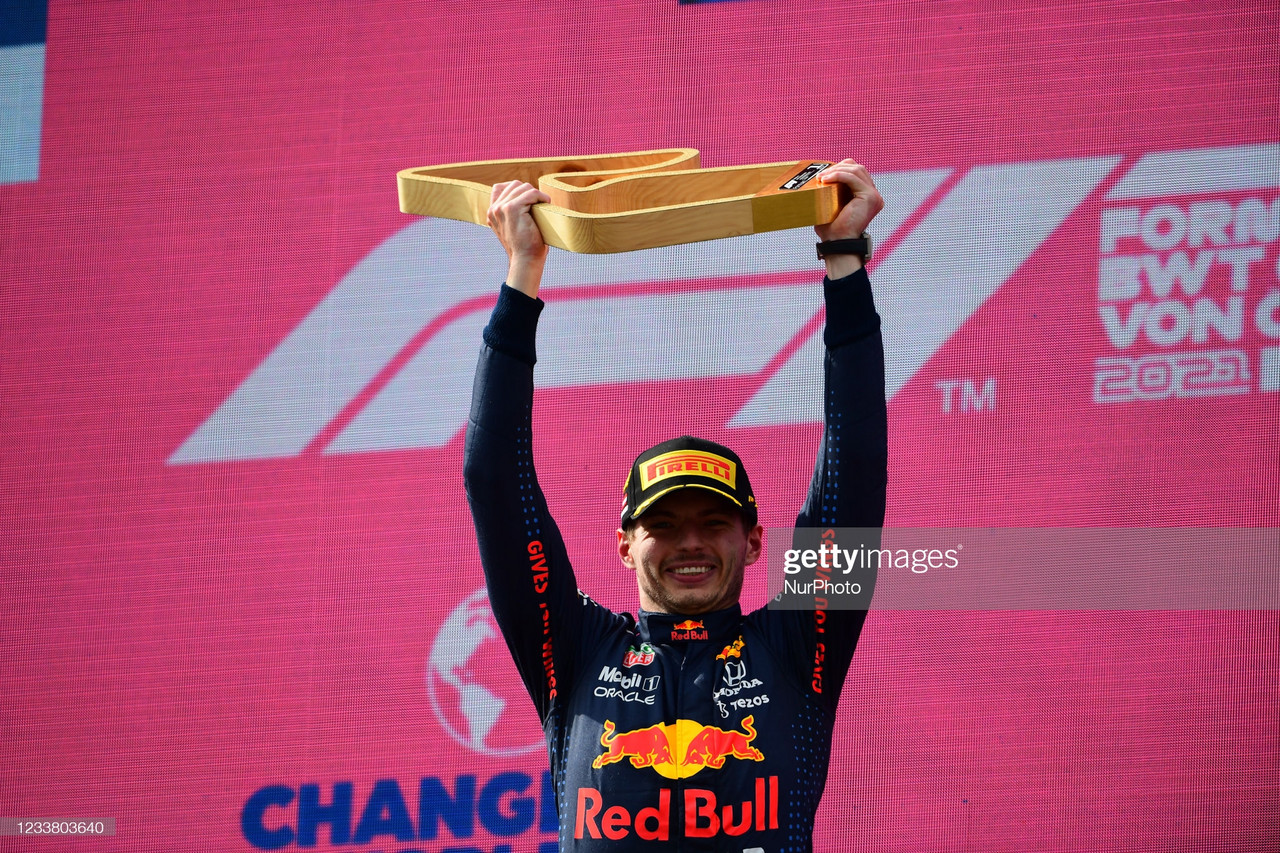 Max Verstappen extended his lead at the top of the driver's championship to 32 points on Sunday while rival Lewis Hamilton finished fourth.
Strict Stewards
The stewards were in for a busy day dishing out several penalties during and after the race.
First, McClaren's Lando Norris was penalised for pushing Sergio Perez off the track at turn 3 - the Brit was handed a 5-second penalty harshly.
Perez was in on the action again colliding with Charles Leclerc's Ferrari in the exact same spot as he did with Norris picking up an identical penalty, the Mexican would later do a similar move on Leclerc at turn 6 suffering a further time penalty - bumping up his pit stop to 10 seconds.
Lando Norris felt his five-second penalty cost him P2 on the podium, the 21-year-old vented his frustration to Sky Sports F1.
" I'm disappointed because we should have been second place - I thought that lap one was just racing really, he (Perez) tried to go around the outside which was a bit stupid and he ran off the track himself, I didn't even push him."
With Perez being the victim of two five-second penalties the 31-year-old wasn't impressed with his racing.
" With Charles, we are running on dirty air, a lot of traffic, very old tires and just breaking as late as possible and ending up with contact; that's not the way I like to race."
Heartbroken Russell.
With Willams' George Russell qualifying for Q3 for the first time on Saturday, the pressure was on the young talent to secure his first-ever points finish in Formula One.
That dream looked very unlikely after lap one as the British driver dropped down to 12th position - Yuki Tsunoda of the AlphaTauri, unfortunately, had a big lockup which compromised the 23-year-old at the beginning.
With Willams applying a one-stop pit strategy - Russell was allowed to take advantage of the midfield cars and comfortably cement his place inside the top 10 until lap 68...
Experienced Fernando Alonso patiently hunted down the Williams - Russell defended with all his might, but with almost 3 DRS zones in a row the resilient Spaniard found a way and George Russell was denied his first-ever points finish in F1.
Next up for George, Silverstone is it written in the stars, his home race surely not?
Mighty McClaren
With Lando Norris finishing P3 and new boy Daniel Ricciardo finally starting to adjust to the car Zak Brown's team are in a fine position heading into Silverstone.
McLaren started off the weekend with a qualifying session that stumped Mercedes Lewis Hamilton - Norris qualified P2 as he gave McClaren their first front-row finish since 2012.
Briton Norris was unlucky not to get his first pole - he ran a little wide on the final corner allowing Max Verstappen number one spot on the grid.
Mcaren's Mercedes engine outperformed Hamilton's Mercedes and post-qualifying the 7-time world champion couldn't understand Norris' pace when speaking to Sky Sports F1.
" I don't know if McClaren has an upgrade but they were mega quick today (in qualifying)."
Starting P2 Norris could have had an intriguing battle with the RedBull until he received a 5-second penalty - he had mixed emotions after the race as he questioned the stewards knowing it probably cost him P2.
Nevertheless, P3 was a successful race for the driver, Norris remains 4th in the drivers' championship and his car is competing with RedBull & Mercedes.
It hasn't been an easy ride for Daniel Ricciardo so far, the Australian has spent lots of time in the simulator trying to adjust to his new car.
For the second week in a row, Ricciardo started P13, however, impressive on lap one and lap four, after the safety car, he managed to gain places and finish p7.
Despite losing out to Ferrari's Carlos Sainz he left the RedBull ring satisfied.
" I think I just needed that - I just needed to have fun."
Verstappen Grand Slam
Dutchman Max Verstappen impressed in front of his fans at the RedBull ring producing what looked like an easy win.
He cruised ahead unchallenged and impressed the Formula One fans who haven't seen F1 action live since the pandemic began.
Before the Spanish Grand Prix, he was 14 points behind title rival Hamilton - now Verstappen leads Lewis by 32 points after racing nine times.
If his impressive title charge wasn't enough, the 23-year-old achieved his first grand slam of the campaign in Austria.
Max wasn't finished there with records; he was also the youngest driver to reach 50 podiums.
Hamilton uphill struggle
Lewis Hamilton couldn't find the pace from the car throughout the whole weekend - the 36-year-old finished p4.
While he was unable to challenge the RedBull on the pure pace Hamilton was well on course for a podium finish of P2.
The Brit was first held up by Lando Norris who received praise from the Mercedes driver for his brilliant racing.
The car suffered floor damage resulting in a significant drop in downforce, this halted Hamilton's momentum meaning he dropped to the fourth spot until the checkered flag.
The attention now turns to Hamilton's home race at Silverstone but he admits it'll be hard to close the gap.
"We have a little bit [of upgrades] coming but it's not going to close the gap enough, so we've got to do some more work," he said. "We are praying for a different scenario in the next race but you look at their car and it is just on rails. We're giving it absolutely everything, these past two weeks I've been to the factory, each race, trying to extract as much as I can from the car."