 69 years ago, someone had the bright idea of running racing cars around the perimeter roads of an RAF airfield.
It was fast, dangerous, and safety wasn't that high on the organisers to-do list.
Two years later, the FIA created its new Formula 1 World Championship, and the first race ever held in this new series took place on May 13th 1950 at that RAF airfield. Its name? Silverstone.
Now, the future of the British Grand Prix at Silverstone is under threat after the track's owners triggered a break clause in its contract to stop hosting the race after 2019, but talks should start soon to try and save the race, where it truly belongs.
Fast forward to 2017, and the layout of the track, has changed little, which means that an almighty scrap for the win and podium places should develop on Sunday afternoon.
What to look out for
Round 10 of the championship sees things starting to slip away from Lewis Hamilton, who is chasing a record breaking fourth consecutive win, and fifth overall in the British GP.
Championship rival Sebastian Vettel is 20 points clear in the Ferrari, while Hamilton's Mercedes team-mate Valtteri Bottas is only a further 15 behind.
After the controversy of Azerbaijan and the gearbox penalty of Austria, this race comes just in time for Hamilton, who will be hoping to please the capacity crowd once more.
Red Bull is hoping that it can capitalise on its recent win in Baku and podium at its home circuit to actually make it a three way battle up front.
Daniel Ricciardo has said that he was more satisfied with the third-place finish in Austria, as he earned it on merit after battling with Hamilton, then the win in Azerbaijan which was inherited for reasons which don't need revisiting.
Ricciardo's team-mate Max Verstappen will be hoping to end his dreadful run of form, retiring from five of the last seven races and scoring only 10 points since the Russian Grand Prix in April.
Sauber has a new Team Principal, Frederic Vassuer, formerly of Renault fame, whose first job will be to try and rescue the Honda engine deal for 2018, after the Japanese company have reportedly expressed interest in pulling out after Monisha Kaltenborn left the company.
On the subject of Honda, it wouldn't be a Grand Prix if partners McLaren didn't take an engine penalty, would it?
Well, Fernando Alonso has already taken a five-place penalty for his fifth control electronics of the season.
Alonso will run Honda's new 'Spec 3' engine, which provided an improvement in power in Austria, but was replaced after an MGU-H issue.
As he ran that engine last time, before it was replaced, Alonso will not take a penalty for the whole engine change, just the control electronics component outlined.
On the safety front, Vettel will be trailing the FIA's now preferred system of cockpit protection, the Shield, in First Practice for a handful of laps to evaluate it.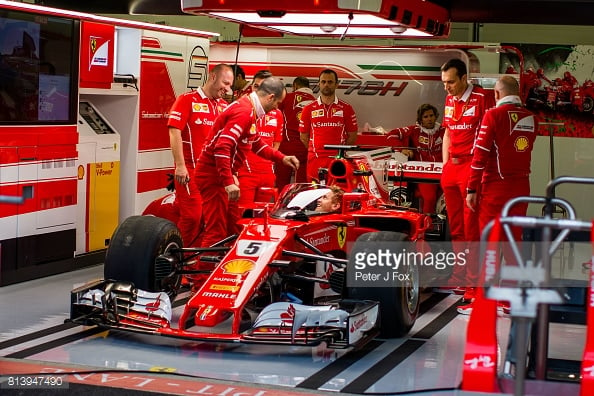 After the Halo and Red Bull's windscreen were both seen as less favourable, this is the first on-track test for the system, which is due for introduction as early as next season.
The Track
Much like Monaco, Silverstone is one of the only circuit where a fan could name every corner on the circuit, by its actual name.
Hamilton is expecting Copse, Maggotts, Becketts and Chapel to be flat out, meaning the cars will be a full throttle from the exit of Woodcote, to Stowe.
The track, one of the longest on the calendar is the perfect test of low and high speed balance, and straight line grunt, meaning if you do well here, you've certainly worked for it.
There are two DRS zones, the first along the Wellington Straight and the second along the Hanger Straight.
What tyres are Pirelli bringing?
Pirelli have opted for the second hardest choice of tyres, with the super-soft, soft and medium tyres available.
Interestingly, Mercedes have opted for only six sets each of the super-softs, with Ferrari opting for nine.
Unsurprisingly, McLaren have requested 10 sets of the super-softs each, and just two and one of the soft and medium compounds respectively.
Will it rain?
It is the British summer, so who knows? Current forecasts predict Friday to be dry, if a little cloudy.
There may be the chance of a downpour in the interval between Third Practice and Qualifying on Saturday, with Sunday's race expected to be dry.
When is it on?
It is the familiar European timings with First Practice underway at 09:00am on Friday morning, with Qualifying and the Race due to start at 13:00pm on Saturday and Sunday.
As ever, Sky Sports F1 will have live coverage of the entire weekend, with Channel 4 also broadcasting live for freeview viewers.
Sky will also be showing the Formula 2 and GP3 support races.
First Practice – Friday – 09:00am – 10:30am
Second Practice – Friday – 13:00pm – 14:30pm
Third Practice – Saturday – 10:00am – 11:00am
Qualifying – Saturday – 13:00pm – 14:00pm
Race – the 52 laps of the 2017 British Grand Prix get underway at 13:00pm on Sunday afternoon.
All times UK.