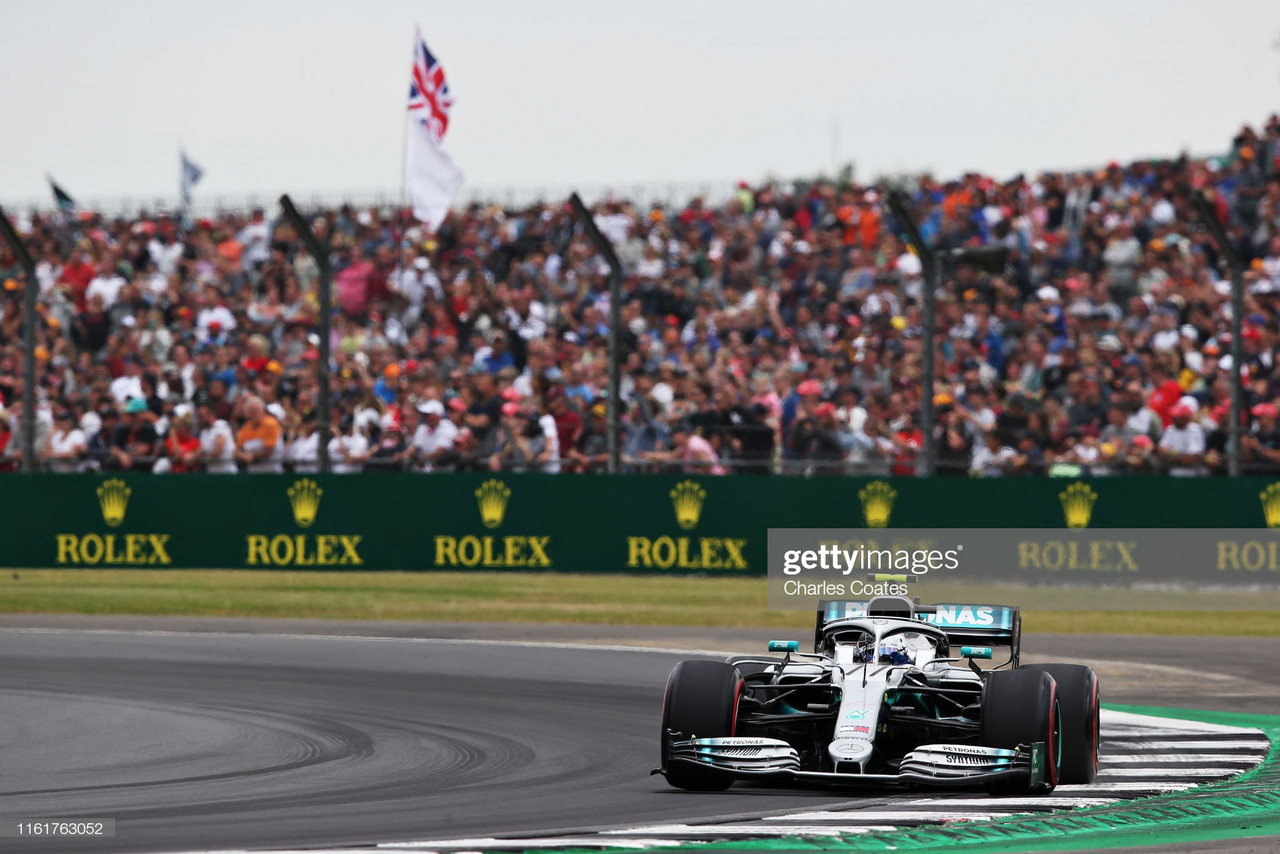 Valtteri Bottas claimed pole position ahead of Sunday's Brittish Grand Prix after setting a new track record of 1.25.093. 
The Finn edged his Mercedes teammate Lewis Hamilton in his home Grand Prix by 0.006s to deny Hamilton a record seventh Silverstone pole.
Charles Leclerc was unable to prevent the Mercedes lockout despite putting in a purple first section in his final hot lap, however, the Monogas put his Ferrari teammate to shame with Sebastian Vettel only able to claim P6. 
Young Brits shine at a gloomy Silverstone
The two Red Bull's were able to split the Ferrari's with Pierre Gasly unable to out-qualify his teammate in what seems a huge weekend for the Frenchman.
However, it was an improvement from Gasly despite outperforming Max Verstappen throughout the weekend until qualifying.
Daniel Ricciardo secured the best of the rest in qualifying with a P7 finish, not far behind the Aussie was Lando Norris in his debut home Grand Prix in Formula One who managed to a P8 spot. 
Torro Rosso's Alexander Albon claimed an impressive P9 after impressing too in his first Formula One appearance at Silverstone. 
Nico Hulkenberg was unable to earn a spot higher than P10. 
Alfa fail to replicate Austria heroics
The two Alfa Romeo's were unable to replicate their Q3 finish from Austria after Antonio Giovinazzi finished P11 and Kimi Raikkonen - who has had a difficult weekend so far - finished P12. 
One of the biggest shocks was Carlos Sainz's P13 finish. The Mclaren driver who confirmed his future with the team for next year earlier this week was unable to break into the top 10. 
However, the Spaniard does have free choice over which tyres he uses to start the race and will be looking to replicate his incredible display last time out. 
Romain Grosjean secured a P14 finish but struggled in Q2 after complaining about a lack of grip.
The Frenchman said frustratingly to his pit team: "I really don't get what's going on, it's not the same tyres."
Disappointment for Magnussen
After a sensational qualifying session in Austria, Kevin Magnussen found himself eliminated after Q1.
Haas have usually found their best pace during the Saturday qualifying sessions but the Dane was unable to match his teammate Grosjean who was 0.315s quicker. 
Toro Rosso's Daniil Kvyat also found himself within the bottom five with the Russian lining up in P17 for tomorrow's race. 
The 25-year-old admitted his pace "did not feel very good" as his team confirmed his elimination from Q1. 
Lance Stroll finished just ahead of the two Williams cars in 18th, with the Canadian continuing his poor form in qualifying. 
George Russell in his first home Grand Prix in Formula One was unable to better the expected P19 but said he was happy with the improvement he felt in the car - Robert Kubica finished in P20.