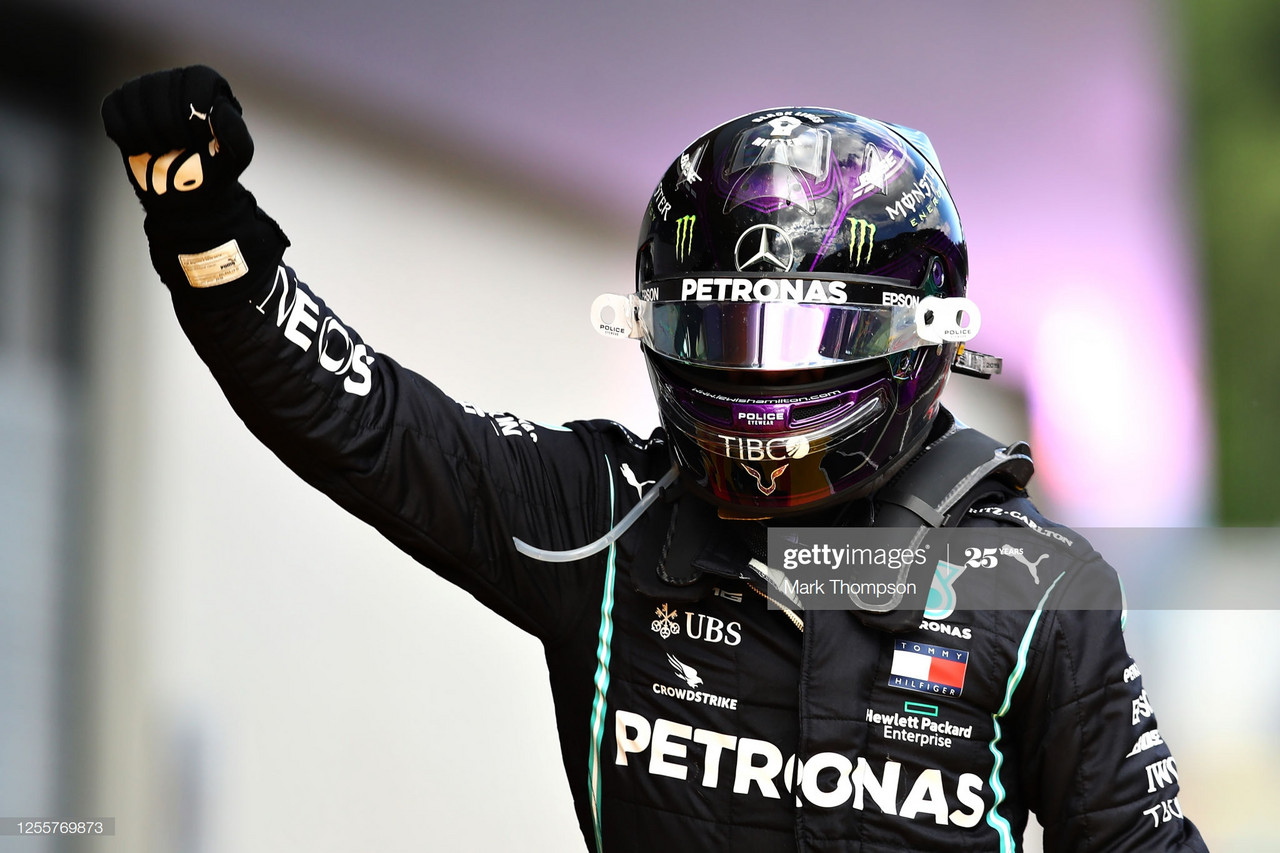 After the action-packed season opener a week ago, Formula 1 returned to the Red Bull Ring in Austria for a less chaotic, but still hugely entertaining race.
There was some big news in the build-up to the first ever Styrian GP. Two-time world champion Fernando Alonso is returning to the sport next year, having signed with his former team Renault. It was also announced that the Russian GP had been added to the calender, as well as an additional race in Italy, to be held at the Mugello circuit for the first time.
As for the race itself, there was plenty of drama. An extremely wet qualifying meant a lot of drivers started out of position, leading to plenty of action in the early stages. The climax was even more exciting, with plenty of last lap overtakes.
But who starred and who struggled:
Mercedes
Lewis Hamilton - 1st
After a somewhat underwhelming first race, Hamilton was back to his best over the weekend. His pole lap in the pouring rain was a reminder as to why the Brit is considered one of the greatest of all time. He was 1.2 seconds quicker than anyone else and he continued his dominance into Sunday.
He wasn't troubled at all during the race, resulting in one of Hamilton's easiest and most dominating victories to date.
10/10
Valtteri Bottas - 2nd
Another fantastic result for Bottas means the Finn remains at the top of the driver's standings.
After easily passing Carlos Sainz, he made use of fresher tyres and a superior car to close down on and overtake Max Verstappen.
9/10
McLaren
Lando Norris - 5th
After overtaking under yellows in free practice, Norris was forced to take a three-place penalty and found himself struggling behind the Renaults and Racing Points for much of the race.
But in the final few laps he took advantage of a scrap between Lance Stroll and Daniel Ricciardo to get ahead of the pair, before snatching P5 from Sergio Perez at the final corner.
Another superb drive from the young driver.
8/10
Carlos Sainz Jr. - 9th
After starting an impressive third, Sainz fell victim to a slow pit-stop which dropped him behind his rivals. He was unable to work his way back up the field but did manage to pick up a bonus point for setting the fastest lap, after pitting for fresh tyres late on.
The McLaren drivers sit P3 and P7 in the standings, which is a brilliant result for the team from Woking.
5/10
Red Bull
Max Verstappen - 3rd
The opening round of the season was a disaster for Red Bull with both cars failing to finish despite showing some strong speed. This time round things were a lot better.
Verstappen started P2 and stayed there for nearly the entire race until Bottas made his move with four laps to go. Credit where it's due, the Dutchman put up a brave defence but it wasn't enough.
8/10
Alex Albon - 4th
Despite finishing just off the podium, Albon seemed a little off the pace this weekend and was very nearly passed by Perez in the final few laps. He held on to score some much needed points, helping Red Bull get off the mark.
A good result, but the Thai driver will be desperate to get his first podium at next week's Hungary GP.
7/10
Racing Point
Sergio Perez - 6th
After starting way down in P17, the last thing anyone expected Perez to do was challenge for the top four. And yet that's what the Mexican was doing in the closing stages, having had an incredible race, overtaking car-after car for fun, including a jaw-dropping move around the outside of Sainz.
Unfortunately as he was attempting to pass Albon, he made contact with the Red Bull, heavily damaging his front wing. As a result, he was forced to limp home around the final few laps, allowing Norris to catch up and pass right at the end.
7/10
Lance Stroll - 7th
While not as good as his teammate, Stroll still showed some great skill during the race. The final couple of laps with himself, Ricciardo and Norris fighting for position, were the highlight of the race.
Soon after the race finished, Renault protested the legality of Racing Point's car, due to its striking similarity to Mercedes' 2019 machine. While it's unlikely anything will come of this, one must admire the audacity of Racing Point, practically copying the design of a championship winning car and getting away with it.
7/10
Ferrari
Charles Leclerc - DNF
This truly was a weekend to forget for Ferrari. Leclerc started a dreadful P14 and on the first lap slid into his teammate Sebastian Vettel, breaking the German's rear wing and damaging his own car beyond repair in the process.
It seems harsh to give a rating to a driver who was barely in the race, but there you go.
1/10
Sebastian Vettel - DNF
With the Renault seat going to Alonso, Vettel is running out of options for next season. This year has been an absolute disaster for him so far, although it wasn't his fault this weekend. It was a freak accident and on another day both Ferrari's may have continued on without any problems.
Alas, it was not to be.
1/10
Renault
Daniel Ricciardo - 8th
Ricciardo started well enough, getting ahead of Stroll, whom he held off for many laps. He would eventually be passed however, coming off the worst in the aforementioned three car melee.
Nevertheless a decent result for the Aussie.
6/10
Esteban Ocon - DNF
Ocon did fantastically well to qualify in P5, but his race could have gone better. He found himself in front of his teammate and despite it being abundantly clear that he needed to let Ricciardo past to help the team out, he did not yield.
That decision became even more needless, as the Frenchman would eventually retire after just 26 laps with a cooling issue.
4/10
AlphaTauri
Daniil Kvyat - 10th
It was a very quiet day for Kvyat who made up a couple of places to claim a solitary point. Nothing good or bad to report.
5/10
Pierre Gasly - 15th
After starting P7, it looked like Gasly was going to do battle with the faster midfield cars. But an ill-fated switch to the hard tyres completely killed his race. He dropped to the back of field and seemed devoid of any kind of speed.
After such a promising start to the weekend, he must have been bitterly frustrated.
4/10
Alfa Romeo
Kimi Raikkonen - 11th
The Alfa Romeos were pretty anonymous for the Styrian GP. They dueled with both Haas cars for a bit but that was about as exciting as it got for the Italian team.
Raikkonen is one of only five drivers yet to score a point this season, something the 2007 World Champion will be looking to correct as soon as possible.
4/10
Antonio Giovinazzi - 14th
Not much more to say really. The Italian crashed in qualifying, took a grid-place penalty (which had no effect) and got through the race without a hitch. Next.
4/10
Williams
George Russell - 16th
Rain is the great equaliser in motorsport, one of the few variables that separates OK drivers from good ones. By nearly breaking into Q3 during the slippery conditions on Saturday, Russell is proving to everyone that he has got some serious skills.
Despite his inferior car, he still looked competitive in the early stages. But a mistake while dicing with Kevin Magnussen saw him run wide and his race was practically over.
4/10
Nicholas Latifi - 17th
It's still too soon to judge the rookie. This weekend confirmed that Williams yet again have the slowest car by quite some margin, so it's hard to tell whether Latifi is actually any good or not.
At least the team aren't last in the standings for a change.
3/10
Haas
Kevin Magnussen - 12th
Despite the slowness of his car, Magnussen somehow got involved in a fair few battles during the race, from Russell in the opening laps, to Raikkonen towards the end. However, his only notable moment came when he ran wide trying to overtake the Finn.
4/10
Romain Grosjean - 13th
The fact that both Haas drivers made it to the end was a miracle in itself. Grosjean started from the pit lane but steadily made his way up the grid to finish a respectable P13, despite a few wobbly moments with his brakes.
4/10