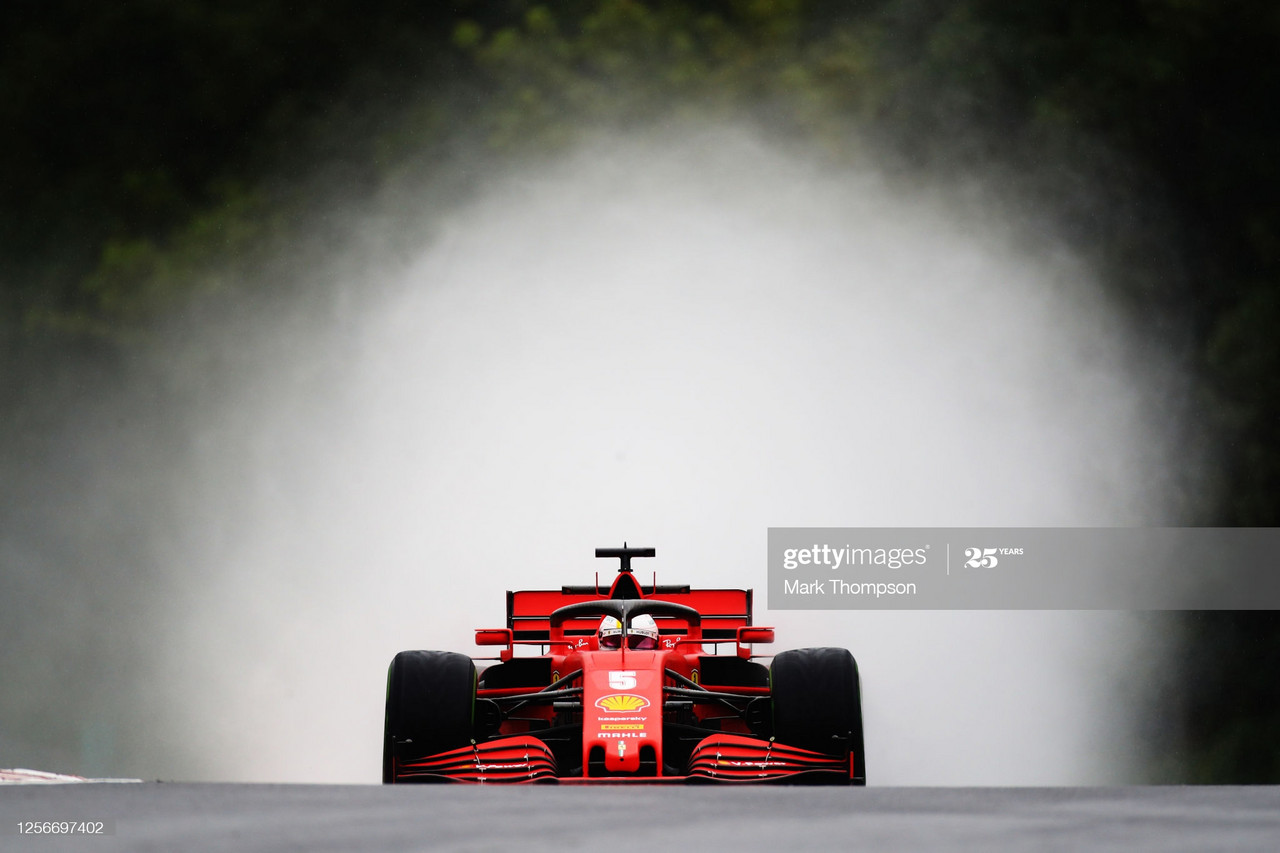 Limited running as rain hits
After an FP1 session that was surprisingly dry, FP2 had more than enough rain. With little to no laps being done in the first half of the session, the drivers only came out for installation laps for the session before some decided to take the plunge and do some testing.
One of those being Sebastian Vettel, who seems to have had a positive turnaround after last weekends early exit at the Styrian GP and a promising FP1 this morning.
The confidence of Vettel in his Ferrari ramped up and up as the lap times kept coming in once he found the track to be suitable to drive on. In the end, he set a 1.40.464 on the wet tyre after a purple first sector on intermediates was ruined for a mistake later in the lap.
One timed lap enough for front runners
Lewis Hamilton only went out for one installation lap in his Mercedes not setting a time during the session. Hamilton's teammate Valtteri Bottas did five laps in total with only one of them being a fully timed lap putting him just 0.272 seconds behind Vettel proving Mercedes' pace is still unmatched for one slow lap being so close.
Max Verstappen had the same mindset as Bottas going into the session. In all doing one less lap than the Fin but also doing the one timed lap itself more for feel than the actual pure performance testing.
Verstappen's teammate Alex Albon would've done the same but for just missing his last attempt at a lap so he only complete three laps for the session with no timed laps put in play.
Saving tyres for the weekend
With the forecast for the rest of the weekend potentially being wet again, no teams were desperate to go out and do running on the tyres as they only get three sets of wet tyres for the entire race weekend. So to have multiple new sets for qualifying and the race could come in very handy.
Ferrari and their customer team Alfa Romeo were not under that mindset after being so disappointed in their wet running only six days ago at the Styrian qualifying session. With most teams doing one to three laps with most of their drivers, it was interesting to see that the two teams accumulated 47 laps through the session.