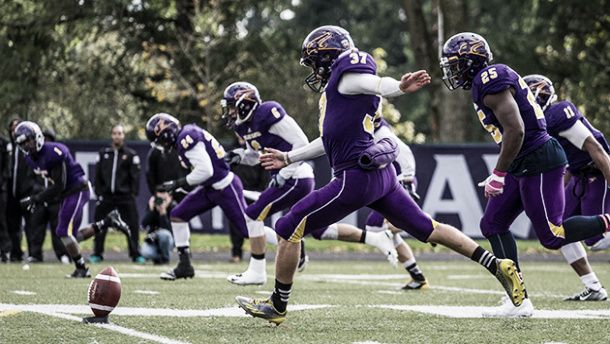 The Toronto Argonauts announced Wednesday afternoon that the team has signed national kicker Ronnie Pfeffer.
Pfeffer, a native of Kitchener, Ontario recently went undrafted in the 2015 CFL draft and later attended Ottawa Redblacks camp. In 32 games over four seasons at Wilfrid Laurier University, he punted 278 times for 10,010 yards while adding 7,159 kickoff yards. The two-time OUA All-Star and 2014 CIS All-Canadian also converted 57-of-81 field goal attempts with a long of 50 yards as a Golden Hawk.
The signing comes on the heels of the team receiving news that kicker/punter Swayze Waters would be out of action for four-to-six weeks. Waters was injured with a tear in his hip flexor in the Argos' season-opening 26-11 victory over the Edmonton Eskimos on June 27th.
Pfeffer will have big shoes to fill after Waters was the league's top special-teams player last season.
Toronto will be travelling out west for a meeting with the Saskatchewan Roughriders Sunday afternoon. Having to deal with the rough winds of Regina, Pfeffer will have a stern test awaiting him for his first taste of CFL action.
"It feels really great,'' said Pfeffer on his first day as an Argo.
"It's a great experience. I get to showcase myself on a bigger level and I'm excited to see what happens."
"I'm just excited to get the opportunity to play,'' he said.
What makes Pfeffer a unique player is his versatility and his ability to handle all three positions of the kicking role: punts, kickoffs and field goals.
"He looks like a three-way guy,'' said Argos head coach Scott Milanovich of Pfeffer.
"We're asking him to go out and do his job in the wind in Regina in his first game. It's a tough task, but he'll do a nice job."
Pfeffer will be donning the number 17 jersey come Sunday, a number once made famous by quarterback Joe Barnes in the early '80s.