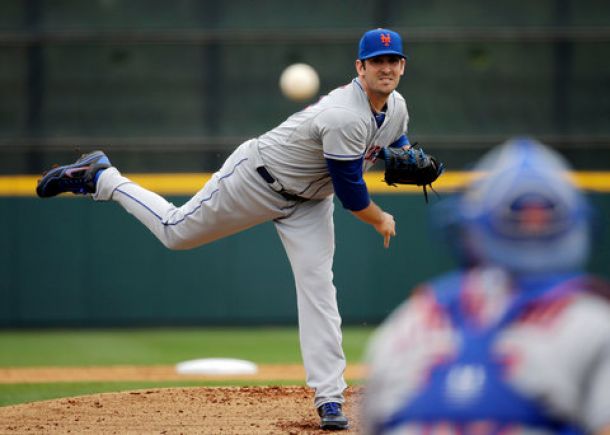 Matt Harvey is back. Well, not entirely, but on Monday, the New York Mets' sparkling stud of a starting pitcher arrived at Spring Training early, ten days prior to New York's scheduled reporting date for pitchers and catchers.
It certainly isn't unheard of for any player to report to Spring Training early, but with Harvey, it can create a sort of giddiness amongst Mets fans.
After undergoing Tommy John surgery and missing the entire 2014 season, Harvey's return has been long-awaited. After a 2014 that saw Jacob Degrom break out as the National League Rookie of the Year, the progression of top prospects Travis d'Arnaud and Zack Wheeler, as well as the offseason acquisition of Michael Cuddyer, the Queens faithful are more than excited for the coming 2015 campaign.
Harvey participated in only pitcher's fielding practice, but by returning to the diamond, Mets fans now feel they have their key piece back.
MLB.com's Paul Casella quoted the young ace speaking with reporters at camp and discussing his progress and eventual return to the mound for the Mets. Said Harvey,
"I'm excited. I'm healthy. I'm right where I need to be, and I'm excited about getting started. The big test will be once hitters get in there and facing them. I've been throwing [bullpen sessions], and everything is right where I want it to be. It's an exciting Spring Training for me."
Harvey also said he is now on board with the decision for him to sit out all of 2014, saying "Looking back on it, I think everybody made the right decision. I'm in a good place right now."
The Mets are also in a good place right now, but they may have a few more moves to make this offseason. Even so, with the uprising of their youngsters and the Cuddyer signing, Matt Harvey's early return might just make any Mets fan want to act like this.