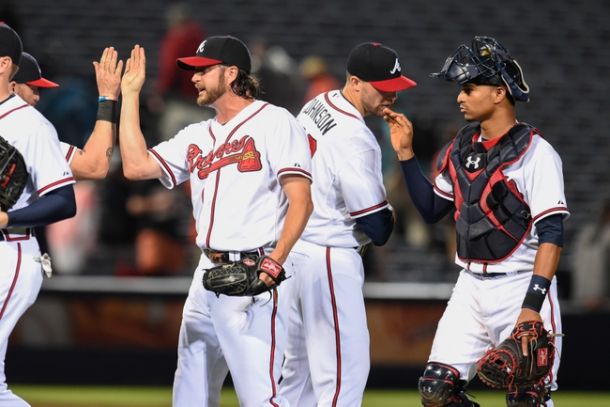 Despite two separate rain delays, the Atlanta Braves were able to manufacture enough runs to defeat the Miami Marlins, 3-2. Atlanta is 6-1 on the season, while the highly thought of Marlins have begun the season 1-6. The Braves are also 4-0 against the fish this season, outscoring them 19-5.
Shelby Miller (1-0, 0.90 ERA) made his second start of the season and his first at Turner Field Monday night. Miller went five innings allowing one run on three hits. He walked two batters and only struck out one on 88 pitches. The second rain delay derailed any chance of him going deeper in the game. In his first two starts as a Brave, Miller has really looked strong as he has kept the ball down in the zone leading to groundball outs.
It was less than a week ago when Marlins starter Mat Latos (0-2, 17.36 ERA) faced these Braves in his home debut. He wasn't able to get out of the first inning as he allowed seven runs on six hits in only two-thirds of an inning. Tonight was better, but he only went four innings allowing three runs (two earned) on five hits. Latos' control was still a problem as he walked three batters to go along with five strikeouts.
Miami got on the board first as Christian Yelich drove in Adeiny Hechavarria on an RBI groundout. That was short-lived as Christian Bethancourt would tie the game up in the fourth when he scored on a wild pitch by Latos. Bethancourt stood at third base after he stole second and advance to third on a wild throw.
Atlanta would add two more runs in the fifth as they continue to manufacture runs based on consistent contact. Alberto Callaspo would give the Braves a 2-1 lead as he drove in Jace Peterson from third on a single up the middle. Nick Markakis would quickly answer with a first pitch single to left field to score Eric Young Jr.
The Marlins would make things interesting in the ninth as they came within a run after a two-out RBI single by Hechavarria. That would be all for Miami as Braves closer Jason Grilli would strike out the side in route to his fourth save of the season.
QUOTES
Braves center fielder Eric Young Jr., "When you get contributions from everyone on the roster, whether they start the game or not, it's going to make for a special team and a very fun summer."
Marlins manager Mike Redmond, "We're going through a funk as a team, and we've got to dig deep and figure out a way to get something going."
TOMORROW'S MATCHUP
The Marlins will send RHP Tom Koehler (0-1, 3.00 ERA) to the mound. Koehler lost to the Braves 2-0 last week. He went six innings allowing two runs on five hits, while walking three batters and striking out four.
Braves fifth starter Trevor Cahill will be making his season debut to go along with his Atlanta debut. In five career starts against the Marlins, Cahill is 2-1 with a 3.86 ERA. Last season in Marlins Park the veteran right-hander won the game going 6 2/3 innings allowing two runs on six hits. As a visiting player, Cahill has not fared well in two career starts in Turner Field. He's 0-2 with an ERA of 9.64. For the Braves sake, they hope he responds better as a member of the team.