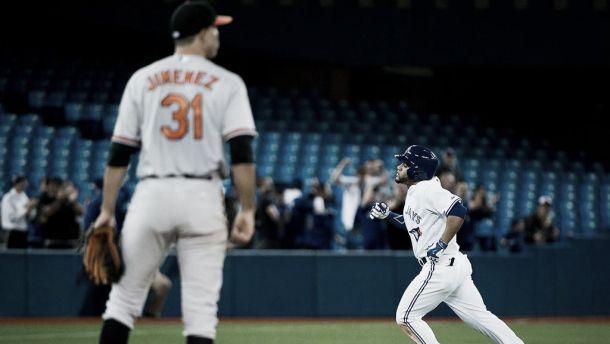 After tempers flared in last night's game at the Rogers Centre between the Toronto Blue Jays and Baltimore Orioles, heads were a lot cooler on this night.
Aaron Sanchez picked up his first big league career win as a start as the Blue Jays doubled up on the Orioles in a 4-2 victory Wednesday night in Toronto.
Sanchez (1-2) went five and one thirds innings, allowing two earned runs on two hits and seven walks.
His counterpart Ubaldo Jimenez (1-1) went five innings, allowing six hits and four earned runs.
Rookie Devon Travis made the difference for the Blue Jays, as the youngster continues the bright start to his young career.
With one of Sanchez's many walked batters on base in Caleb Joseph, Jimmy Paredes hit a two run home run (1) in the top of the third inning to give the Orioles a 2-0 lead.
Sanchez struggled all night with his command and was unable to find the strike zone. But the 22-year-old had the benefit of two double plays behind him to help him get out of some early jams.
First baseman Justin Smoak replied with a two run home run of his own for his first of the season and as a Blue Jay, evening up the score at two in the bottom of the fourth.
Jimenez was solid on the night and made sure to keep his side in it with only three walked batters and six strikeouts. A couple slip ups cost him, however.
After Blue Jays shortstop Jose Reyes singled to open up the bottom of the fifth, Travis belted Jimenez's offer to straight away centre, adding on two more runs for the home team and putting them up 4-2.
Another rookie in 20-year-old Miguel Castro came into the game in the eight to close things out. The righty pitched the final one and one thirds inning for his third save of the season.
All-star right fielder Jose Bautista was missed out as the Blue Jays announced earlier in the day that he had aggravated a shoulder problem with a throw late in last night's game against the Orioles.
The Blue Jays will look to complete their first sweep of the season as both teams are right back at it tomorrow at with first pitch set for 7:07pm local time.