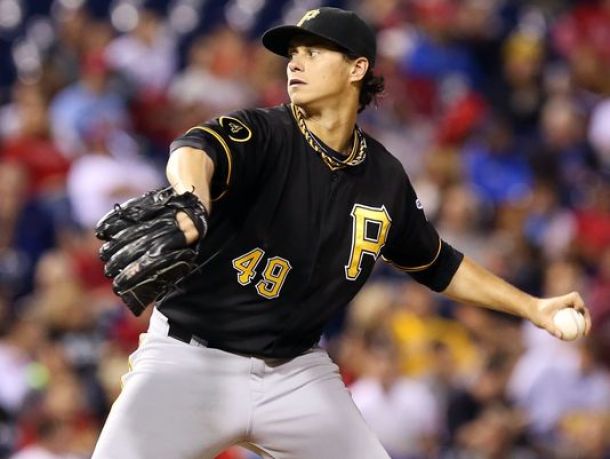 The Pirates could only earn a split of their four game series over the weekend against the San Diego Padres. The Pirates fell to the Friars 7-1 after another brutal outing from Jeff Locke. Locke went just four innings, allowing eight hits and seven runs. Six of those runs allowed were unearned.
There is no clear cut solution to this problem internally for the Pirates. However, they have some different routes they could go. They aren't going to take Locke out fo the starting rotation but the fact of the matter is that they should. How much longer can the Pirates keep running Locke out to the mound when time and time he struggles with command? It's costing Locke and it's costing the Pirates.
Locke got himself into a bases loaded jam in the first inning and with two outs, the Padres came through and took the lead right out of the shoot. That type of first inning can really deflate a team's confidence before it ever gets a chance to get any confidence going.
Baseball is a long season but Locke has done next to nothing to show that he can get better. In his outing prior to Sunday's in San Diego, he put himself into jams against the Marlins but was luckily able to get out of them.
In games against better offenses, like San Diego's, Locke is going to find himself in trouble more and more often. Miami is 23rd in the league in runs, whereas the Padres are 8th. If the Pirates want to do what is best for the club, they will find an alternative to Locke.
One of those alternatives could be Vance Worley. Worley has a better career ERA, which is just one indication that he can pitch better as the Pirates fifth starter than Locke. Worley got work in on Sunday against San Deigo by coming in for four scoreless innings in which he allowed no earned runs and struck out four batters as well.
Another option for the Pirates is that they could try and land a starter by the MLB trade deadline to bolster an already excellent pitching staff. One name that comes to mind is Scott Kazmir of the Oakland Athletics. Kazmir has a career ERA of 4.03, but he has gotten better as his career has progressed. He is currently 2-3 with a 2.93 ERA in 2015. Oakland will most likely be selling at the trade deadline so if the price is right, Kazmir can be had and solidify a pitching staff that has done great things so far in 2015.
Regardless of who the Pirates could fill in for Locke, he cannot be trusted in the starter role any longer. He may be fine as a bullpen pitcher, but the Pirates cannot afford to have Locke going out every fifth day and struggling the way he has. Especially not when they are trying to catch the St. Louis Cardinals.