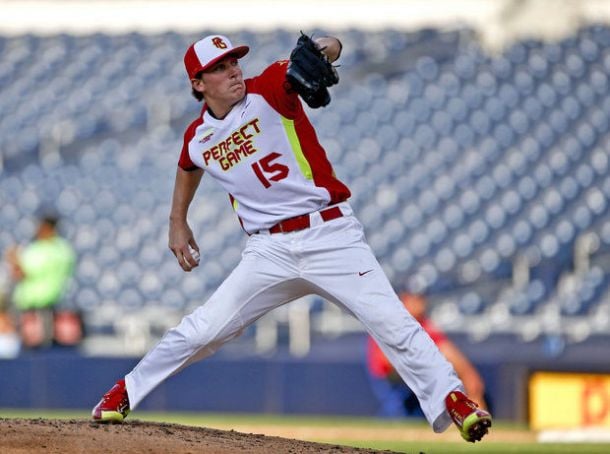 The Detroit Tigers kicked off the 2015 Entry Draft for their organization by doing something almost everyone could guess, drafting a right-handed power pitcher. The thing that surprised most people, however, was the name. The Tigers passed on multiple college arms whom they reportedly liked earlier this year, including Vanderbilt's Walker Buehler and Louisville's Kyle Funkhouser. Instead, the Tigers elected to go with high school flamethrower Beau Burrows from Texas, currently committed to Texas A&M University.
Burrows has a big arm, hitting 96 miles per hour on his fastball and being clocked as high as 99, an impressive feat for a high school pitcher. He also has a good curve ball that continues to improve with coaching and could become a plus pitch soon. In addition, Burrows has a changeup that has improved drastically since last season and has the potential to be an average pitch with continued improvement.
The main knock on Burrows is that his mechanics are still sketchy, but they will likely improve with professional coaching. His readiness to jump in to the Major Leagues is also in question. Many thought the Tigers would go with a college pitcher to help their win-now cause -- someone who could move quickly up the system -- instead of drafting someone who has a much higher ceiling but more work to do now.
Some interesting comparisons that made sense on Twitter by professional baseball analysts include Greg Holland and Jake Thompson among others. While it is not certain whether Burrows will continue starting for the Tigers, he could be used as a reliever. He said he is willing to do whatever the Tigers need him to, and if that includes relieving instead of starting, then he would accept that role.
Burrows could go down a career path similar to that of former Tigers prospect Andrew Miller, who was drafted as a starter but was better suited for bullpen duties later on in his development. Burrows's high school stats are quite impressive; he averaged more than a strikeout per inning while allowing low walk totals and very few home runs over his high school varsity career.
The other Tigers prospect is college outfielder Christian Stewart. The outfield prospect is known for his bat and nothing else. One expert said that he is an all-bat guy and will not provide of any benefit regarding base running or defense.
While this is the traditional Tigers pick, it may not be a good fit for manager Brad Ausmus's style of play, and unless the team's plans are for him to pinch hit, Stewart does not really have a clear future role with the team. Prospects Steven Moya, Tyler Collins, and Daniel Fields and current Tigers Yoenis Cespedes, Anthony Gose, Rajai Davis, and J.D. Martinez seem to have long-term control over the outfield. Stewart appears to be the next Tigers prospect that could be used as trade bait, especially if his main tool, his bat, is not developing as expected in the near future.
The MLB Draft is still a long way away from being over as the forty-round draft will continue over the next few days. While the Tigers may be done selecting impact players, there are still players left who could surprise everyone once they get to the Minor Leagues.