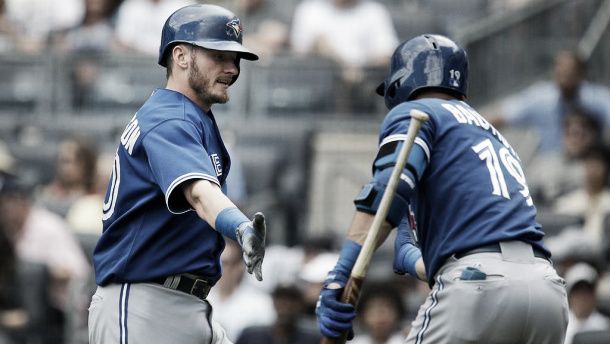 The Toronto Blue Jays are red-hot on both sides of the ball and don't look like they are pulling up any time soon.
Josh Donaldson and Jose Bautista both went deep to power the Jays to their eighth straight win by beating the New York Yankees 2-0 Sunday at the Bronx to complete the three-game sweep, moving just 1 1/2 games of the AL-East leading Yankees.
Marco Estrada continued the string of strong performances from Toronto's starters, pitching six and one thirds innings, allowing just three hits against a Yankees lineup that has suddenly gone into a slump, shutout for the second consecutive game.
Fans expected big offensive numbers and a slugfest between the top two scoring lineups in the American League coming into this series, but it was anything but that. New York's lineup was only able to produce the single run in Friday's opening matchup of the three game series. It marks the first time since May 1999 that the Yankees have been kept scoreless in back-to-back games.
One of, if not Major League Baseball's hottest team since the All-Star game, it was the first time Toronto swept New York in at least a three game series since May 2003.
It was a frustrating afternoon all along for the Yankees lineup, and it was highlighted in the third inning when a fan tried to throw Bautista's home run back on the field, instead plucking Brett Gardner, who was standing in left, in the back of the head.
Estrada (10-6) has been a feel good story for Toronto after being picked up in a trade from the Milwaukee Brewers in November 2014. He wasn't expected to have a big role in the team coming out of camp, but is now seen as one of the team's more reliable starters.
Despite New York scoring 28 runs in their four previous game coming into this series, Estrada again kept their bats quiet and looked in command of his fastball all game.
LaTroy Hawkins completed the seventh inning out of the Jays bullpen, while Aaron Sanchez pitched a one-two-three eighth, and needed just nine pitches in the ninth to pick up his 10th save.
Masahiro Tanaka (8-5) was making his first start against the Jays since surrendering four earned runs on opening day of the season. He went six innings, allowing three hits, two of those going into the stands.
Donaldson homered his first time up in the opening inning for the second time in three games.
Bautista launched one in the fourth inning to make it a 2-0 ball game.
Both Donaldson and Bautista hit solo shots in Toronto's 2-1 win Friday night at Yankee Stadium and again powered their team to victory on this day.
It won't be long before these two teams meet again when they square off on August 14th in Toronto for another three game set.
Both teams now have Monday. Toronto will head home to face the Oakland Athletics while New York travel to Cleveland to take on the Indians.