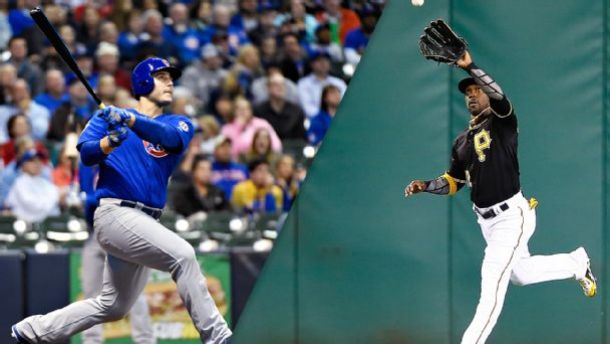 The National League Wild Card game has some very interesting storylines to it. One of the most intriguing things about this matchup on Wednesday Night between the Chicago Cubs and Pittsburgh Pirates is that these teams both came into the season with very different approaches, at least it seemed that way.
The Pirates were already an established competitor and it's no surprise that they have found themselves back in the postseason, and in their third straight Wild Card game at home. Yet, the Chicago Cubs were not supposed to be here. Now that's the way a lot of baseball writers and analysts made it seem but that's the thing about people, everyone has an opinion. Joe Maddon had a different opinion on his ballclub and he made sure they were not thinking as those analysts. Maddon's goal was to compete this year, and the Cubs are doing just that.
This Wild Card Game is a dream come true for fans that love great pitching. The Chicago Cubs have a risen star, who marvelously dominated teams especially when speaking in terms of his performance down the stretch. In Jake Arrieta's next 13 starts after the All-Star Break, he recorded an ERA of just 0.86 which has never been done before by a pitcher that has made at least 13 starts. Arrieta finished the 2015 regular season with a 22-6 record and an ERA of 1.77 while also collecting a no-hitter in August against the Los Angeles Dodgers. Arrieta isn't unbeatable, but whatever the step just below unbeatable, is exactly what Arrieta is.
On the other side of things, the Pittsburgh Pirates send a very impressive youngster to the mound. And to be quite frank this kid has been disrespected because he is not being talked about nearly as much as Arrieta. There is no doubt that Arrieta has been out of this world and has a very good chance to win the NL Cy Young Award. Nevertheless, Gerrit Cole has also had a great 2015 season. and would have reached 20 wins or more if he had gotten more run support and defensive help (Cole finished the season with a 19-8 record and 2.60 ERA).
Just one win separated the Chicago Cubs and Pittsburgh Pirates in 2015, the Cubs won 97 games and the Pirates won 98. The Pirates and Cubs have played in the best division in baseball this year and in any other division, both teams would have been on top. This matchup is the best anyone could ask for in a "do or die playoff game." So let's dive into each team's X-Factor, shall we?
First off, for the Chicago Cubs, their X-Factor in this writer's opinion is Starlin Castro. Castro has been an immense help to Chicago but after a very interesting, yet wise, move that was made by manager Joe Maddon. Castro has been known to be lazy or lacking interest at times when on the field. Maddon used his young prospect Addison Russell to combat that and moved Russell to shortstop and moved Castro from shortstop to second base. Since then, Castro seems to be more focused and playing better as he finished with 11 HR, 69 RBI and an average of .265 in 2015. It's easy to pick Arrieta as an X-Factor but that's why he isn't that. He's going to go out and pitch very well, or at least his recent dominance suggests so.
Now let's take a look at the Pittsburgh Pirates X-Factor, which is their leader and face of their franchise, Andrew McCutchen. Now this may seem like an odd pick but there's plenty of evidence for McCutchen's case. McCutchen is hitting .348 against Arrieta with an OPS of .879. If anything, the Pirates may want to try and play small ball and get a guy with speed like Starling Marte to drop down a bunt to get to first. Marte could then steal second base in front of McCutchen and set up shop very nicely. Also when facing Arrieta, they may have to try to do some things like that and simplify the game to push runs across. This is exactly why Andrew McCutchen is the Pirates X-Factor for this game.
When this is all said and done, it will be remembered as a great contest between two of baseball's best, both pitchers and teams. Cole versus Arrieta may provide us all with the pitching matchup of the 2015 season. And for Cole, this is a Cubs' lineup he has had success against as well as Arrieta against the Pirates. Arrieta is so great because he mixes up pitch sequences. Specifically, the one pitch that works very well for him is his cutter up and in on the hands of lefties. As for Cole, his stuff is great because of his fastball and his slider. His slider works well because he can throw it in the upper 80's so it's similar to his fastball but the pitch has break to it. In this writer's opinion, when it is all said and done, the Cubs will prevail 3-1.
That is not to suggest that the Pirates cannot win this game because they can. The Pirates have the advantage of playing at home which is an advantage, go ahead and ask Johnny Cueto. However, Madison Bumgarner was able to stymie the crowd and the team last year as the San Francisco Giants rolled over the Pirates.
Now the Cubs should not completely dominate, seeing that the Pirates are pitching Cole. But the fact that Arrieta has not shown any regression in the second half of the season and he has had recent success against the Pirates makes it very hard to take the Pirates, even with as good as they have been. If this were a three or five-game series, the prediction would probably be different. That's what makes a one-game playoff tough sometimes, it is one game where anything can happen. However, using that logic, anything can occur, so do not count the Pirates out. This game gives no indication that it will not be close nor a pitcher's duel.