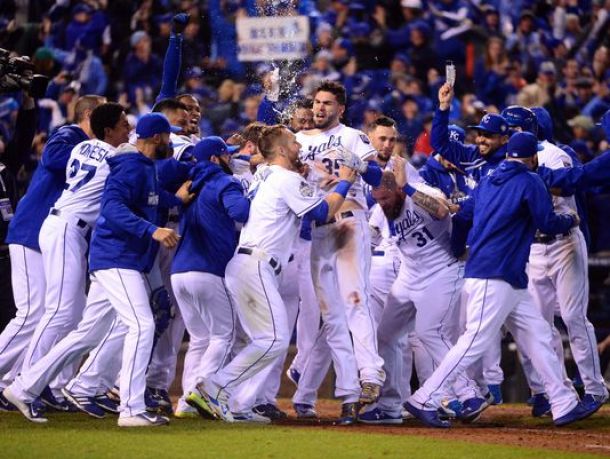 The Kansas City Royals and New York Mets looked like an excellent and even matchup heading into the World Series. The Royals identity is a team that has some good but not always great starters, and a lineup with a knack for hitting in clutch moments. More on that coming up.
The Mets also have a very potent lineup, led by Daniel Murphy, who recorded a record-breaking run in this postseason by hitting a home run in six consecutive games in the postseason for the first time in MLB history.
The one question that seemed unanswered was if the Mets young power pitchers could be beaten by the Royals and their fundamental approach. Kansas City has once again found a way to come through offensively when their bats are needed to win games in the postseason. Before we dive in deeper, in this writer's opinion, this is far from over, so don't misinterpret this.
The Royals do not take a natural, modern approach at the plate. They play a station-to-station style of baseball. They get on and get hits rather than trying to swing for the fences and that is why they hit so well. They have speed as well and are not afraid to steal bases either, which makes them dangerous. Ned Yost's club hits so well that even when it appears they're down bad in the count, you just cannot count them out anymore. But aside from being very smart with two strikes, the Royals also have guys that will swing at the first pitch, which often times can be the best pitch. For those who haven't been paying close attention, shortstop Alcides Escobar swings at just about every first pitch he sees.
Even with that type of aggression, or an ambush which is what is known as swinging at the first pitch, one would think the Royals don't hit well. They have had situations this series where guys are down in counts 0-2, or 1-2, but they still don't falter. For instance, Mike Moustakas battled last night in his at-bat's by doing small things like choking up on the bat or swinging short to just get contact and foul off pitches to see another pitch. They love to put the ball in play and it has paid dividends to their success the past two seasons.
Game one and game two were much different stories in this World Series. Game one was very tight just about the entire game. Game two was tight early on but the Royals blew the door open in the later innings, which is when they hit very well compared to the first five to six innings. The Royals saw the two best that New York has in Matt Harvey and Jacob DeGrom, but that could not stop the Royals. And that is not a suggestion of failure from DeGrom on Tuesday night. DeGrom had very good stuff all night long, but the Royals swung and missed just three times on 94 pitches from DeGrom. That is a testament to just how good and smart the Royals offense sees the ball and hits.
The one thing that sports championships can boil down to is the experience factor. The Royals are far more experienced than the Mets on the big stage and that was a big factor that seemed to fly under the radar headed into the series. The Royals seemed all but done against the Houston Astros, but battled back late and eventually won after putting up a five run eighth-inning in game four of the Division Series. They tacked on two more to win 9-6 and went back to Kansas City to finish the job.
The experience is starting to show, and when a team hits as smart as the Royals do, it is a formula for winning games. But hitting isn't the only thing that the Royals have done well this series. They have done a great job at stabilizing a high-powered Mets offense, especially Daniel Murphy.
One thing that Tom Verducci eluded to in Tuesday Night's broadcast that holds true about baseball is that in baseball, one can neutralize the opponent. That does not happen in any other sport. Last night, this was more prevalent than Game One, but it's still shown through and through. Kansas City's bullpen neutralized the Mets offense late in game one, however, and that was crucial to them eventually winning on a walk-off sacrifice fly ball from Eric Hosmer after he had a Bill Buckner-like moment to give the Mets the lead in that game. On Tuesday night, Johnny Cueto showed more of that neutralization in batters.
Cueto was able to get a double play with a man on and one out in the first inning against Travis D'Arnaud. He did extremely well against Daniel Murphy, striking him out on two different occasions. Cueto was also able to force the Mets to strand 7 runners on the night. Three of those runners left on base came against Yoenis Cespedes and another three against D'Arnaud.
Kansas City does not have this locked up, but they have a good chance to put a stranglehold on this series in one of the next two games. As good as the Mets have been, the next game is a must-win and Game Four is right there below a must-win. Even though 3-1 is surmountable, their chances would not be good against a more experienced team and one that had a bad taste left in their mouth at the end of last year's World Series.