 The Seattle Mariners have reached an agreement with free agent outfielder Norichika Aoki on a one-year deal. This includes an option for a second year, according to Jon Heyman.
The San Francisco Giants declined his option in early November, sending him into free agency. While with the Giants, Aoki had a .287 batting average including five home runs and 26 RBIs.
The Battle Of Injuries
He had a rough 2015 season injury wise. In June he was hit in the leg during a game against the Los Angeles Dodgers. The injury was originally thought to be just a bruise but a crack was found in his right fibula, putting him in a cast for two weeks. Then in August he was hit in the head by a pitch from the Chicago Cub's and 2015 NL CY Young winner Jake Arrieta. He ended up on the disabled list again because he suffered a concussion from it.
"He feels great. He has been cleared medically," Aoki's agent Nez Balelo said. "He's 100 percent."
What Mariners Gain From Aoki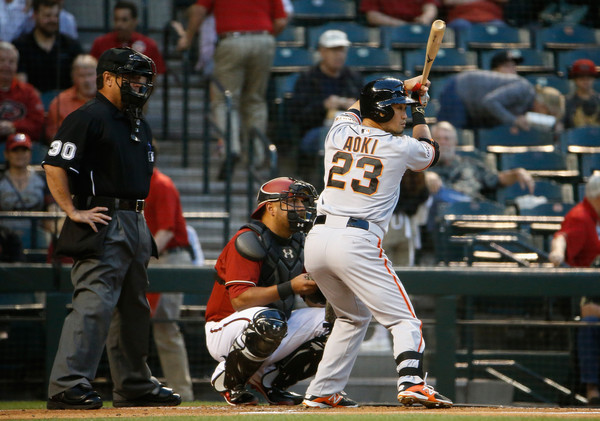 Aoki helps solidify the Mariner's outfield from both a defensive and offensive perspective. His offense is around average compared to the rest of the league, but he's consistently hit around the .285 mark every year while playing in the major leagues. He's quick in the outfield and very rarely makes any errors. This is a low-risk signing for Seattle so if for some reason he has a terrible year they won't be stuck with him long term.
How This Deal Can Help Aoki
With Aoki turning 34 in January, it is not unlikely that his decline is on the horizon. A big season in 2016 will help him possibly land a long term agreement with a team, or at least convince the Mariners to pick up his option for 2017.