 So far in the 2015 offseason there has been plenty of player movement, whether it's been free agent signings or through trades. With player contracts skyrocketing through the roof, for a lot of organizations the best way to upgrade their ball club is through trades.
That brings us to this four-team blockbuster trade that would shake the landscape of major league baseball. All four teams have certain needs they want to address as they try to compete for a postseason berth, whether it is in 2016 or later on down the road. What this monster trade does is take rumors that have been floated around all offseason by these teams and combine them into one blockbuster deal that makes everyone a winner. Some of the players involved in this trade are theoretically "untouchable," but with the haul each team would receive it forces each front office to really think about whether they should pull the trigger.
TRADE BREAKDOWN
Houston Astros receive: Freddie Freeman (1B)
Cleveland Indians receive: Carlos Gomez (OF), Jorge Soler (OF)
Chicago Cubs receive: Carlos Carrasco (SP), Ender Inciarte (OF)
Atlanta Braves receive: A.J. Reed (1B), Kyle Tucker (OF), Clint Frazier (OF), Rob Kaminsky (SP), Billy McKinney (OF), Corey Black (SP)
WHY THIS WORKS FOR HOUSTON
Back on November 15th, Ken Rosenthal of FOX Sports wrote that the Atlanta Braves were listening to offers on anyone that is owed money, including All-Star first baseman Freddie Freeman. Now later that same day, Braves general manager John Coppolella shot down those rumors saying they haven't had discussions on Freeman.
Two days later, on November 17th, Coppolella became even more adamant when the constant chatter of a potential Freeman trade became louder. Coppolella would go on and tell USA Today's Bob Nightengale, "I cannot make it any more clear: We are not trading Freddie Freeman. We are not. I'd give my right arm before we trade Freddie Freeman. It is not happening."
That's a pretty serious comment and you'd tend to believe that Freeman is off limits. However, Jeff Passan of Yahoo Sports reported that three sources told him that the Braves and Houston Astros were in talks about a blockbuster trade that included the Braves first baseman.
Now over a month later a trade hasn't been consummated and doesn't seem likely, but if talks resumed and Freeman was on the table, he would be a perfect fit for the Houston Astros.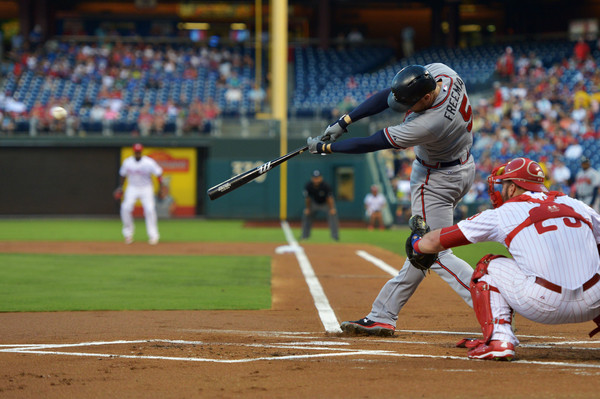 After securing an AL Wild Card berth in 2015, the Houston Astros are ready to make that next step to become perennial contenders. They endured a long rebuilding process and accumulated a truck load of talent. Now it's time to unload some of those prospects and acquire an immediate impact player that can be a focal point for years to come, and Freddie Freeman fits that bill.
In 2015, Freeman only appeared in 118 games as he battled with an injured right wrist. He finished with a slash line of .276/.370/.471 with 18 home runs and 66 RBIs. Freeman signed an eight-year extension worth $135 million back in 2014 that keep him signed through the 2021 season. That is a large salary commitment for a team who has been towards the bottom of the league in payroll, but they started to hand out money last offseason and this would be the singular player who is owed big time money.
To pry Freeman from a Braves team who in all likelihood doesn't want to trade him, even though that's a frequent statement from Atlanta's brass, the Astros would have to give up a nice haul. Going Atlanta's way would be Houston's number three overall prospect Kyle Tucker (OF) and number four overall prospect A.J. Reed (1B).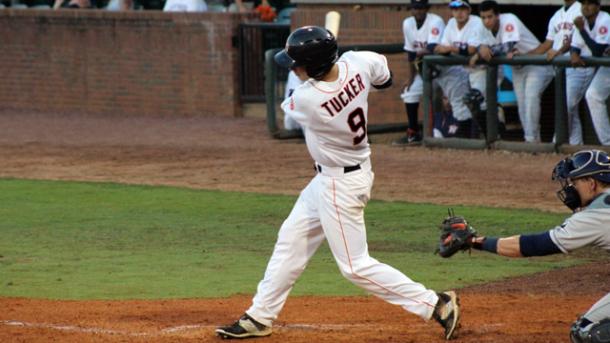 Tucker, 18, was the Astros' first round draft pick in 2015. He is the younger brother of Astros outfielder Preston Tucker, and is believed by scouts to have a higher ceiling than his older brother. Between two separate levels of the minor leagues in his first professional season, Tucker slashed .246/.294/.353 with three home runs and 33 RBI in 232 at-bats (63 games). Tucker played center field in high school and possesses average speed, however, he profiles better in right field and has the arm strength to do so.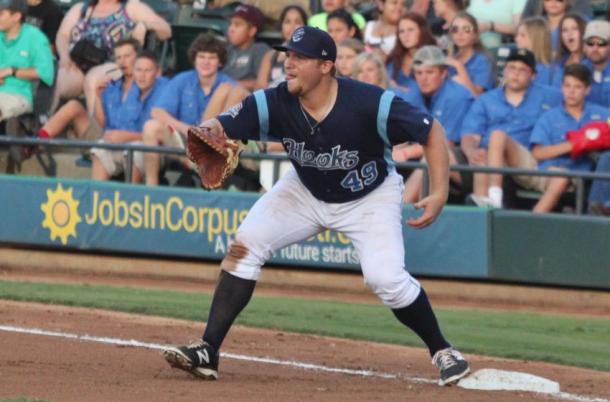 Reed, 22, was drafted in the second round in 2014 and would presumably be the replacement at first base for the Braves. The 6'4", 240 pound slugger is closer to the big leagues than the previously mentioned Tucker. In 135 games between two minor league levels, Reed slashed .340/.432/.612 with 34 home runs and 127 RBIs. In his last season at the University of Kentucky, Reed would win the 2014 Golden Spikes Award that acknowledged him as the best amateur player in the country. Reed is a very capable defender but his strength is definitely swinging the bat. Not only does he have 30-plus home run power, but he proved that he can flat out square up the baseball with consistency.
The third player Houston would be parting with is a tough one, and that is All-Star outfielder Carlos Gomez, who the Astros acquired at the trade deadline this past season. Gomez, 30, played only 41 games with the Astros last season after he was traded from the Milwaukee Brewers. In 163 plate appearances while in Houston, Gomez slashed .242/.288/.383 with four home runs and 13 RBI. Now that is a very small sample size to judge a two-time All-Star, but what really makes Gomez expendable is the fact he'll be a free agent after the 2016 season and the Astros have depth in the outfield to fill his spot.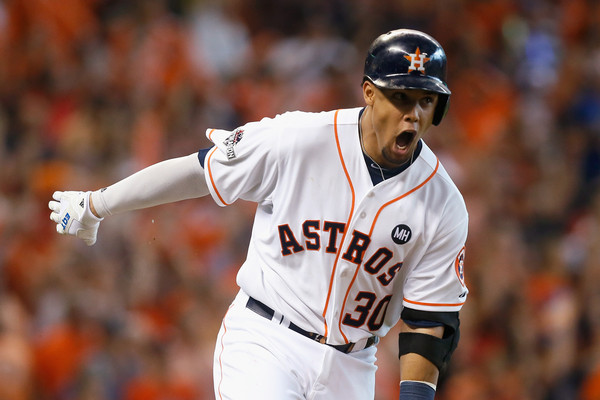 Carlos Gomez wouldn't be packing his bags to Atlanta; instead he would stay in the American League and head to Cleveland where the Indians have clear need to for a center fielder.
WHY THIS WORKS FOR CLEVELAND
On December 12th, Terry Pluto of the Cleveland Plain Dealer wrote that the Indians are in the market for offense, preferably two legitimate bats that could help their offense that ranked 11th in the American League. Cleveland's weaknesses around the diamond are in center field, right field and third base, and since Michael Brantley will miss the early part of the 2016 season, the Indians need to have depth that can make up for his loss.
As everyone knows, you have to give up talent to get talent. That is what the Indians will have to do if they want to seriously compete in the AL Central. Not only will Cleveland acquire Carlos Gomez from the Astros to play center field, but they will matchup with the Chicago Cubs and receive Cuban slugger Jorge Soler who would be slotted in right field.
How can the Cleveland Indians acquire an All-Star center fielder in Gomez and a rising star in Jorge Soler? That's where if you are the Indians you draw from a position of strength, and that is starting pitching.
Once the offseason began it was known that the Indians were willing to part with either Carlos Carrasco or Danny Salazar to acquire offense. Jon Morosi of FOX Sports reported on December 9th that the Cubs and Indians had talks about a deal that would send Carrasco or Salazar to Chicago in a package that included Soler. Any momentum they had fizzled out but the deal makes too much sense for both sides not to happen.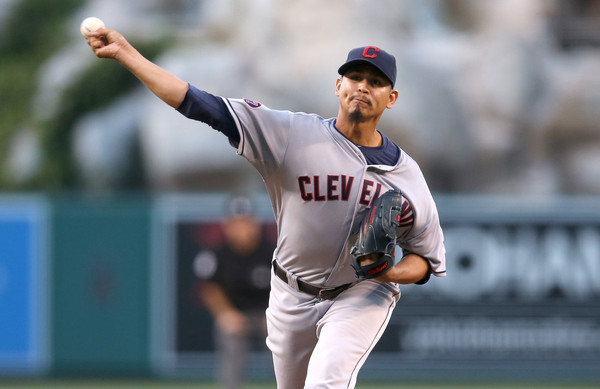 In this case, 28-year-old right-hander Carlos Carrasco will be headed to Chicago to join an already top-heavy rotation. In 2015, Carrasco became a full-time starter and finished the year with a 14-12 record while posting a 3.63 ERA. In 183.2 innings pitched he struck out 216 batters. Despite going from reliever to starter, Carrasco ranked third in the American League in strikeout to walk ratio (5.02) and strikeouts per nine innings (10.58).
In return, the Indians will acquire 23-year-old right fielder Jorge Soler. He signed with the Cubs back in 2012 to a nine-year, $30 million contract. The 2015 season was Soler's first full year in the big leagues and he appeared in only 101 games. In 404 plate appearances, Soler slashed .262/.324/.399 with 10 home runs and 47 RBI.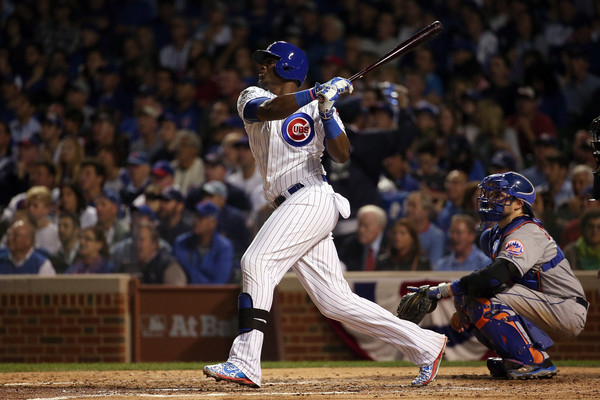 It wasn't the kind of season everyone thought he would have, but he helped his stock once postseason play began. Soler would reach base in all seven playoff games he appeared in and slashed .474/.600/1.105 with three home runs and five RBI.
With the signing of free agent outfielder Jason Heyward, the Cuban outfielder became expendable as the two players play the same position and defensively Heyward is the best in the game. The Cubs have an embarrassment of riches when it comes to offensive players. They can afford to let one of them go to upgrade the rotation with a controllable starter who doesn't hit free agency until 2019.
Jorge Soler is a player the Indians can build around and the fans of Cleveland can gravitate towards. The youngster is under club control through the 2020 season at a very reasonable price, considering the power potential he brings to the middle of a lineup.
WHY THIS WORKS FOR CHICAGO
Theo Epstein and the Cubs would rather not give up a talent like Soler to acquire a starter, but Carrasco has shown he is a top flight starter and he would be coming at a very cheap rate. Carrasco signed a four-year, $22 million contract that makes him a free agent after the 2018 season. Chicago also has to consider that they went all in for Jon Lester last offseason (six-years, $155 million) and Jake Arrieta (reigning 2015 CY Young Award winner) is arbitration eligible and will command big money through that process. The Cubs aren't strapped for cash but if you can obtain cheap options that are just as effective as the top tier free agents, you do that because their young core will start getting paid soon enough.
To make up for the lack of a true center fielder, the Cubs would acquire Ender Inciarte from the Braves. Inciarte, 25, was acquired by Atlanta in early December from the Arizona Diamondbacks as part of the Shelby Miller trade. Days after the acquisition, the Braves were flooded with calls on the outfielder, including the Cubs.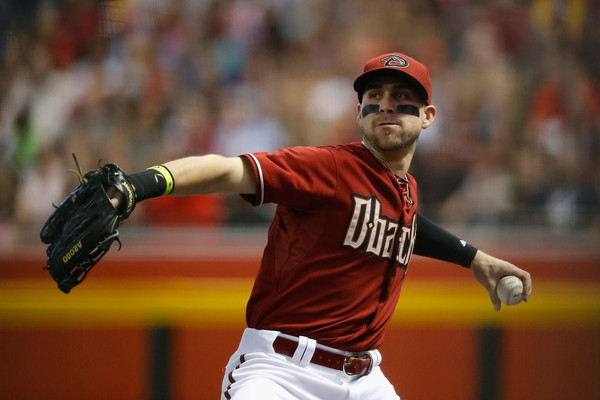 What makes Inciarte very appealing to teams is the fact he's a young, controllable player who in only his second season the big leagues accumulated a WAR of 5.3 (12th in the Nationals League). Most of that comes from his defense, but he can swing that bat as well, slashing .303/.338/.408 with six home runs, 45 RBI and 21 stolen bases. On top of the play on the field, Inciarte won't become a free agent until 2021.
Out of all the teams involved in this deal, the Cubs are the one team you could look at and say they are World Series contenders. They are coming off a 97-win season and they added Jason Heyward, utility man Ben Zobrist, and veteran starter John Lackey. Combine the likes of Carlos Carrasco and Ender Inciarte, and the Cubs would undoubtedly become the deepest team in the entire major leagues.
WHY THIS WORKS FOR ATLANTA
On face value alone it would seem the Braves are the big losers of this trade. You are trading you franchise player in Freddie Freeman and a young major league outfielder in Ender Inciarte. While that may be true, the Braves are not trying to win in 2016. The plan all along is to stockpile young talent and be ready to compete in 2017 when the new ballpark opens.
When you look on the major league roster there isn't a lot of everyday players you feel good about to be future impact players. Atlanta did acquire their shortstop of the future in Dansby Swanson (2015 number one overall pick) from the Diamondbacks, but they need more help, especially when it comes to power bats.
That's where the prospects from all three teams come into play. A.J. Reed and Kyle Tucker of the Astros were already mentioned as future fixtures in the Braves everyday lineup. The talent doesn't stop there.
From the Indians, the Braves would acquire their second-best prospect in outfielder Clint Frazier and their third-best prospect in left-handed pitcher Rob Kaminsky.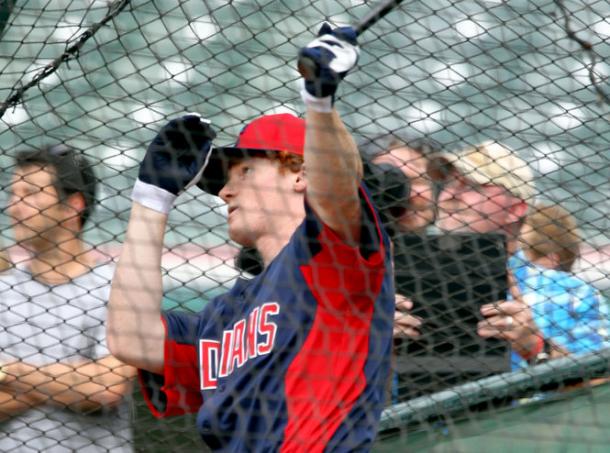 Frazier, 21, was the fifth overall pick in the 2013 draft. He's coming off a very good year in Single-A Advanced where he slashed .285/.377/.465 with 16 home runs and 72 RBI. Frazier is known for his power which leads to a ton of strikeouts (125), but he's a very solid defender and could possibly stay in center field.
Kaminsky, 21, is a former first round pick of the St. Louis Cardinals and was traded to the Indians at the trade deadline for Brandon Moss. Kaminsky is a 5'11" left-hander who sits around 92 MPH but can reach 95 when he wants to. In 19 starts between two different levels, Kaminsky went 6-6 with a 2.24 ERA.
From the Cubs, the Braves would receive their second-best prospect in outfielder Billy McKinney and their 19th ranked prospect in right-handed pitcher Corey Black.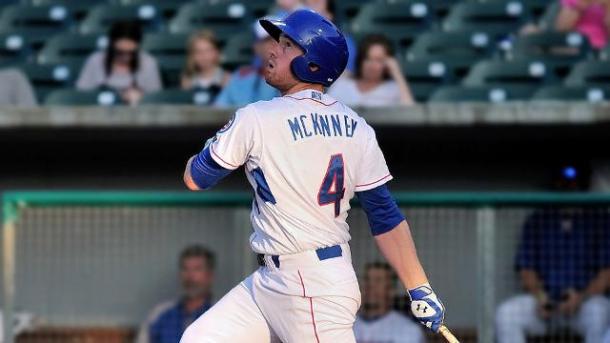 McKinney, 21, is another first round pick from the 2013 draft. He was a part of the Jeff Samardzija deal that also included Cubs shortstop Addison Russell. McKinney may turn out to be one of the best pure hitters from the draft, and so far in his minor league career he has proven that. In 2015, the left-handed hitting outfielder slashed .300/.371/.454 with seven home runs and 64 RBI. He is by no means a burner on the bases but he is a very good defender, and with below average arm strength he'll probably become a left fielder at the big league level.
Black, 24, is only 5'11", 175 pounds but can rush his fastball to the upper 90s and can even reach 100 MPH when he wants to. Last season he finished the year with a record of 3-5 and an ERA of 4.92. He pitched both as a starter and as a reliever, and in 86 innings he struck out 101 batters. Black, unlike the other prospects Atlanta would receive, could jump right in and make an impact out of the bullpen. If Black commits himself to being a reliever, you could seem recording outs late in games.
Five of the six prospects the Braves would receive are in MLB.com's top 100 prospects list. If the list was updated, this is what Atlanta's top-10 list look like:
Dansby Swanson (SS)
Sean Newcomb (LHP)
Ozhaino Albies (SS)
Billy McKinney (OF)
Clint Frazier (OF)
Kyle Tucker (OF)
Aaron Blair (RHP)
Touki Toussaint (RHP)
Rob Kaminsky (LHP)
Kolby Allard (LHP)
Only Corey Black and possibly A.J. Reed would have a good chance of reaching the big leagues in 2016. However, come 2017 everyone but Kyle Tucker should be ready to contribute when the Braves start a new era in SunTrust Park.
FINAL THOUGHTS
Except for the Atlanta Braves, this trade makes the other three team's legitimate threats to make the postseason and possibly contend for a World Series. When you want to compete for divisions and championships, you have to mortgage future assets for immediate gain. No matter how young or talented your club may be, the window to truly compete is very small (look at the Washington Nationals) and you have to be aggressive when assembling a club that is going for it.
Atlanta is doing the complete opposite. When you tear down a club and rebuild, you need to go all the way and stockpile as much talent you can. The short-term is brutal for fans and can turn them away, but when those talented players start to ascend through the ranks and are knocking on the door to the big leagues, excitement starts to brew and you forget what pain and suffering you went through to get that point.