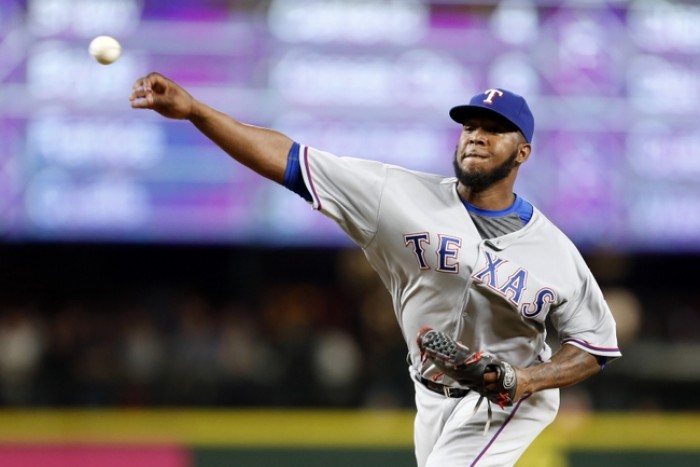 The Pittsburgh Pirates seem like they are retooling their franchise right now. Rebuilding would be appropriate, but when they have made the postseason three straight years and had the second-highest win total in the Major League Baseball last season, rebuilding is not the correct term. The Pirates started retooling by non-tendering first baseman Pedro Alvarez, allowing him to become a free agent and sign anywhere. They also traded Neil Walker to the New York Mets for John Niese.
The latest move for the Pirates came on Wednesday, as the Pirates signed Neftali Feliz to a one-year deal, according to Jeff Passan of Yahoo Sports. The deal is said to be worth $3.9 million plus incentives for the 27-year-old Dominican Republic native. The right-handed throwing Feliz is an intriguing signing for Pittsburgh because he has endured his ups and downs throughout his seven year Major League career.
Feliz was the American League Rookie of the Year in 2010, which was his first full season in the major leagues. That year, he posted a 4-3 record with a 2.73 earned run average in 69.1 innings pitched. Feliz also saved 40 games that year for the Texas Rangers. The following year was almost as good for Feliz with a 2-3 record and a 2.74 ERA with 32 saves in just seven less innings than in 2010.
While 2010 and 2011 were great years for Feliz, last year was a career worst. In 2015, Feliz split time between Texas and the Detroit Tigers. Feliz was 1-2 with a 4.58 ERA in his time in 2015 with Texas before going to Detroit. With the Tigers, Feliz went 2-2 with a 7.62 ERA. All in all, Feliz finished 2015 with a 3-4 record and a 6.38 earned run average.
Now those pessimists that call the Pirates cheap may scoff at this deal that they made on Wednesday. However, history would scoff right back and tell them otherwise. As many know, the Pirates have an incredible weapon in their arsenal. That weapon is none other than pitching coach Ray Searage. Searage seems to take pitchers who have had success at some point and "fix" them after they have endured some struggles. Guys like Edinson Volquez and J.A. Happ are just two of the many pitchers that Searage has sprinkled his magic fairy dust on throughout his coaching career.
Feliz may be different and things may not workout in the favor of the Pirates in this deal. However, with the success Feliz has seen at the major league level, one would be naive to think this is a bad signing. Feliz is still young and he has proven in the past that he can pitch with some of the best in the league when it comes to relievers. The Pirates have an already phenomenal bullpen and with the exception of the New York Yankees after they acquired for Aroldis Chapman. Once again, this is not the type of splash move that will turn heads. But in the same breath, this move should help the Pirates in the long run and further solidify their bullpen as the elite force it has been over the years.