 The first game of the season for the San Diego Padres and Los Angeles Dodgers was a tale of two cities.
The Dodgers used the hot hand of their staff ace Clayton Kershaw as L.A. beat San Diego 15-0 on Monday at Petco Park. Just pure, total, absolute domination by Kershaw once again, even with the Dodgers missing a ton of players due to injury.
Kershaw was brilliant, going seven shutout innings with just a hit and a walk to go with his nine punchouts, as he improves to 4-0 in six Opening Day starts. To make matters worse for the Padres, Dodgers manager Dave Roberts led L.A. over the team he coached last season to the most lopsided Opening Day shutout in major league history.
Padres Bats Disappear
The Padres bats were nowhere to be found, and it didn't help that Kershaw was absolutely brilliant. The only hit the Padres got off Kershaw was a single by Jon Jay in the third, who was making his Padres debut. After that, Kershaw retired the next 13 batters he faced before leaving the game with the Dodgers miles ahead.
The Padres had only four hits in the entire game. Wil Myers and Yangervis Solarte each had a base hit, and Travis Jankowski had a single in the ninth inning. That was all San Diego mustered, as they look to move on from this one.
Perhaps the highlight of the day for the Padres, which is always hard to find in a blowout, was Alexei Ramirez and Melvin Upton teaming up to throw out Chase Utley at the plate on a perfectly executed relay. Utley, who received much criticism for his slide against the Mets in the postseason, went right for catcher Derek Norris, but was tagged out anyways. With the new rules in place, Utley would have been called out even if the tag was late.
For the first game of the year 15-0 loss was definitely not something they had in mind. However, manager Andy Green, who was making his Major League debut, doesn't seem too worried.
"Opening day is special. No one wants to come out and lay an egg on opening day and get beat 15-0," Green said. "But it's one of 162. Everybody gets smoked like this during the season. It's not a big deal in the long run."
Tyson Ross, Padres Bullpen Gets Hit Hard
Tyson Ross got the nod for Opening Day over James Shields, much to the surprise of just about everyone. This will be one outing to forget for Ross however.
The tall right-hander finished with a very forgettable line on the afternoon. Ross went five and a third innings with nine hits and eight runs with seven of them earned. Ross did have only one walk after leading the majors in base on balls last year.
It wasn't just Ross though. Luis Perdomo struggled in his first outing for San Diego, going an inning plus with six hits and six runs, all earned as well as two walks.
Kershaw Dazzles, Dodgers Roll
Kershaw was of course the highlight of the game, pitching seven shutout innings. However, it was the surplus of hits the Dodgers had to lead L.A. to a 15-run outburst.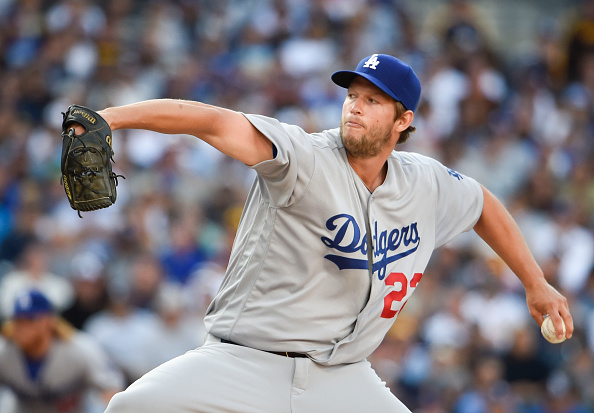 Former Padre Adrian Gonzalez continued his torrid play against San Diego, going 3-4 with three RBIs. In fact, every one of the Dodgers in the starting lineup, including Kershaw, had at least one hit.
For a team that hit a ton of home runs last season, the Dodgers had zero homers today. Zero, yet they won by 15. Catcher A.J. Ellis had 3 RBIs, and Utley and rookie Corey Seager each drove in a pair of runs as well.
The Dodgers used 17 hits on the afternoon, and had five runs in the sixth, three in the seventh, and four in the eighth to blow the game wide open.
For new Dodgers manager Dave Roberts, who was a coach for the Padres last year and also played outfield for San Diego during his career, this win was a great way to start his managerial career.
"It was a good day," Roberts said. "There were a lot of good things that happened. Obviously it starts with Kersh and the tone that he sets, him going out there and getting after guys. When you've got No. 1's going against each other, you don't expect to get that many hits and score that many runs."
Roberts was right, it did start with Kershaw, and the Dodgers scored two runs before Clayton even stepped on the mound. That always helps. Five straight Dodgers reached base against Ross with one out in the sixth, an inning where the Dodgers scored five runs.
"We just kept adding on and adding on. For me, it was just trying to have quick innings," Kershaw said.
Up Next
The Dodgers and Padres still have two games left in the series, and we will see if the Padres can have somebody cross home plate. The Dodgers will throw out Scott Kazmir in Tuesday's game, who will be making his first start in Dodger blue. Kazmir was 7-11 with a 3.10 ERA last season split between the Athletics and the Houston Astros. The Padres will send out James Shields, who went 13-7 with a 3.91 ERA last season.