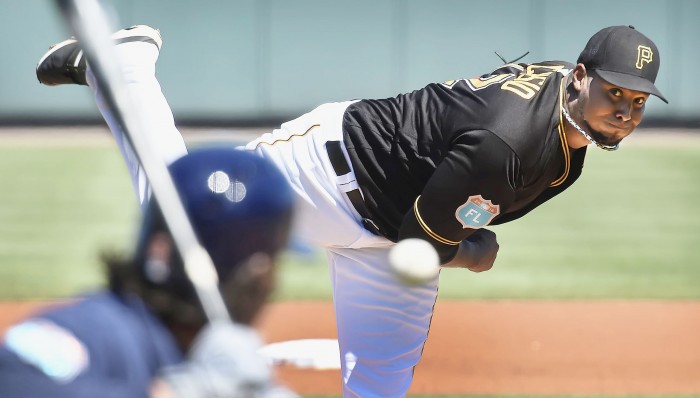 Juan Nicasio was strong in his 2016 Spring Training starts for the Pittsburgh Pirates. Nicasio pitched fifteen scoreless innings and fanned twenty four batters during that time span. Nicasio's opponent batting average was just .189 during that time as well. As if things could not have gotten any better for Nicasio during the spring, he posted a WHIP of an even 1.00. Those numbers speak for themselves, but one could easily get caught up in the hoopla even though it is just spring.
The games mean essentially nothing and Nicasio is one of those guys that Spring Training is meant for. It's meant for teams to feel out newly acquired players and up and coming prospects while starters just kind of get some reps and playing time in to get ready for the regular season. Wednesday night Nicasio would make his Pirates debut so let's look at how he did.
Nicasio showed, at least in his debut, that his spring was no fluke for Pittsburgh as he pitched six strong innings. Nicasio surrendered just one run to the St. Louis Cardinals and that came at the hands of a Jeremy Hazelbaker solo home run in the sixth inning off of Nicasio. But that solo shot is all the Cardinals would get on Nicasio and the entire Pirates pitching combo on Wednesday as they cruised to a 5-1 victory at PNC Park. The home run was just one of two hits Nicasio allowed to go along with seven strikeouts and no free passes. With the win, Nicasio went to 1-0 on the season and his ERA sits at a miniscule 1.50. Furthermore, his WHIP sits at just 0.33 on the season.
Incredible Contrast
There is quite an incredible contrast to be considered when looking back on Wednesday's matchup between the Cardinals and Pirates. The Cardinals sent starter Mike Leake to the mound who has enjoyed a large volume of success in his career against the Pirates. However, the Pirates were able to turn the tables on Wednesday, forcing Leake to exit after just 4.1 innings pitched. In those 4.1 innings, Leake gave up four runs to Pittsburgh. Mike Matheny had no other option but to go to the bullpen. One contrast that sticks out is the difference in numbers for Leake and his mound opponent Nicasio on Wednesday.
Nicasio gave up just a run in six innings as Leake couldn't even go five and gave up four earned runs before being chased. The numbers were polar opposites for both starters in the contest. Another contrast, which is one that will blow some people away, is the annual salary of the two pitchers that squared off on Wednesday. Nicasio is being paid just $3 million in 2016 by the Pirates. Leake, on the other hand, is making $13 million more than Nicasio and is making $16 million this season with the Red Birds. That is one hell of a contrast in contracts between these two.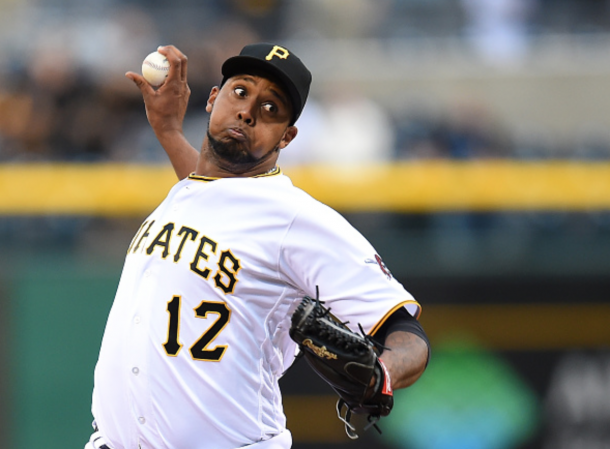 Closing Thoughts
While it was just one impressive outing that actually mattered for Nicasio, that one outing was one that should keep people's hopes high for him in 2016 moving forward. After seeing the Cardinals a few games now and considering their injuries, they definitely are not the Cardinals of old, at least not right now. However, St. Louis still won 100 games last year even as they were riddled with injuries. Neal Huntington yet again has gone out and been able to find a bargain pitcher that fits nicely into their rotation, at least for the near future. Many were worried about the Pirates lack of spending in the offseason, but Nicasio is just one of the signings that is proving the doubters wrong thus far.
The Pirates have three wins in three games so far in 2016 and their ace, Gerrit Cole, has not even started a game yet. No one should expect Nicasio to be this good all year long, but Wednesday may very well have been a sign of great things to come from Nicasio in his 2016 season for Pittsburgh. The Pirates goal heading into 2016 was to get off to a good start, as opposed to a sluggish one like they have in the past. They are doing just that so far. They also were horrendous against NL Central opponents last year, which is another thing they needed to fix. If this opening series is any indication of things to come, they're going to clean up that inter-division record as well.