 It was a battle of two first place teams on Tuesday, as well as a battle between one of the best pitchers in the American League and the best offense in the American League.
It was the Chicago White Sox who prevailed in both, and they continue to have the best record in the American League. The White Sox stayed hot, defeating a very good Boston Red Sox team on Tuesday by a final score of 4-1.
Jose Quintana pitched terrific and got the win for Chicago, while Steven Wright took home his third loss of the year, despite the fact his ERA remains at a terrific 1.67.
Chicago improves to a league best 19-8 with the win, and now have a four game lead over the Detroit Tigers in the AL Central. After leading the AL East for two days, Boston now drops to second place in the division with a 15-11 record.
Quintana continues his terrific season
Entering the game, Quintana was one of the best pitchers in baseball with a 3-1 record along with a 1.47 ERA, 32 strikeouts, and a 1.11 WHIP. Quintana's first four years in the majors were mostly consistent with an ERA around 3.50, but his April indicated the 27-year-old was ready to break out.
Those numbers from Quintana would get even better with tonight's game. The Colombian would finish eight innings surrendering just four hits, one run, and no walks. He also struck out five hitters and threw 101 pitches.
Quintana's stellar performance came against the best statistical offense in the league. The Red Sox continue to lead the AL in runs, hits, doubles, triples, total bases, batting average, and stolen bases. Chicago, however, may have the best pitching staff in the AL, and Quintana is a big part of it. The White Sox as a team have a league leading 18 wins, 2.65 ERA, as well as the least home runs and least total bases allowed.
The left-hander's only run came off a home run. Quintana threw Hanley Ramirez a changeup that stayed up in the zone, and Ramirez deposited it to the opposite field for his second home run of the season. It was his first home run since April 6th against the Cleveland Indians.
In the second inning, Quintana received some help from his defense. The dangerous David Ortiz stroked a ball to deep center field, but Austin Jackson would leap and make a sensational catch. Jackson is known for his tremendous speed and fielding ability, and showcased it with his catch in the second inning.
Other than that, however, Quintana was flawless. Red Sox hitters could not get anything going all night, and Quintana retired the side in order in four of his eight innings.
David Robertson came on to pitch the ninth, and retired the top of the Red Sox lineup in order. The closer has also been terrific this season, recording his ninth save and bringing his ERA down to 0.73. The Red Sox offense is coming off a monster series against their rival, the New York Yankees, but will need to pick their bats up once again to have a chance the rest of the series against the red-hot White Sox.
White Sox offense gets going early
Although Chicago's offense is being overlooked due to their tremendous pitching to begin the year, they have certainly produced very well. The White Sox were forced with a tough matchup in Steven Wright, who entered the game with a 1.37 ERA. Wright has been very consistent all season long tossing six or seven solid innings in his starts.
Chicago needed to get to the knuckle-baller early, and did just that. Adam Eaton began his night off with a single, and after Jimmy Rollins rolled into a fielder's choice, Jose Abreu was brought up to plate with a man already on first. Abreu got a knuckleball that stayed up in the zone, and read it perfectly to take it very deep to center field. The ball would not result in a home run, but the Cuban was able to make it all the way up to third base for a triple.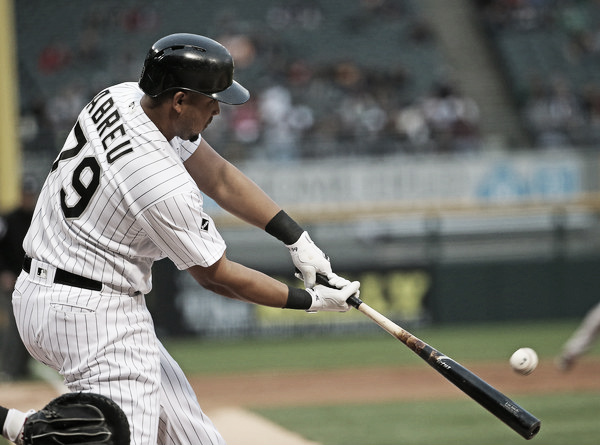 The White Sox were slowed down until the third inning, but would not be slowed down completely. Wright began the inning with two walks to Jackson and Eaton, then later walked the dangerous Abreu to load the bases with two outs. That brought up Todd Frazier with a chance to really break the game open. Frazier hit a weak groundball, but it was good enough to score Jackson from third to bring the score to 2-0.
Wright would not allow another run the rest of the night. He continued his strong start to the season, as his ERA is now 1.67 after going six innings while giving up three hits, two runs, four walks, and striking out six hitters. Unfortunately for the knuckleballer, his starts have not been granted with much run support. Steven Wright moves to 2-3 with his 1.67 ERA, while David Price stands with a 6.14 ERA and a 4-0 record. Nonetheless, the Red Sox should be content with Wright's start to his fourth season.
Before the game, Boston activated Carson Smith from the disabled list, and hoped to improve their bullpen. Smith was acquired from the Seattle Mariners as part of dealing Wade Miley, and has very high expectations to help a Red Sox bullpen which already includes Craig Kimbrel and Koji Uehara. Smith would be a huge bright spot in the loss tonight. It took just nine pitches for Smith to retire the side in order, and did so by throwing seven sinkers and striking out one batter.
Junichi Tazawa, however, was not so great. Eaton opened up the eighth inning with a beautifully placed bunt single, and later advanced from first to third on a wild pitch. Tazawa would walk Rollins, bringing up Abreu once again with a runner on third base. Abreu would deliver again, taking a pitch out of the strike zone to the outfield for a two-run double, stretching the lead to 4-1. Tazawa would record just one out, and allowed two hits, two walks, and two runs. Matt Barnes would record the final two outs of the inning, and left the bases loaded for the White Sox.
Up next
Both teams will play once again tomorrow at 8:10 pm ET, as the struggling Clay Buchholz will face off against Carlos Rodon.