 The Boston Red Sox scored 40 runs in three games this series against the Oakland Athletics while allowing only 15 runs. From that statistic alone, it comes to nobody's surprise that the Red Sox completed the sweep over the Athletics.
The Red Sox finished off the sweep over Oakland with a 13-3 win on Wednesday. Boston improves to 21-13 and has now won four straight while the Athletics drop to 14-21. Rick Porcello picked up his sixth win for Boston while Erik Surkamp took home another loss for Oakland.
Boston's offense was stellar yet again, and with the 13 run performance, they are now averaging 5.7 runs per game. The closest team, the Texas Rangers, are a full run behind at 4.7 runs per game.
Both teams come out hot
Oakland had a good history against Porcello in the past, and would get their first run of the night in the second inning. Stephen Vogt reached with a one-out single. Yonder Alonso would bring the catcher home with two outs.
Although the Red Sox didn't score in the first inning, the inning where they do damage most games, they picked their offense up yet again in the second. Jackie Bradley Jr. entered the game on absolute fire, quietly on a 16 game hitting streak. Bradley would extend it in his first at-bat, and would do so in a big way. The center fielder smoked a pitch from Surkamp over the bullpen after Chris Young doubled and Travis Shaw was hit by a pitch, giving the Red Sox a 3-1 lead in the second.
However, Oakland would answer right back in the top of the third inning. Chris Coghlan hit a leadoff single and Billy Burns drew a walk, and each runner would advance a base following a wild pitch. This proved to be costly for Porcello, as Khris Davis would come through with a two-out single, bringing home both Coghlan and the speedy Burns.
Red Sox dominate the rest of the way
However, from that point on, it would be all Red Sox. Dustin Pedroia and David Ortiz would both walk in the third, then Chris Young would hit another double, scoring Pedroia. Young, who was signed by Boston primarily to perform well against left-handed pitchers, is now 8-21 against southpaws.
Surkamp would exit right after the double, and the Red Sox chased another Athletics pitcher out early. Surkamp ended the night with just 2.2 innings pitched allowing four hits, four runs, two walks, and struck out three. The Red Sox jumped out to a 4-3 lead after just three innings of play.
The Athletics brought in Ryan Dull, who would finish the third without any further damage, but could not get through the fourth without surrendering yet another run to the offense. After Bradley grounded out to open the frame, Mookie Betts would lace a single, bringing up Dustin Pedroia against the right-hander. Pedroia, who is showing as much power as he has ever had, laced a ball over the Green Monster for a two-run home run. Pedroia now has six home runs on the year, and extended Boston's lead to 6-3.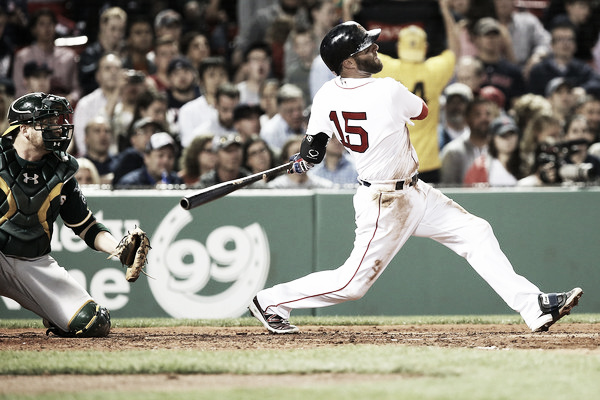 In the fifth, Boston would stretch their lead even further. Shaw and Christian Vazquez would open the inning with singles, then Jackie Bradley Jr. would bring Shaw home on a double that went over Billy Burns' head. Betts would follow up with an RBI groundout, then Hanley Ramirez would later bring home two more runs for Boston, extending the lead to 10-3.
Oakland, on the other hand, couldn't get anything going. Porcello, who has pitched very well this season, turned in a solid start once again. The right-hander would finish 6.2 innings allowing six hits, three runs, two walks, and struck out two. Porcello earned his sixth victory of the season. Boston would add on their eleventh in the sixth with a Betts RBI single.
Jackie Bradley Jr. continues to catch fire
Although the score was already 11-3 in the eighth, Jackie Bradley Jr. would show no quits. The left-hander hit yet another home run, his sixth of the season and third of the series. Bradley hit home runs off both a left-hander and right-hander tonight.
The former first round pick ended the night with six RBIs, and his two home runs was the second multi-home run game of his career. Bradley's hit streak is now 17 games, and he has raised his average from .222 to .322 over the stretch. He has hit all six home runs during the hit streak and has 24 RBIs.
Bradley has been known for a defensive-minded player for the past several years, but after his strong beginning to this season and end to last season, he has developed himself into an all-around player.
Up next
Boston stays at home, and will welcome the Houston Astros to Fenway Park for a four-game series. David Price will look to gain support back from Red Sox nation as he battles former Cy Young winner Dallas Keuchel.
Oakland will take Thursday off to travel to Tampa Bay for a three-game series with the Tampa Bay Rays. Rich Hill will face Jake Odorizzi.