Sometimes, to make a 6-1 homestand and a tie for first-place in the AL East through May 15 possible, you need a few lucky breaks to fall in your favor.
That is just what the Boston Red Sox (24-14) received on Sunday afternoon in their 10-9 defeat of the Houston Astros (15-24) which sealed their 3-1 series victory over their foes from the Lone Star state.
Boston's late-game heroics prove to be the difference
With Boston trailing 9-8 with two outs in the bottom of the seventh inning and second baseman Josh Rutledge standing on first base, a miscommunication by Astros outfielders Carlos Gomez and George Springer on a routine fly ball to right-center field by Red Sox catcher Ryan Hanigan led to a game-tying RBI single which preceded a go-ahead RBI triple by right fielder Mookie Betts to clinch the win for Boston.
The critical Hanigan base knock landed right in between both Gomez and Springer, and, although Gomez took the blame for the miscue by stating that he had originally called off Springer, the mistake left the Astros shaking their heads and muttering "what-ifs" as they leave Fenway Park with a horrific 5-14 road record.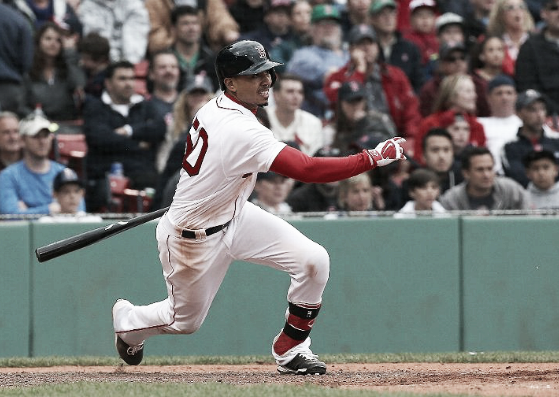 The seventh-inning RBI was one of four on the day for Hanigan, who went 3-for-4 with two runs scored batting out of the ninth-spot. Shortstop Xander Bogaerts mashed a three-run home run in the second inning for Boston while Rutledge fared 3-for-4 with three runs and designated hitter Hanley Ramirez batted 3-for-5 with a run and an RBI as David Ortiz had the day off.
For the Astros, losers of three of their last five games left fielder Colby Rasmus went 2-for-5 with an RBI and two runs scored while third baseman Luis Valbuena garnered five RBI and a run in a 2-for-5 outing.
Second baseman Jose Altuve scored twice while shortstop Carlos Correa went 1-for-5 with an RBI and a pair of runs scored.
Houston starting pitcher Chris Devenski struggled throughout his two-inning outing, allowing six runs on five hits while walking two and striking out one. The Astros bullpen did not fare much better, with Mike Fiers allowing two runs on six hits in four innings of fill-in work and Scott Feldman (L, 2-3) yielding two runs on three hits in the fatal seventh inning.
The arms were not any more reliable for Boston, however. Starting pitcher Sean O'Sullivan earned a designation for assignment following the game after letting up six runs (five earned) on five hits and two walks in 4.1 innings, striking out three.
Reliever Robbie Ross Jr. allowed a run in 0.2 innings while Heath Hembree (2-0) earned the win despite allowing a pair of earned runs in two innings of work.
Boston hit the scoreboard first in the opening inning, with Betts and second baseman Dustin Pedroia working leadoff walks. Betts proceeded to advance to third on a lineout by Bogaerts and then scored after Houston catcher Jason Castro made a throwing error attempting to toss a stealing Pedroia out at second base.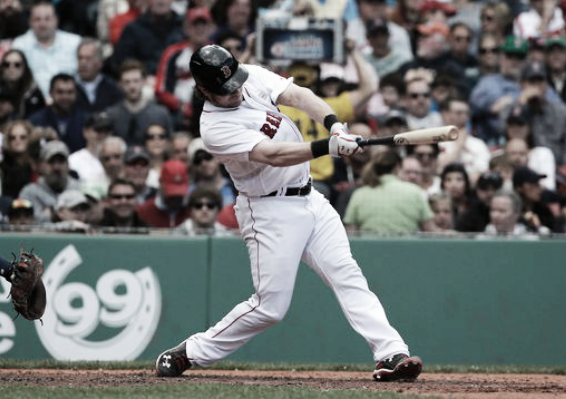 Ramirez then pounded a two-out RBI double to left, bringing home Pedroia and opening up a 2-0 lead.
Astros fought back throughout the game
This advantage would quickly vanish, however, as Rasmus reached on an error by O'Sullivan and first baseman Tyler White walked to open the second inning, leading to a three-run home run by Valbuena, his second of the season.
The Red Sox wasted little time recovering from the 3-2 deficit, though, as Rutledge doubled and scored on a game-tying RBI single by Hanigan with one down. Betts proceeded to single, and following a flyout by Pedroia, Bogaerts smoked a three-run bomb on top of the Green Monster seats to give Boston a 6-3 lead.
Correa hammered a one-out home run in the top of the third inning to cut the deficit to 6-4, however, a two-out, two-run single by Hanigan in the bottom of the inning doubled the Boston lead.
O'Sullivan was able to record a perfect fourth inning, however, his momentum did not carry into the following stanza, as Altuve and Springer singled to conclude his outing.
Then, facing Ross Jr., Valbuena smoked a two-run ground-rule double into deep center, decreasing the gap to 8-6.
Working against Hembree in the sixth inning, the Astros would erase their deficit entirely.
Altuve grounded into a fielder's choice and stole two bases to kick off the inning. Standing on third with two outs, he proceeded to score when a throwing error by Rutledge allowed Correa to reach base.
Then, Rasmus doubled to left, tying the game at eight runs apiece, and an RBI single by White gave Houston an improbable 9-8 lead.
The advantage would not last, however, with Boston reliever Junichi Tazawa striking out a pair in a perfect eighth inning for his eighth hold of the season and closer Craig Kimbrel earning his 10th save with an emphatic two-strikeout ninth inning following the Red Sox comeback.