There is a reason why Toronto Blue Jays (25-25) third baseman Josh Donaldson is the reigning American League MVP.
Standing in the batter's box with right fielder Ezequiel Carrera standing on first base with none out in the bottom of the eighth inning facing Boston Red Sox setup man Koji Uehara (L, 2-2), Donaldson was compelled to send the Canadian faithful home content, smashing his second opposite field home run of the night to right field to give his team a lead they would not relinquish.
Donaldson could not be contained in Friday night's 7-5 win over the Red Sox (29-19), going 4-for-5 with two home runs and accounting for five of the team's seven RBIs, including his go-ahead blast off of Uehara which clinched the victory for Toronto, their third straight.
Carrera chipped in a pair of hits and two runs while center fielder Kevin Pillar went 2-for-4 with a run for the Blue Jays, who stole the first game of a three-game series with the first-place Red Sox.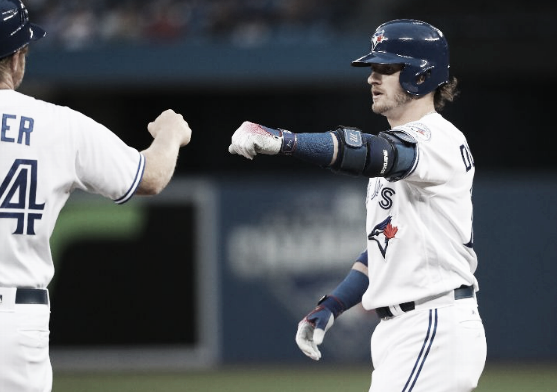 Toronto gets off to a quick start before Boston levels it
Toronto hammered Boston starter Joe Kelly throughout his tumultuous 4.1 innings of work, charging him with five earned runs on nine hits and three walks despite striking out on eight occasions, hitting a pair of long balls off of the hard-throwing right-hander.
On the other side of the docket, Blue Jays starter Aaron Sanchez lasted 6.2 innings, allowing four runs (three earned) on five hits and two walks while striking out six runs, earning the no decision.
Reliever Joe Biagini (2-1) garnered the win, allowing a run on two hits in 1.1 innings while closer Roberto Osuna worked a perfect ninth inning for his 11th save of the season.
For the Red Sox, losers of two consecutive games, first baseman Travis Shaw went 2-for-4 with an RBI and a run while catcher Christian Vazquez contributed two RBI and designated hitter Hanley Ramirez added an RBI single on a night where designated hitter David Ortiz rested.
Donaldson, who has had Kelly's number throughout their history, jumpstarted his big night in the first inning, homering to right center immediately out of the gate to give Toronto a 1-0 lead.
Boston tied it up in the top of the second inning as Shaw reached second base on a throwing error by Blue Jays shortstop Troy Tulowitzki and proceeded to score on an RBI groundout by center fielder Jackie Bradley Jr., however, Donaldson pummeled Kelly once again in the bottom of the third with a first-pitch RBI double to right-center, giving his team a 2-1 advantage.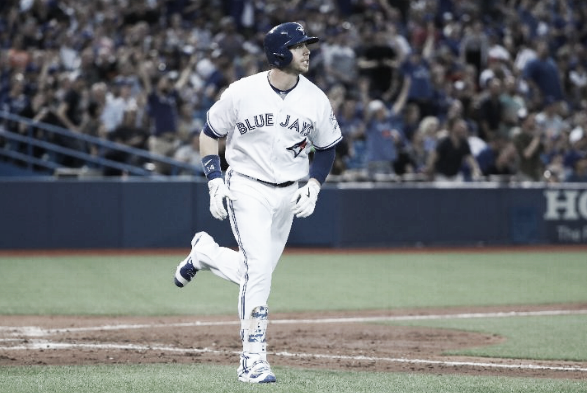 The Red Sox would not fade, though, as shortstop Xander Bogaerts singled with one out in the fourth inning to extend his hitting streak to a league-leading 20 games and scored on an RBI base knock by Ramirez to tie the game at two.
Kelly would run into trouble in the bottom of the stanza, however. Catcher Russell Martin led off the inning with a walk, followed by a one-out single by Pillar and a hit-by-pitch by Carrera.
Presented with the bases loaded with one out, Donaldson, the owner of the MLB's best career batting average with the bases juiced among active players, delivered once again with an RBI infield single, and designated hitter Edwin Encarnacion followed that up with an RBI sacrifice fly to double the lead to 4-2.
Then, first baseman Justin Smoak increased the Blue Jays lead to 5-2 in the following inning, leading off the stanza with a towering solo shot off of Kelly.
The Toronto advantage would not last, however. Ramirez led off the top of the seventh inning with a walk off of Sanchez, which preceded an opposite field single by Bradley Jr.
Third baseman Marco Hernandez then proceeded to ground out to the pitcher, moving both runners into scoring position, and Vazquez responded by knocking a 2-2 curveball through the gap and into left field for a two-run single.
Facing Biagini in the eighth inning, the Red Sox continued their momentum. Second baseman Dustin Pedroia led off the stanza with a double and came around to score when left fielder Michael Saunders misplayed a Shaw fly ball for a game-tying RBI single.
However, Donaldson and the Jose Bautista-less Blue Jays responded.
Carrera reached base with a beautifully situated bunt that Uehara could not handle, and Donaldson followed that up with the go-ahead two-run blast to seal the win for Toronto.
Tomorrow's Matchup
The series will continue on Saturday afternoon as Blue Jays ace Marcus Stroman (5-1, 3.89 ERA) takes the mound against Boston's Rick Porcello (7-2, 3.47 ERA), who has emerged as a top-of-the-rotation starter.