 Usually, when a team collects five home runs and 15 hits, it is safe to say that they will exit the ballpark with the victory.
However, with the type of pitching staff the Boston Red Sox boast, nothing is a guarantee.
Starting pitcher Joe Kelly was hammered in 2.1 porous innings of work, yielding seven runs on seven hits and three walks while striking out one while the Red Sox arms allowed 14 hits and nine walks in a 13-9 loss to the Baltimore Orioles, lessening their AL East lead to just two games.
Outfielders Mookie Betts (2-for-3, two RBI, two runs, two walks) and Chris Young (3-for-4, three RBI, two runs) each homered twice, shortstop Xander Bogaerts increased his MLB-leading hitting streak to 25 games, and the Red Sox tagged Baltimore starter Mike Wright for six runs on seven hits (four home runs) in 2.2 innings, however, the pitching staff could not complete the task for Boston.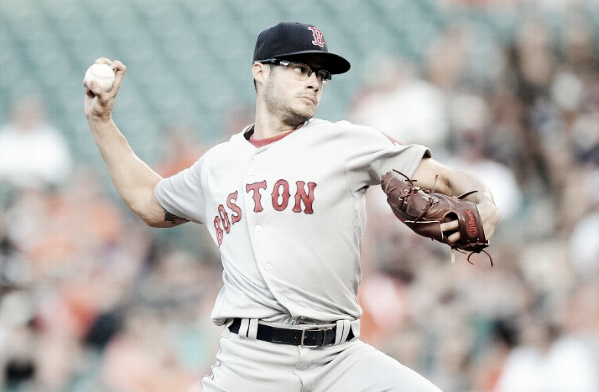 Kelly's ERA rose to 8.46 on the season, while recently-transformed reliever Clay Buchholz (L, 3-6) walked four batters, allowed four runs (three earned), and let up three hits in 3.1 innings of relief ball for the Red Sox, who simply could not find an answer for the Orioles on the mound in a whirlwind contest.
Betts kicked off the contest in spectacular fashion just as he did in Tuesday night's 6-2 Red Sox win, leading off the game with an opposite field shot off of Wright.
However, Kelly was unable to preserve the advantage, his tumultuous night turning sour immediately. Orioles center fielder Adam Jones (2-for-6, two runs) led off the first with a single before right fielder Hyun-Soo Kim (3-for-5, two runs) singled to right.
Third baseman Manny Machado (1-for-5, two RBI) proceeded to knock a sacrifice fly, putting both runners in scoring position which allowed right fielder Mark Trumbo (1-for-3, two RBI, run) to bring in both baserunners with an opposite field two-RBI single following a walk by first baseman Chris Davis (four walks, three runs).
An RBI sacrifice fly by catcher Matt Wieters (1-for-3, three RBI, run) plated Davis, and designated hitter Pedro Alvarez (3-for-5, one RBI, one run) followed that up with an RBI double to spot Wright with a 4-1 lead.
Despite the momentum, Baltimore relinquished the advantage in the top of the second inning. Boston third baseman Travis Shaw (2-for-5, two runs) began the stanza with a double, scoring on a one-out, two-run shot to left field by Young, his second of the season.
Then, Betts proceeded to make history, becoming the first player ever in the major leagues to hit home runs in the first two innings of consecutive ballgames by smoking a two-out offering from Wright over the left field fence for his 14th home run of the season, tying the game at four runs apiece.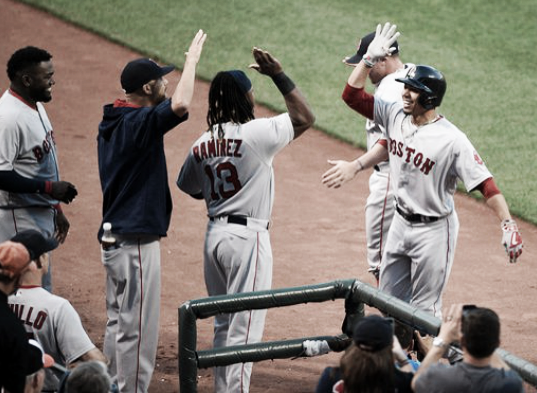 Kelly Continues To Struggle
Kelly continued his struggles in the bottom of the second, yielding a walk to third baseman Ryan Flaherty and a ground rule double to Kim before an RBI sacrifice fly by Machado helped Baltimore regain a 5-4 lead.
However, the relentless Red Sox offense pounced again in the third inning. With one down, designated hitter David Ortiz (2-for-4, one RBI, one run) pounded a Wright offering over the right field wall for his 15th home run of the season, followed by a two-out single by Shaw which brought in Orioles reliever Vance Worley.
Continuing the theme of the ballgame, Worley walked both left fielder Blake Swihart and Young to begin his appearance before yielding a two-run single up the middle to catcher Ryan Hanigan which gave Boston a 7-5 advantage.
Typical to how Kelly has performed as of late, he succumbed to the Orioles offense yet again in the third inning. Alvarez singled to center with one out before second baseman Jonathan Schoop (2-for-5, two RBI, run) hammered an RBI double to center to end Kelly's brutal night.
Baltimore's Offense Continues to Fire
Baltimore's offense was not finished, however, with Flaherty welcoming Red Sox reliever Tommy Layne to the ballgame with an instant game-tying RBI single before a two-out RBI single by Machado gave the Orioles yet another one-run lead.
Worley calmed down to retire Boston in order in the ensuing two innings, but the Red Sox knocked on the door again in the sixth inning. Hanigan reached on an infield single while advancing to second on a throwing error by Machado to open up the inning, and second baseman Dustin Pedroia answered with a one-out RBI single to tie up the game and chase Worley.
As soon as Boston tied up the contest, however, Buchholz' performance unraveled in the bottom of the inning. Davis and Trumbo each walked to begin the stanza before the go-ahead run scored on a botched fielder's choice by Pedroia on which a hard-hit ball by Wieters glanced off of his glove and into right field.
Then, Alvarez singled to load the bases, and a Flaherty RBI groundout plated Wieters to give Baltimore a 10-8 lead.
Buchholz' struggled with command continued in the seventh inning, as Kim singled to lead off the stanza and Davis worked a one-out walk to usher in Boston reliever Matt Barnes.
Trumbo welcomed Barnes to the ballgame by working a walk to load the bases, and Wieters followed that up by crushing a two-run single to right center to increase the Orioles advantage to 12-8.
Barnes proceeded to strike out Alvarez on the subsequent at-bat, however, Schoop smashed a two-out RBI single up the middle to plate pinch-runner Joey Rickard, pushing the gap to five runs.
Red Sox Comeback Falls Short
Despite being battered, Boston was not finished. Young opened up the eighth inning by ripping a hanging 0-2 breaking ball from Orioles sidearm reliever Darren O'Day over the left field fence for his second long ball of the game, chipping away at the deficit.
Betts walked, Pedroia singled, and Ortiz walked against Baltimore closer Zach Britton (S, 15) to hand first baseman Hanley Ramirez a golden opportunity with two outs and the bases juiced, however, Ramirez grounded out to shortstop, ending the Red Sox attempt at redemption.