 Sitting ten games over .500, atop the American League, as the beginning of June hits is exactly where Boston Red Sox president of baseball operations Dave Dombrowski imagined his team would be at this stage of the 2016 season.
However, with an offense that is crushing longstanding records seemingly each night while leading the MLB is essentially every single statistical category, a 32-22 record and a mere one-game lead in the AL East is underwhelming.
Where does the blame lie for the Red Sox slim advantage in the division following two consecutive mind-boggling losses against the Baltimore Orioles?
The pitching staff, more specifically the starting rotation.
Thanks to a horrific 2.1-inning outing in which he relinquished seven runs on seven hits on Wednesday night, the since-demoted Joe Kelly wasted a five home run, nine-run, 15-hit performance from his offense in a 13-9 loss.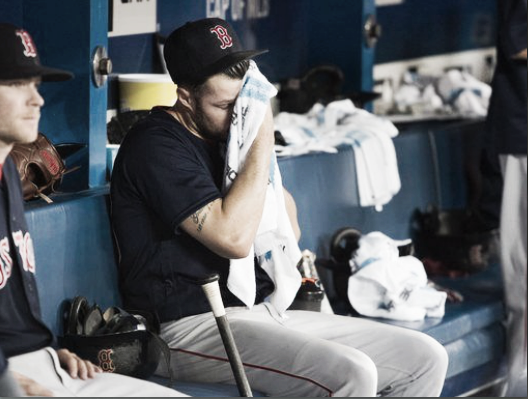 One night later, starter Rick Porcello watched his ERA rise from an impressive 3.68 to 4.00 in a 12-7 loss to the Orioles after allowing three home runs and five runs total in six tumultuous innings of ball, only to exit to witness Baltimore break a 5-5 tie with four more home runs against embattled Boston relievers Junichi Tazawa and Noe Ramirez.
The fact of the matter is that over their last three losses, the Red Sox offense has placed 25 runs on 42 hits and nine home runs on the board, which should undoubtedly have guaranteed three more victories to their resume.
However, enter the Boston pitching staff, whose 4.44 ERA ranks 12th in the American League while allowing the fourth-most runs in the league thus far, boasting the moniker of coughing up three ballgames in the last week in which the offense has averaged 8.3 runs per game.
Now, Dombrowski is placed in a peculiar position as trade rumors swirl voraciously around Fenway Park. While the Red Sox leads the majors in batting average (.296), runs (324), on-base percentage (.360), and slugging percentage (.494), the puzzle is not complete for this team to bring the second title in four seasons to Boston.
With Kelly touting a horrendous 8.46 ERA, 2.24 WHIP, and .330 batting average against while earning himself a vacation to Triple-A Pawtucket and the much-maligned Clay Buchholz being optioned to the bullpen while touting a 6.34 ERA and 1.49 WHIP, Boston now has a spot to fill in the rotation following the starts of David Price, Steven Wright, Eduardo Rodriguez, and Porcello.
Fortunately, the team has three off-days prior to a ten-game homestand beginning June 14, leaving them without the need for a fifth starting pitcher until June 18.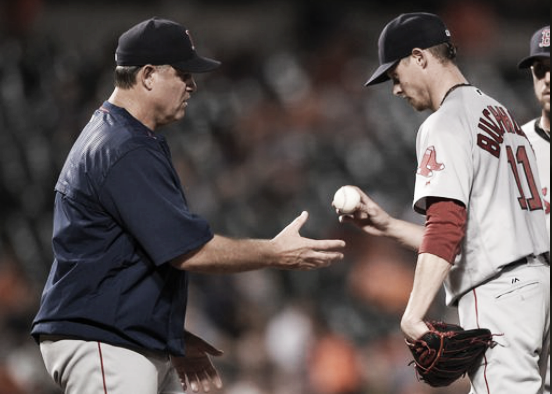 This will give them some time to find a fifth starter from within the organization, either calling Kelly back up to the majors should his performance in Pawtucket be positive, giving wild left-hander Henry Owens (12.1 innings, 5.11 ERA, 2.11 WHIP, and 13 walks in three prior starts with Boston this season another shot in the bigs, or motioning to bring Buchholz back into the starting rotation.
However, barring a substantial improvement from one of these three options, the Red Sox will need to look elsewhere to up the standing of their rotation come the trade deadline, which would require the relinquishing of one of their offensive pieces.
The Boston Globe's Nick Cafardo reported early in May that one AL general manager mentioned that Dombrowski might be willing to part with current left fielder Blake Swihart in return for an upper-to-middle of the rotation type of arm at the trade deadline.
For the Red Sox, shelling Swihart, who commands interest from other organizations for his catching abilities, for a bona fide No. 2 or No. 3 starting option would certainly make sense.
The 24-year-old is batting just .246 with a .343 OBP and four RBI in 57 at-bats with the ballclub this season, and with Christian Vazquez appearing to be the long-term option for the team at catcher due to his defensive prowess, Swihart is expendable.
Worried about the Red Sox need for an everyday left fielder in the absence of 2015 All-Star Brock Holt, who has been optioned to the 15-day disabled list as he attempts to return from a nagging concussion which caused a prolonged slump?
Look no further than Chris Young, who has recovered from a slow start at the plate to bat .316 with six extra-base hits in 38 plate appearances in the month of May while hitting .400 with two home runs in the last seven days.
Furthermore, Young bashes left-handers, batting .414 with an astounding 1.175 OPS and eight doubles against lefties in 2016, leading to his solid .288 average thus far.